Following hot on the heels of our Steam launch and welcoming all those gamers into the Crusaders' community, we have three new objectives for everyone to play.
Demolition Derby tasks the Crusaders in the Descent into Darkness campaign with protecting three very 'volatile' characters. A trio of demolition experts occupy the middle three slots of the diamond formation. Each is carrying a bomb that has to be delivered to area 250 safely to earn 250 rubies. If your Crusaders fail their mission to protect them... Boom! Your formation will wipe, and you'll get knocked back an area.
Demotion Derby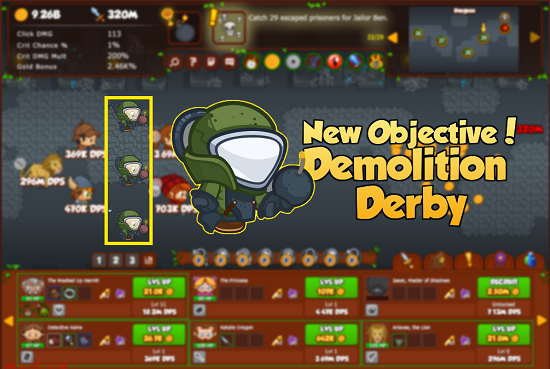 The Ghostbeard's Greed campaign has two new objectives that introduce a fun twist. Guys Night Out is an objective where players can only use male Crusaders. The female and animal Crusaders have decided to have a night off, leaving you the conundrum of organizing your formation using only the guys to reach
Of course, the female and animal Crusaders don't want to miss out on the action. In Beauties and the Beasts, you can only choose from the female and animal Crusaders for the same box formation as Guys Night Out. It's going to require some careful formation planning for both objectives to secure those precious rubies.
Good luck!