We don't need roads where we're going! Mostly because to enjoy this week's update you just need a computer or mobile phone. Nike Mag shoes are optional.
This week we launch four new challenging objectives for the
Idols Through Time campaign
.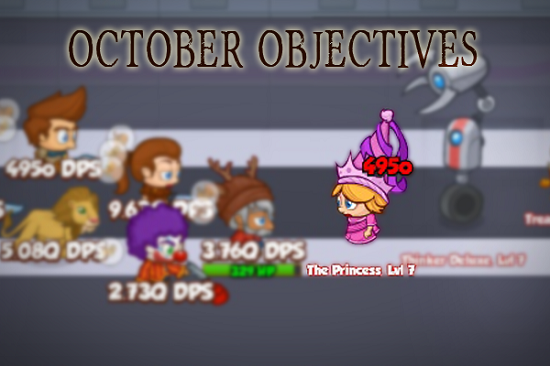 New Objective: Echoes
In the objective
Echoes
you'll encounter randomly spawned malevolent versions of your Crusaders that can't be killed for 30 seconds but will still deal damage to you. If they're at the forefront of the enemy's attack, they'll soak up all your DPS until they disappear. You're going to want to clear all 600 areas as soon as possible to beat them.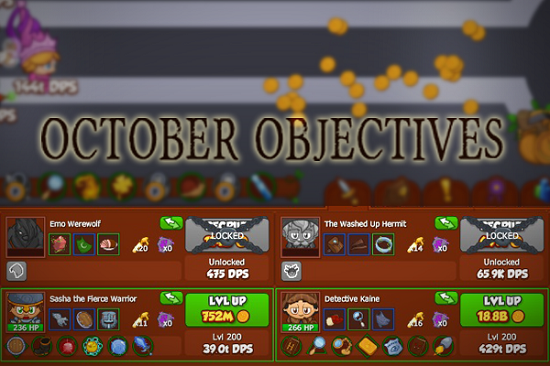 New Objective: Hamstrung
The objective
Hamstrung
will only allow you to use Crusaders that don't have a DPS tag all the way to area 600. Time to find a new main dps'er!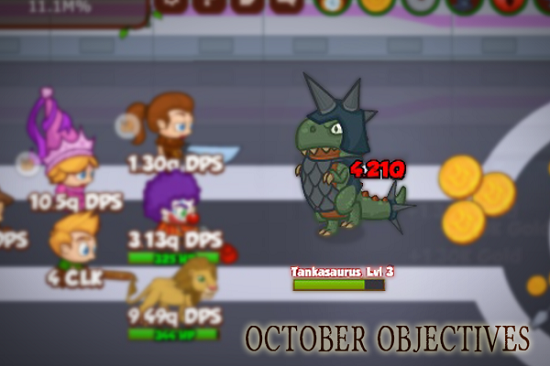 New Objective: The Lost World
The Lost World
objective sees you transported back to the Jurassic period and attacked by a cornucopia of dinosaurs. These beasts include ones that are invisible, tanky, super-fast, and others that will do ranged damage to your formation.
The final new objective is
Atrophy
where all Crusaders will take 1% damage per second until you can clear the area. Then you start all over again until you can beat area 700.
Plus, this weekend we're buffing some October-loving Crusaders from today until Monday, October 17 at Noon PDT.
The Washed Up Hermit - Base DPS + 400%
The Princess - DPS All + 100%
Natalie Dragon - Gold Find + 100%
Nate Dragon - Double Dragon + 200%
Mister the Monkey - Follow the Leader + 200%
Also, check out the limited-time Octoberfun Jeweled Chests that contain equipment for the five Crusaders above! (Please note: The chest will only contain gear for Mister the Monkey if you've unlocked him.)
Good luck Crusaders, you'll need it!