How far would you go to celebrate foolishness?
Festival of Fools
is a time honored tradition in Sword Coast communities. Townsfolk engage in the usual gluttonous consumption of food and drink during the festivities, but they also play pranks on each other.
Unfortunately, one prankster has decided to play a practical joke on a Frost Giant nearby...
Festival of Fools 3
introduces
Briv Steelmarrow
, Half-Orc Paladin (Oath of Heroism), and brings back Rosie and Strix Beestinger. Players have until Monday, March 23 at 12PM Pacific to complete their Festival of Fools 3 unlocks and objectives.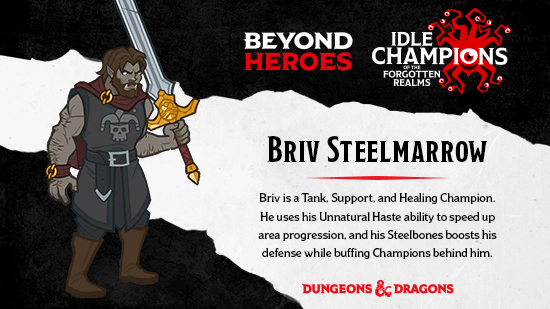 Year 3 Champion: Briv Steelmarrow
Relentlessly brave but markedly uncouth, Briv Steelmarrow is a stalwart champion of the weak, innocent, downtrodden, and oppressed. Centuries ago, a cabal of Netherese mages experimented on Briv's clan, gifting him with a magical metal inside his bones that he can pull through his skin and shape for attack or defense. Once a slaver, Briv sought atonement by joining the Order of the Lost Cause, an elite group of knights that travel across Faerûn, taking on quests that only fools would pursue.
Briv is a Tank, Support, and Healing Champion. He uses his Unnatural Haste ability to speed up area progression, and his Steelbones boosts his defense while buffing Champions behind him. When you want to add Briv to your formation, you can swap him with Calliope (Slot 5).
For more information about Briv, check out the
Idle Champion Spotlight: Briv Steelmarrow
dev blog!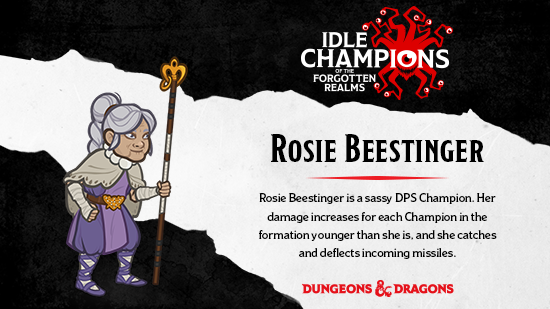 Year 2 Champion: Rosie Beestinger
Weighing in at just under 30 pounds and with a grandmotherly demeanor befitting her advanced age, Rosie Beestinger is easily mistaken for someone on the wrong side of the "aggressor/victim" relationship. But this is a mix-up that few people make more than once.
Rosie Beestinger is a sassy DPS Champion. Her damage increases for each Champion in the formation younger than she is, and she catches and deflects incoming missiles.
When you want to add Rosie Beestinger to your formation, you can swap her with Tyril (Slot 10). For more information about Rosie, check out the
Idle Champion Spotlight: Rosie Beestinger
dev blog!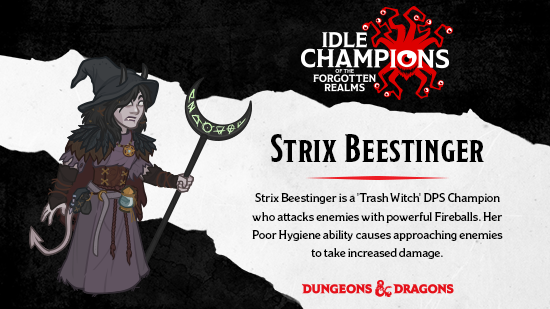 Year 1 Champion: Strix Beestinger
The Sorcerer known as Strix is from Sigil, the City of Doors at the center of the multiverse. Very little is known of Strix's heritage, even to herself, but it was recently discovered that she was a powerful member of the Skizzicks family, who long ago made a pact with Asmodeus, ruler of the Nine Hells, to become Tieflings.
Strix Beestinger is a 'Trash Witch' DPS Champion who attacks enemies with Fireballs. Her Poor Hygiene ability causes approaching enemies to take increased damage. When you want to add Strix to your party, you can swap her with Jamilah (Slot 11).

Year Three Variants
A Little Perspective — Pixies spawn at random in all non-boss areas. When a Pixie spawns, it shrinks a random Champion by 33%, decreasing their damage done by 99%. This effect persists until the Pixie causing it is killed. This effect can stack multiplicatively if multiple Pixies target the same Champion.
Reach Area 75.


Nerves of Steel — Briv starts in the formation and can not be moved, removed, or swapped out. Normal enemies move faster and attack faster; bosses are unaffected.
Reach Area 125.


A Delicious Diversion — A cart of tasty pies, baguettes, and other baked snacks takes up two slots in the formation; the cart has 100 hit points. Ravenous Crows and Famished Rats spawn randomly in each area. These additional creatures have armored health. If, for whatever reason, the cart is smashed, you immediately lose the area and go back to the previous area.
Reach Area 175.

Year Two Variants
A Lighter Touch — Only Champions with a Strength (STR) score of 14 or lower may be used. Additionally, Champions with an Intelligence (INT) score of 14 or higher deal 400% increased damage.
Reach Area 75.


Flay the Fools — During boss areas, Mind Flayers appear and attack the formation. While alive, Mind Flayers make all other enemies immune to damage.
Reach Area 125.


Beestingers Unleashed — This adventure features unique dialogue created with the help of Strix & Rosie themselves! Strix and Rosie Beestinger begin the adventure in your formation with Strix asking Rosie what it means to be a Beestinger. No other Champions are able to be used, however, both Strix and Rosie Beestinger have increased damage, increased attack speed, and reduced Ultimate ability cooldowns. Additionally, Rosie Beestinger's Matriarch also doubles her health.
Completing this adventure will unlock a bee outfit for both Rosie & Strix!
Reach Area 175.

Year One Variants
Foolish Variance — Champions randomly do between 0.1% and 199.9% of their actual damage with each hit.
Reach Area 75.


Persistent Foolishness — The Drunken Fool appears randomly in non-boss areas. Only one can be spawned at a time, but he has special abilities each time he appears.
Reach Area 125.


Like Father Like Son — The farmer's son takes up a slot in the formation. He moves to a new slot every 25 areas. Every 15 seconds (in non-boss areas) the farmer's son foolishly summons a Frost Giant to attack the formation unless Strix is adjacent to him.
Reach Area 175.
See the in-game FAQ for more information!