The Boys and Girls Club of Greater Victoria has been making an impact in the lives of youth and young adults for the past 50 years by providing after-school programs, camps, and support.
In 2008, they helped to establish Pink Shirt Day (February 25th) in British Columbia to promote anti-bullying and it has turned into a national public service announcement.
This year the Boys and Girls Club helped put on Victoria's 4th Annual Youth United Anti-Bullying Film Festival. The films were shown on Pink Shirt Day and youths from their Central Saanich centre managed to win first place. The real power of the festival is seeing youths contribute to the anti-bullying movement and creating shorts for other youths to view.
To support these efforts, Codename Entertainment did a fundraiser on Pink Shirt Day. For each Pink Shirt Hat pack we sold in Egg Breaker Adventures, we donated our share of the proceeds to the Boys and Girls Club of Greater Victoria to support their anti-bullying activities in our community.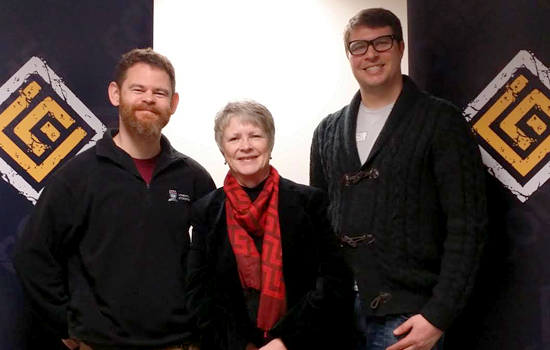 Today, Kate Mansell from the Boys and Girls Club visited our offices to thank us for our endeavours and share more about their activities. Eric and Peter took a photo with her as well.
For more information on what the Boys and Girls Club of Greater Victoria does or to find out how you can help, visit
their website.
Or to find another Boys and Girls Club in Canada
click here.