We have a special surprise for you this week in the form of four brand new permanent objectives in the Amusement Park of Doom campaign. Plus, we have our weekly weekend buff.
The first of the four new objectives is
Log Ride
. Players can start the objective after completing
You Must be THIS Tall
and already have 30,000 idols banked. Every 10 seconds one of your Crusaders gets drenched by water, decreasing their DPS to 0 and disabling their formation abilities for 15 seconds. Players must reach area 650 to beat the objective.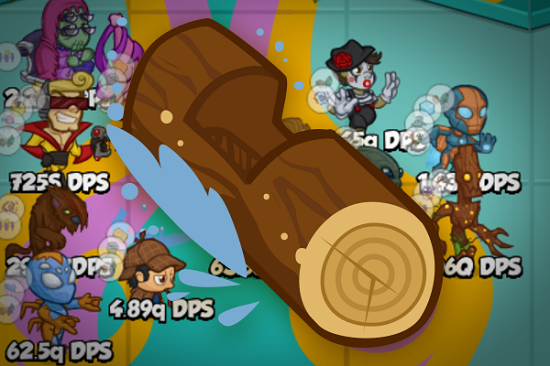 Log Ride
Mauled By Mascots
sees the intrepid Crusaders attacked by well-known, beloved characters, including Marty Mouse and Daryl Duck. It wouldn't be right to kill them so you must just fend off the invulnerable mascots until you can advance to the next area all the way to area 750.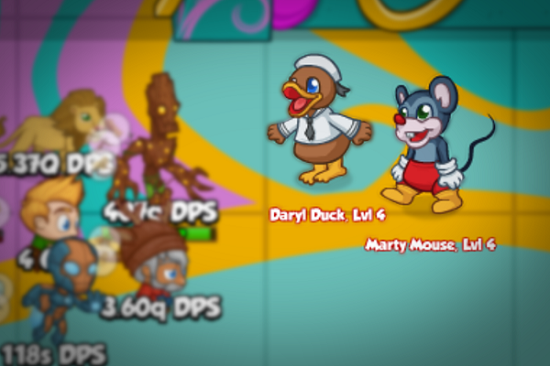 Mauled By Mascots
Couples Day
requires you to always have an equal number of male and female Crusaders on the field. However, we do give you some leeway to add one male or female Crusader as you unlock them (otherwise you couldn't add any Crusaders). To complete the objective, you must beat area 800.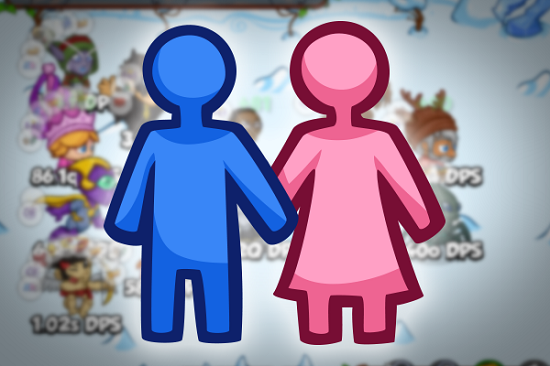 Couples Day
The final new objective is
It's Over Nine... Hundred?
where you have to (you guessed it!) beat area 900.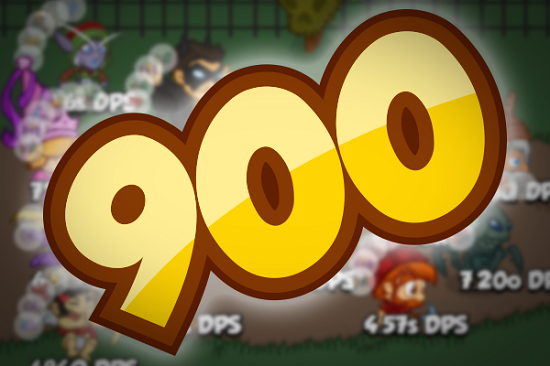 It's Over Nine... Hundred?
We're also launching the new weekend buff,
Amusing Objectives of Doom
. The Bushwhacker, Veronica, the Android Archer, Gold Panda, Fire Phoenix, and Exterminator all get a boost for the weekend until 12 pm PDT on Monday, May 15th.
Bushwhacker - Critical Click Chance +6%
Veronica, the Android Archer - Precise Aim ability +200%
Gold Panda - All Gold Find +200%
Fire Phoenix - All DPS +200%
Exterminator - Spare Parts, and Slaved Systems +200%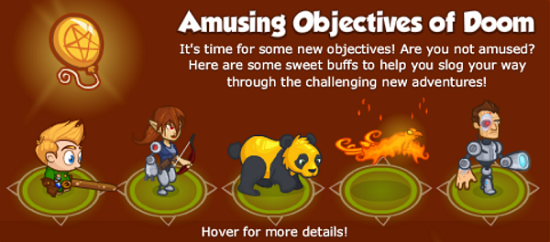 Also, check out the limited-time Amusing Jeweled Chests that contain equipment for the five Crusaders above!
(Please note: The chest will only contain gear for Veronica and Exterminator if you've unlocked them. You will get Golden Epic for the Exterminator with your chest purchase and it will show up equipped on him, once you unlock him!)