As of Friday, September 7th, Idle Champions has been live for a whole year - and what a year it's been!
In celebration of the past year and our amazing fans, we've lined up some fun for everyone. For the next 7 days, we'll have daily rewards for you to claim just for logging in!
Starting right now, and for the next 7 days you can log in and claim an Idle Champions Birthday Chest every day. There are 7 of them, and each one contains 4 items hand picked by the Codename Entertainment team to help you in your quests. What do they contain? Oh, just Time Gate pieces, Epic Blacksmithing Contracts, Epic Fire Breath Potions, and more! And if you wait very patiently, there might even be a Potion of Polish hidden in one of the chests!
If you claim 4 out of the 7 Birthday Chests during the Anniversary Celebration, you can claim the coveted Anniversary Chest. This epic chest contains 5 gold chests, a free Mimic familiar, and our first variant champion skin: Party-Time Jarlaxle.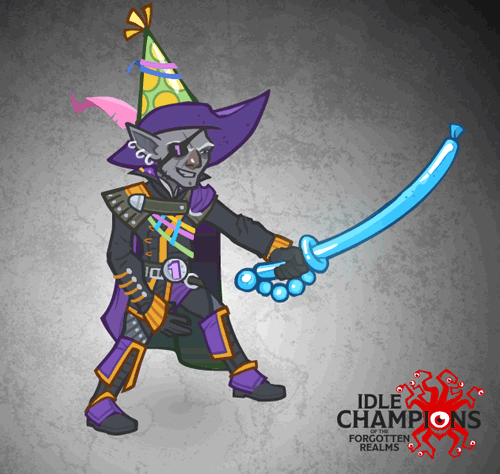 We've also added new familars to the game: A Black Cat and a Faerie Dragon are available as paid DLC, and we've added new familiars that are available for gems: Evelyn's very own Armored Juniper, and Minsc's faithful companion Boo! Note: You have to have reached area 66 in an adventure to unlock familars.

We've added a new potion to the drop tables for chests: Potion of Speed. These potions increase the speed of the game for a short time, allowing you to clear those earlier levels faster when attempting to reach your wall!
We've also launched sales on many of our DLC packs during the week, as well as a chest bonus for any chest purchases you make in-game for the duration of the celebration.
And as a final candle on the anniversary cake, we've updated Idle Champions store! Now you can buy past champions in different packages that include their corresponding chests, AND we'll have rotating sales of champion-specific chests, with the corresponding golden epic that was available during their original event!
Note: that the store is updated in Steam currently, and will move to Android tablets and iPads in the coming days.
So log in and join in the fun!