The
Idols Through Time
campaign has some new objectives. Perhaps these buffs will help you smash through them!

New Tier 3 Objectives!
Don't Blink
Sobbing Cherubs spawn and move very slowly towards your formation
They can only be killed by clicking
If they reach your formation, you wipe and go back one area
Tier 2: The Cherubs move slightly faster than in the base objective
Tier 3: Each spawned Cherub reduces the DPS of all Crusaders by 50% (multiplicative)
Reach Area 700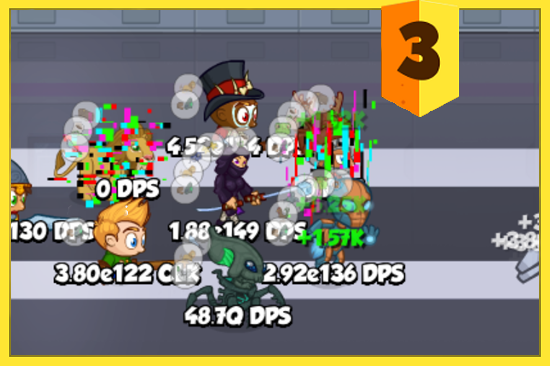 Lost in Time
Lost in Time
Slots are blocked by relics from each era visited during the campaign
Tier 2: Each relic reduces the DPS of adjacent Crusaders by 50% (stacking multiplicatively)
Tier 3: Each relic reduces your gold find by 50% per adjacent Crusaders (stacking multiplicatively)
Reach Area 750
Time-Lost Bosses
Your formation is randomly attacked by much more powerful bosses
Tier 2: The bosses make all other enemies immune to damage until they are killed
Tier 3: When a boss is killed it disables the DPS and FAs of a random Crusader for 15 seconds
Reach area 800
Nostalgia Trip
Only the original 20 Crusaders are available (no event or 11th objective crusaders)
Tier 3: Only female Crusaders may be used
Reach Area 800
Echoes
Echoes of your Crusaders randomly spawn
Echoes cannot be killed for 30 seconds; after all, they're only echoes
Tier 2: Each echo reduces the DPS of a random Crusader by 50% until it's killed (stacking multiplicatively)
Tier 3: A random echo (a useless escort that looks like one of your Crusaders) will be added to your formation every 100 areas
Reach Area 800
Hamstrung
Crusaders with the 'dps' or 'human' tag cannot be used
Tier 2: Crusaders with the 'gold' tag cannot be used
Tier 3: The 'Reset The World' upgrade has been moved to Merci, the Mad Wizard
Reach Area 800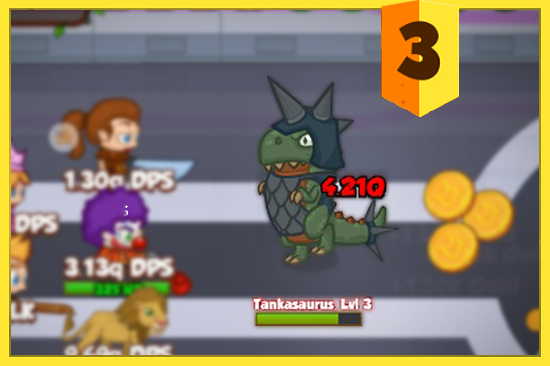 The Lost World
The Lost World
Special skilled dinosaurs attack your formation. Beware!
An asteroid occasionally squashes one of your Crusaders at random
Tier 2: The Asteroid falls more often
Tier 3: Only supernatural Crusaders can be used
Reach Area 850
Atrophy
Your Crusaders take 2% of their Max HP as damage every second
Health is restored by healing or changing areas
Tier 2: A creature takes up a slot in your formation
Tier 3: Gold find reduced by 2% per second, and is restored by changing areas (tier 2)
Tier 3: The damage and gold reduction is increased to 3% per second
Reach Area 900

New Weekend Buff: Buffs Through Time!
The following Crusaders will get a buff this weekend starting from today until noon PT on Monday, November 13th.
Groklok the Orc - Eligible Receivers, Gunslinger, and Defensive Team abilities +200%
Natalie Dragon - All Gold Found +200%
The Metal Soldierette - Base DPS +400%
Merci, the Mad Wizard - Deflect Evil ability +200%
Viktor the Vampire - Vampiric Germ upgrades +200%

Check out these limited-time Time-Lost Chests that contain equipment for just the five Crusaders above!
(Only for previously-unlocked Crusaders)