Brash adventurers Nate Dragon and the Crusaders finds themselves the object of an unrelenting giant alien plant that is slowly taking over the galaxy.
Nate and gang are forced into an uneasy truce with a duo of disparate misfits. Robbie, a gun-toting raccoon, and Broot, a fibrous humanoid. Unfortunately for Nate and his new found friends they attract the attention of the galaxy's law enforcement and get thrown in space jail.
If they are going to save the known universe, they will have to breakout and head to the evil monster plant's home planet and give it a planetary-sized dose of Roundup.
| | |
| --- | --- |
| New Crusder: Broot | New Crusader: Robbie, the Raccoon |
After earning the requisite 100 seed spores, winning over Robbie and Broot will require some skillful Crusading for the first and second new objectives. However, once they join your ranks, their rascally charm will be a welcome addition to your band.
When partnered in the same formation the inseparable miscreants buff each other with devastating effect. Starting at level 100, Broot increases the DPS for Robbie by 100% if he's in the column in front. At Level 150, he conveys the same buff next to Robbie.
Reciprocating, Robbie enables Broot to take 25% less damage if he's in the column in front at level 50. By level 75 Broot gets a 50% health boost when adjacent to Robbie.
New Objective: Inifinity Stone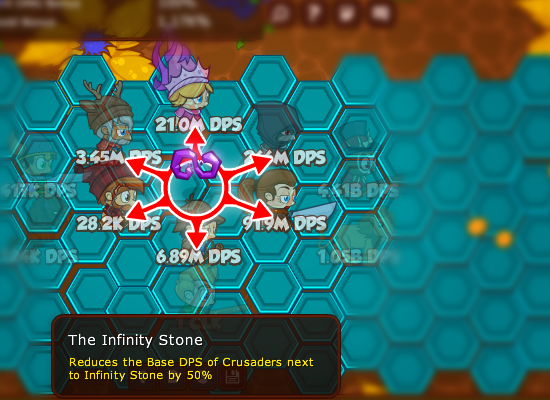 The remaining three objectives include 'The Infinity Stone', where the Crusaders must transport a randomly debuffing alien artifact to area 150. Crusaders next to the pulsating stone have their DPS penalized at random intervals.
'Displaced Wildlife' sees an outrageously cute fawn, rabbit and skunk occupy formation slots while the Crusaders slog their way to area 200.
New Objective: Displaced Wildlife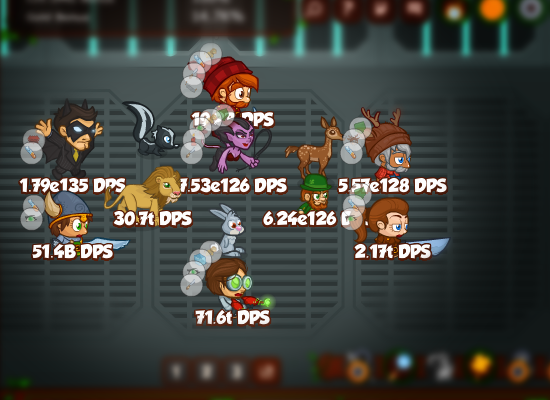 The final new objective, 'Gardeners, Unite!' only allows the selection of the most weird Crusaders available for selection. The ragtag ensemble must then use their disconnected abilities to beat area 250.
I am Broot. I am Broot. I am Broot!