The Champions arrive in Waterdeep to enjoy the festival of Midsummer. However, upon arrival the party is summoned by the Blackstaff of Waterdeep, Vajra Safahr.
The Open Lord of Waterdeep is missing, and to make matters more complicated, it's the day before Shieldmeet, when the Open Lord reaffirms the rule of the hidden lords...
Midsummer is our fifteenth limited-time event for Idle Champions of the Forgotten Realms, which runs until Monday, August 6th at 12:00pm PDT, and introduces Diath Woodrow, Human Rogue!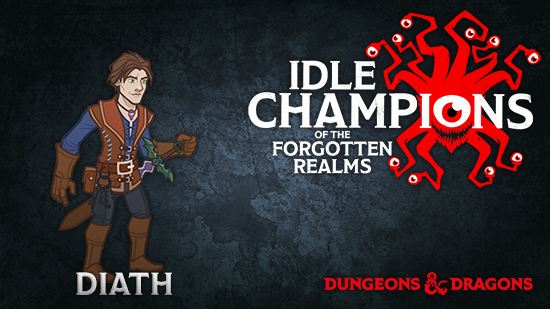 New Champion: Diath Woodrow
An adventurer whose greatest treasure stands at his side. Diath is not a thief, nor a burglar, he only seeks challenges and forgotten relics. Even though he bears the weight of the world on his shoulders, his quick, clear thinking allows him to lead his fellow companions to the one place he wants more than anything else: home. By chance he met his faithful companion Strix, whom he quickly developed a strong friendship with. There isn't anything he wouldn't do to ensure her safety, though it seems there is far more to their relationship than it seems.
When you want to add Diath to your party, you can swap him with Calliope or Dhadius.

Midsummer Variants
Waterdeep Escort — The Waterdeep City Watch Officer insists that he accompany you on your adventure. He fills one slot in the formation, and if he is killed, your DPS goes down by 33% every 10 seconds.


Drow Deception — The Drow said they were looking for a wizard, but the Champions seem like a more interesting quarry to chase! A Stealthy Drow Pickpocket appears on every level, and if they reach the formation, you fail the area and have to head back to the previous level.


Luck of the Wafflecrew — The Champions have been afflicted by Diath's bad luck! Champions not adjacent to Diath have a 50% chance to miss whenever they attack. Those that are adjacent to Diath attack normally. He does enough missing for everyone.

Features:
Added the Midsummer event, our fifteenth limited-time campaign event! The event runs until Monday, August 6th at 12:00pm PDT.
Added a new Champion: Diath Woodrow, Human Rogue.
Added a new event Divine Favor: Savras' Favor.
See the in-game Change Log for more information!