A great cosmic conflict has spilled out upon the prime material plane.
While celebrations to mark the start of spring begin in the quaint Sword Coast town of Triboar, a Githyanki raiding party descents from above, raining destruction.
It's up to the Champions to defend the innocent and figure out what has drawn the attention of the Gith and their Endless War. It's time for Greengrass 3!
Greengrass 3
introduces
Melf
, the legendary Elf Fighter and Wizard, and brings back Aila and Nrakk. Players have until Monday, April 13 at 12PM Pacific to complete their Greengrass 3 unlocks and objectives.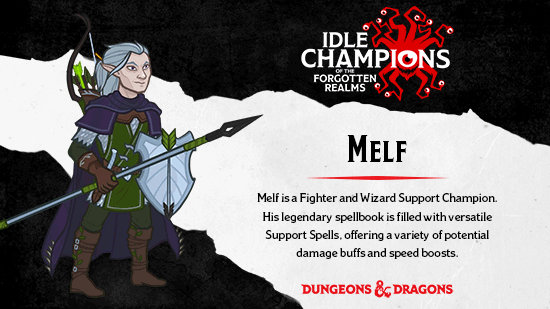 Year 3 Champion: Melf
Born into the royal family of Celene, he assumed the simple name of Melf eschewing a life of comfort as a noble to study the arcane arts and train as a swordsman. He delved in the dungeons of Castle Greyhawk, the Lost Caverns of Tsojcanth and many other harrowing places honing his skills, knowledge and amassing powerful magic items. Melf sees himself as a weapon of weal hurtling toward the heart of the darkest evils in the realm. He is opinionated and has a touch of conceit that he is blissfully ignorant of possessing.
Melf is a Fighter and Wizard Support Champion. His legendary spellbook is filled with versatile Support Spells, offering a variety of potential damage buffs and speed boosts. When you want to add Melf to your formation, you can swap him with Arkhan (Slot 12).
For more information about Melf, check out the
Idle Champion Spotlight: Melf
dev blog!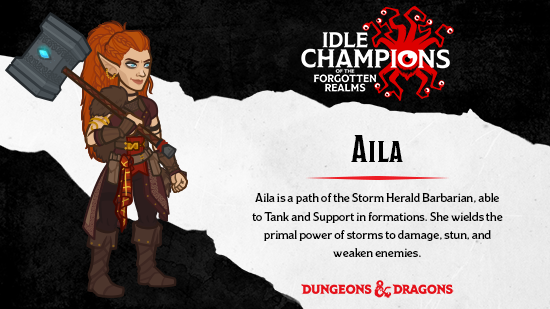 Year 2 Champion: Aila
Aila was found and raised by a clan of wild elves, but never truly felt like she belonged. The tartan that was found with her is the only clue she has to her lost elven roots. Aila is stubborn and proud. Whenever anyone questions her past, she simply states 'I'm a delight!'. However, her smirk holds a lifetime of anger & questions that she's held close to her heart.
Aila is a path of the Storm Herald Barbarian, able to Tank and Support in formations. She wields the primal power of storms to damage, stun, and weaken enemies. When you want to add Aila to your formation, you can swap her with Makos (Slot 9).
For more information about Aila, check out the
Idle Champion Spotlight: Aila
dev blog!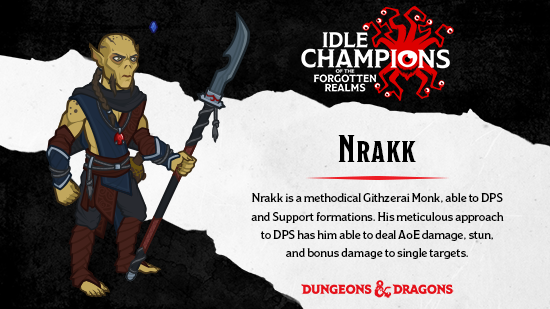 Year 1 Champion: Nrakk
Having watched your party's progress for many years from Limbo, the Great Githzerai, Zaerith Menyar-Ag-Gith, has dispatched Nrakk to join your party on the Material Plane. Though his true motivations are unknown, Nrakk is a Way of the Kensei monk whose weapon of choice is a Naginata, making him a true force to be reckoned with on the battlefield. Reserved and aloof, Nrakk sometimes has a hard time interacting with those he sees as his lessers, but he nevertheless seems committed to the party's cause.
Nrakk is a methodical Githzerai Monk, able to DPS and Support formations. His meticulous approach to DPS has him able to deal AoE damage, stun, and bonus damage to single targets. When you want to add Nrakk to your party, you can swap him with Delina or Hitch (Slot 8).
For more information about Nrakk, check out the
Year One Champion Balance Update, Part 1
dev blog!

Year Three Variants
Honorable Discharge — Each Champion can only be used to complete 50 areas.
Reach Area 75.


The Problem Solvers — Only Champions with an INT score of 13 or higher can be used.
Reach Area 125.


Wheat From the Chaff — Melf starts out in the formation with Melf's Righteous Determination unlocked. Only enemies that Melf deems evil can be damaged. Blockers, bosses, and boss trash mobs are always deemed evil. All non-evil enemies are invulnerable and can not even be attacked.
Reach Area 175.

Year Two Variants
Pixie Machinations — A pixie riding an intellect devourer (like you do) arrives in every area. When it appears, a random Champion is stunned until the pixie is destroyed.
Reach Area 75.


Starve Them Out — Only champions with INT 12 or less can be used. A giant intellect devourer with 200 armor-based HP arrives in each area. While it is alive, all other monsters are immune to damage. For each collective point of intellect BELOW 12 in your formation, the giant intellect devourer's armor is reduced by 10, to a minimum of 10 armor-based hits. For example. If you have Bruenor in your formation, his 8 INT (4 less than 12) will reduce the giant intellect devourer's health by 40 (4x10).
Reach Area 125.


Ride the Storm — Aila starts in your formation. Aila's Storm Aura hits two enemies with each strike. Only enemies who are either Primed or Electrified by Aila can be damaged.
Reach Area 175.

Year One Variants
Whispers — The Elder Brain slowly drives your Champions mad. Whenever a Champion lands a killing blow, they gain 5–10 stacks of a "Whispers" debuff. When they reach 100+ stacks, they are stunned for 15 seconds.
Reach Area 75.


Flower Power — Sentient flower enemies spawn at random in non-boss areas. When killed, they imbue the champion who killed them with a random power, which can be good or bad.
Reach Area 125.


Unlikely Allies — Two Githzerai monks take up slots in the formation. Each increases the DPS of Nrakk by 400% as long as he is adjacent to them, stacking multiplicatively.
Reach Area 175.
See the in-game FAQ for more information!