Everyone's favourite adventurer is back with a new quest! Nate Dragon has heard about the strangeness in the Seasonal Forest zone and wants to save the sloths from the harshness of winter.
Meet up with him in the Autumnal Forest after doing the 1st puzzle of the 3rd field if you've completed all his other quests and talked to the Town Crier.
Nothing wrong with trying to save some sloths, right? Nate can be such a good guy sometimes.
Talk about his antics here!
Also happening this weekend is another sale! Get 30% more Bush Bucks on purchases of 50 Bush Bucks or more! Plus on your first purchase of the day, get a different coloured adorable Sloth pet free! There are
3 unique colours
to collect, so make sure to nab your favourite or collect all 3!
| Brown Sloth (brown) | Raspberry Sloth (purple) | Blueberry Sloth (blue) |
| --- | --- | --- |
| From Friday March 13th @ Noon PDT | From Saturday March 14th @ Noon PDT | From Sunday March 15th @ Noon PDT |
| Until Saturday March 14th @ Noon PDT | Until Sunday March 15th @ Noon PDT | Until Monday March 16th @ Noon PDT |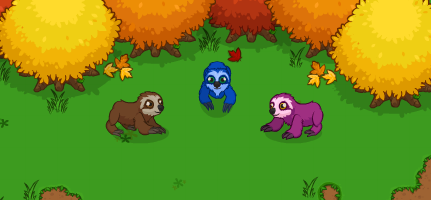 And while the sale is going on, you can find a Sloth Lover in the Commons and perform a quest to create a Sloth Care Package, which will provide a buff for one of your Sloth pets and a Large Energy Pack.