While traveling to Ten-Towns, the Champions discover what we have only heard in rumors prior: there is a massive storm in Icewind Dale...
Our latest update for Idle Champions launches our new
Icewind Dale: Rime of the Frostmaiden
campaign, and the first tier of Blessings for our new campaign and its deity:
Auril
.
New Campaign
Our newest campaign is also our most challenging!
To unlock the Rime of the Frostmaiden campaign, you must have 50 different adventures and variants completed. Additionally, the target areas are higher than normal, reflecting the difficulty of making through Auril's rime. The target for our first adventure
The Giant's Bane Tavern
is area 150. From there, each new adventure's target goes up by 25 areas from the previous adventure, and the variants are each 50 areas higher than the base adventure, or the variant before it.
The Frostmaiden awaits...
New Blessings
When the Champions begin their journey to Ten-Towns, they won't be doing it alone – they will be blessed by earning
Auril's favor
. Previously players earned Auril's favor during the Midwinter event. From Midwinter 4 onwards, players will earn Eldath's favor during that event, and Auril's favor for the Icewind Dale campaign.
Tier 1 Blessings for the
Icewind Dale: Rime of the Frostmaiden
campaign will go live with today's update. Our Champions will need to curry favor with The Frostmaiden to survive the wrath of her winters...

The Giant's Bane Tavern
On our journey to Ten-Towns, we find refuge from the blizzard in a cozy tavern. We meet some familiar adventurers there and uncover some disturbing revelations about the storm.
Variant: Rime Bandits — Arctic Bandits appear in each area. They do not count towards quest progress, nor do they drop gold. Enemies drop 99% less gold. When an Arcic Bandit enemy damages a Champion, that Champion is stunned for 2 seconds, additional hits reset the timer, but hits do not stack.
Reach area 200.
The Everlasting Rime
Have you ever gotten lost? Ok, but have you ever gotten lost in a magical blizzard created by a vengeful god?
Variant: Enemy Summit — The rime has brought the Champions' memories to life! A unique enemy from each of the 4 previous campaigns spawns in each area. Each enemy has a unique enemy buff that is active until they are killed.

Strahd Zombie- Enemies drop 99% less gold
Batiri Goblin - Enemies have their attack cooldown reduced by 25%
Gazer - Enemies deal 100% additional damage
Abyssal Chicken - Enemies move 100% faster

Reach area 225.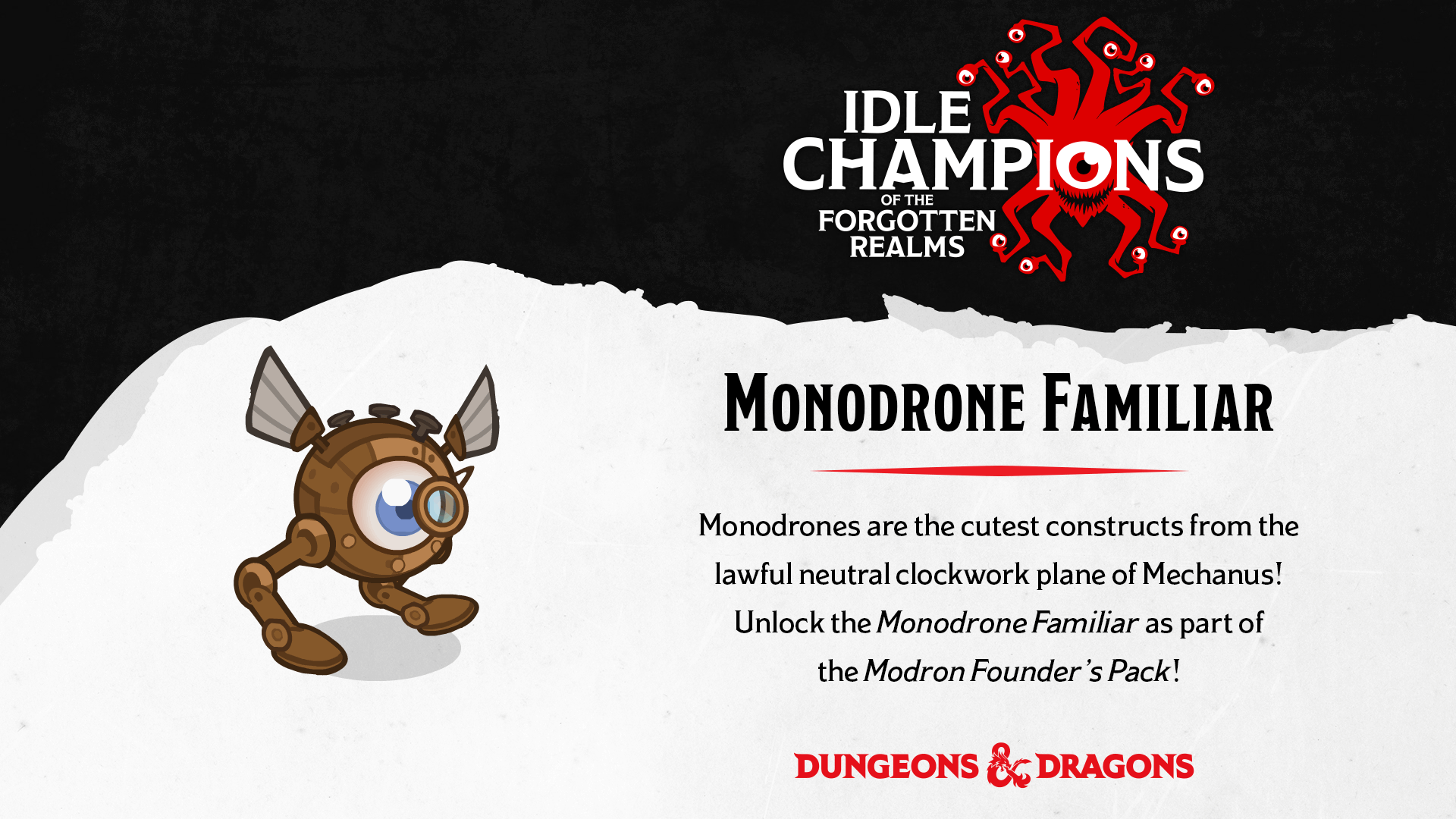 Modron Automation & Bug Cleanup Update!
Our developers have been hard at work under the hood of both Modron Automation and the game itself in recent months, clearing out a bunch of bugs affecting our players. We hope our efforts have resulted in a smoother play experience for many of you. We're continuing to knock down more bugs each day, and we'd like to send a big thanks to all of the players who have been using our new bug tracker through the support system! We're making our way towards feature complete on Modron Automation, and our next step is to bring our Switch players in on the fun!
Today Modron Automation is launching on the Nintendo Switch platform. With that we're also releasing a Founder's Pack for the Modron Automation system on all platforms! It includes:
50 Modron Component Chests
An exclusive Monodrone Familiar
500 Modron Component Pieces
A week-long boost of 50% to all Modron Core Outputs
Switch players can access Modron Automation from the campaign map. Those looking for the Modron Founder's Pack can find it in the in-game shop.
See the in-game
Change Log
for more information, including a full list of changes and fixes included in this update.