Don't you just hate it when something's just getting good and then it stops mid-sente...
The following Crusaders will get a buff this weekend starting from today until 12 pm PDT on Monday July 24th.
RoboQueen - I Like Dragons ability +200%
Sasha the Fierce Warrior - Bulwark ability +200%
Zombie Winter - Touch of Wealth ability +200%
Merci, the Mad Wizard - Deflect Evil ability +200%
Nate Dragon - All DPS +200%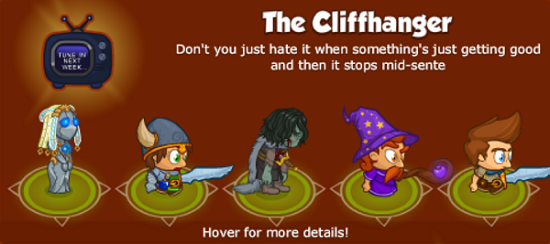 Also, check out the limited-time Cliffhanger Jeweled Chests that contain equipment for the five Crusaders above!
(
Please note:
The chest will only contain gear for RoboQueen and Zombie Winter if you've unlocked them. If you are missing Zombie Winter, you can purchase Zombie Winter's Golden Epic, and it will be available on him once you unlock him.)