Over the holiday season, my daughter and I (Eric) made a gingerbread house version of the Shards of Titan Town Hall. We looked at all of the stages of the Town Hall and we thought it would be best to tackle the level 5 version. Still, it was a lot of work! In total, we spent about 4 days planning, baking, assembling and decorating the Town Hall.
What Should It Look Like?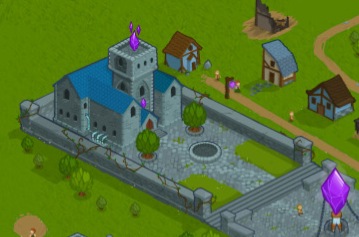 First thing was get a reference screenshot of the level 5 Town Hall from the game. We thought about maybe doing the final stage of the Town Hall, but we weren't sure how to go about making the round tower. And we figured that the level 5 stage was ambitious enough!
Planning the Gingerbread House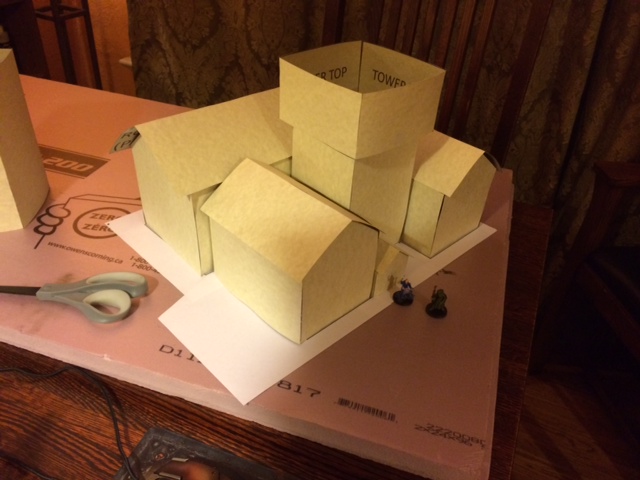 Once we had a reference image, we mocked up the final gingerbread house in a light cardboard. We did the Town Hall in 25mm scale. Not only did this allow us lots of room to make a great looking gingerbread house, but it also meant that it works with my D&D figures. You can see two test figures in this picture.
So Many Pieces!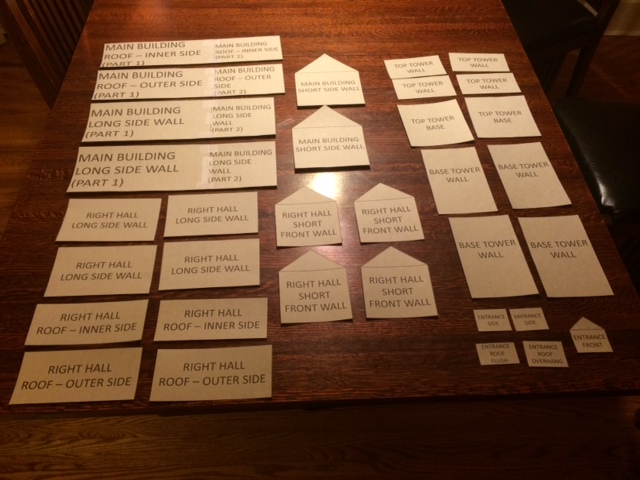 Next I made a template for every piece of gingerbread that we would need. Normally, I wouldn't make doubles of pieces that are the same size. However, this is the most complicated gingerbread house that I have made and making a individual template for every single piece of gingerbread that we needed seemed like the best approach. Having already done this once for the scale model, my daughter was now tired of cutting out templates and so I was left on my own to complete this step.
Lots of Tasty Gingerbread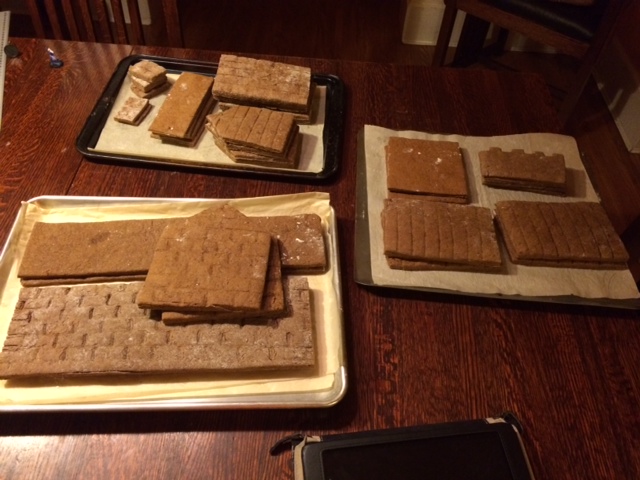 At this point, all of the gingerbread has been made, cut to size, scored (for the wall sections) and baked. In total, we used 28 cups of flour to make all of the gingerbread for the Town Hall. We had quadrupled the recipe from our old "Joy of Cooking" cook book. Sadly, we quickly saw that we wouldn't have enough gingerbread and so we made another quadruple amount of gingerbread.
The Team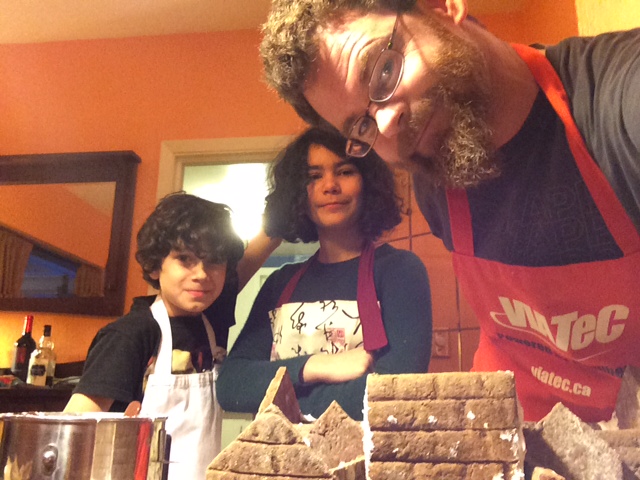 Here is the team hard at work putting the building together. My youngest son helped a little. However, my daughter worked with me the whole time.
Ready for Decoration...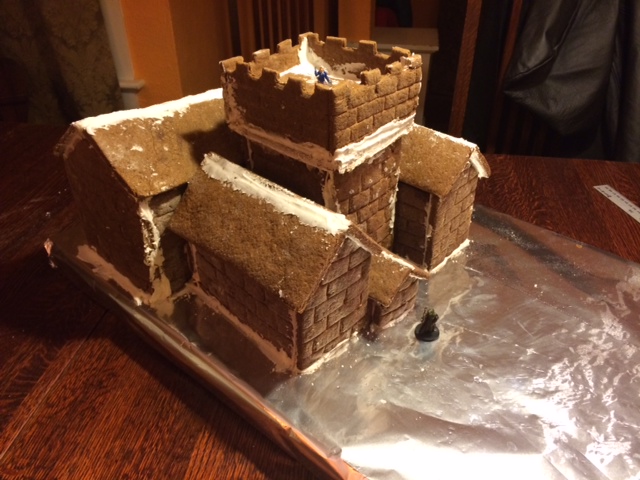 It took lots of royal icing to glue everything together. However, is really sturdy.
Candy, Candy and More Candy!
We used crushed purple hard candies as shard crystals. It turns out that our local candy store was closed for the holidays, so we had to go all over town to find hard purple candies. I would have never thought that they would be so hard to find!
Decoration In Process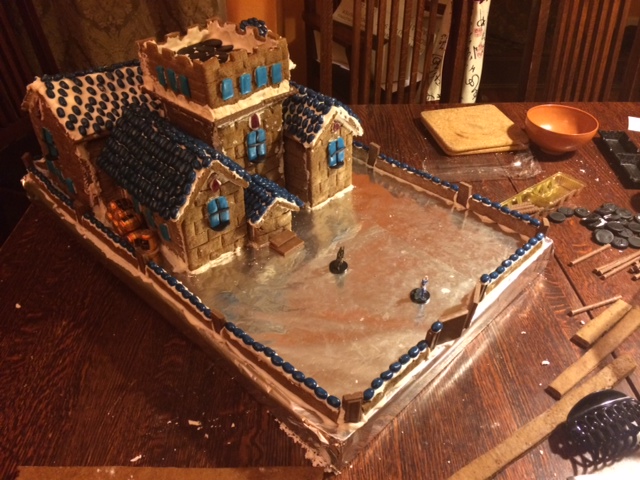 We had most of the town hall decorated by this point. I wasn't sure how we would come up with something for the windows, but we ended up cutting Airhead candies to the right size.
All Done and Ready to Eat!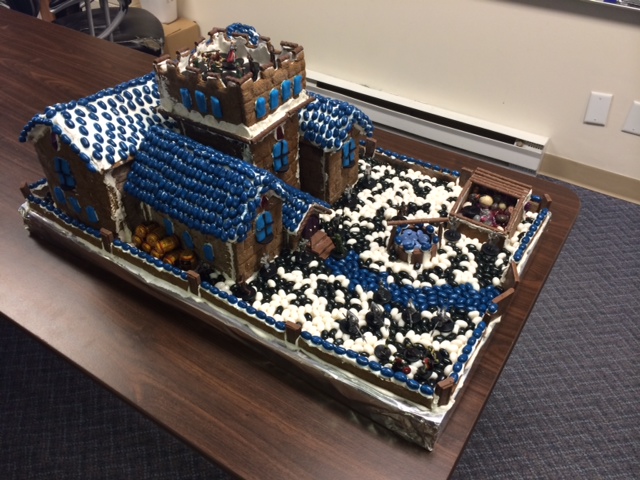 Here it is this morning... at the office and ready to eat!
The Main Entrance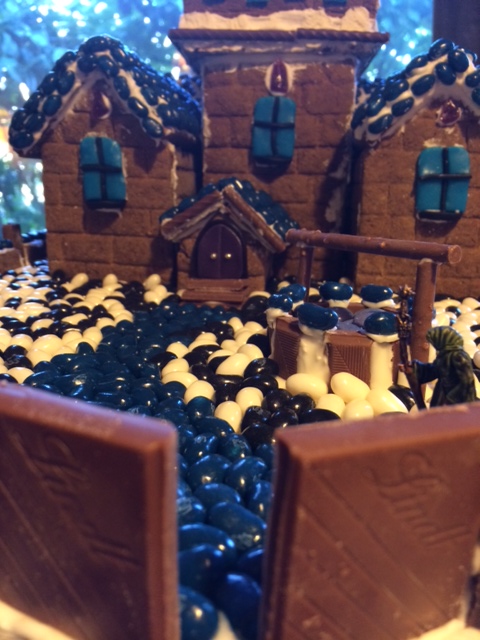 The view for visitors to the Town Hall.
Visitor at the Main Door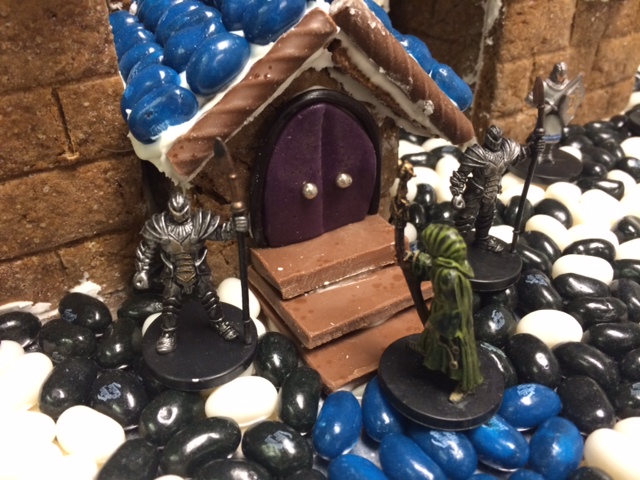 A shady visitor wishes to visit.
Wishing Well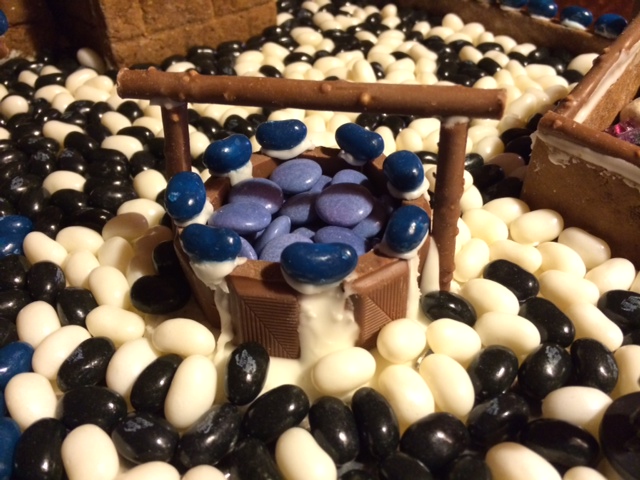 Here is the well (Smarties) where you can make a wish (or perhaps fish too!).
Shard Quarry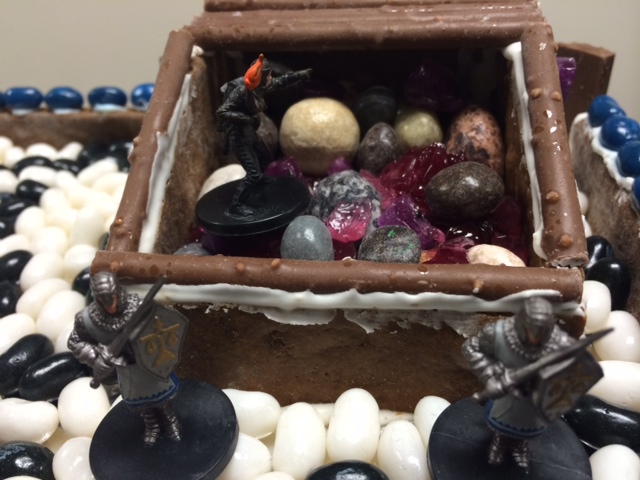 What town would be complete without a shard quarry? Candy rocks and little bits of shard crystals with a few guards. A miner is ready to start digging.
Stealing from the Town Hall!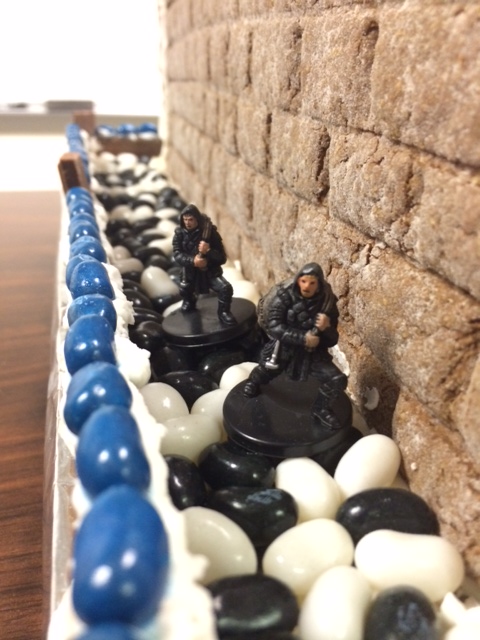 While there are lots of guards at the front of the Town Hall, two thieves (who happen to be identical twins) are sneaking out of the back.
Remains After Destruction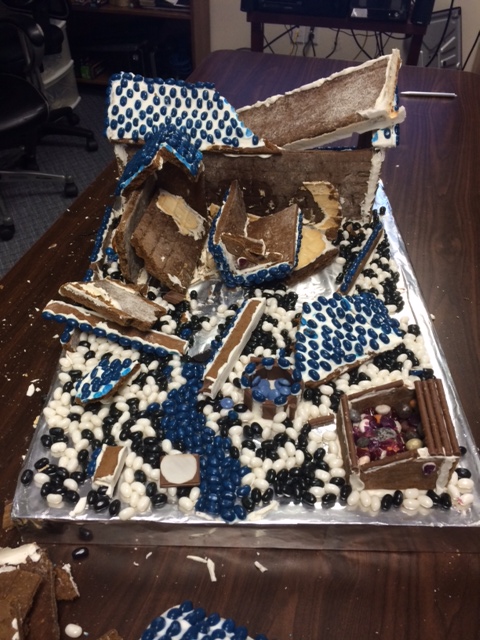 Folks have eaten and this is all that is left now.