We're pleased to announce our biggest update yet to Crusaders of the Lost Idols. Six new Crusaders are available to unlock from six brand new objectives in the existing campaigns.
Each of the six campaigns now feature a new eleventh objective that's going to require your very best strategies to beat.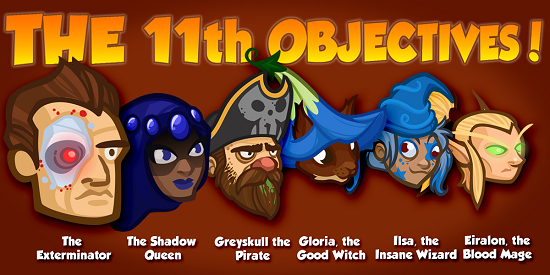 Six New Crusaders!
You'll need to have completed all ten previous objectives (at Tier One) before you can tackle the new eleventh objectives for each campaign. For example, you can't start
Descent into Darkness'
eleventh objective until
World's Wake's
eleventh objective has been beaten.
| | |
| --- | --- |
| The Exterminator | The Shadow Queen |
| | |
| --- | --- |
| Greyskull the Pirate | Gloria, the Good Witch |
| | |
| --- | --- |
| Ilsa, the Insane Wizard | Eiralon, the Blood Mage |
As soon as you've unlocked the new Crusaders, you can start collecting gear for them too when you open chests. If you haven't unlocked the new Crusaders already, don't worry, gear drops will only be for the Crusaders you have available on your roster.
We're not going to spoil the surprise by telling you about their traits and formation abilities. We'll leave you to find that out for yourself. To get started, open up the Objectives menu and select 'Gray Goo' in the World's Wake campaign after you've completed all the other objectives.
To celebrate the launch of the 11th Objectives, five Crusaders will also get an
Autumn's Upon Us
weekend buff!
From today until Monday, September 26 at Noon PDT, Jim, Jason, Dark Gryphon, Sal and Draco all get a limited time buff applied automatically.
Jim the Lumberjack - Sharpen Party Ability +200%
Jason, Master of Shadows - Gold Find +100%
Dark Gryphon - All DPS +100%
Prince Sal, the Merman - Base DPS +400%
Serpent King Draco - Kingdom'sss Call Ability +200%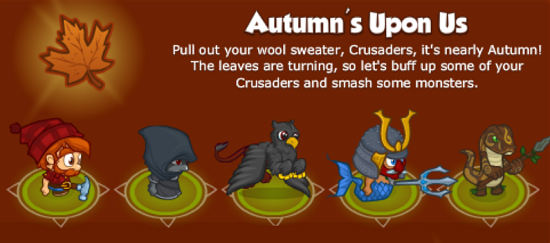 Also, check out the limited-time Autumnal Jeweled Chests that contain equipment for the five Crusaders above! (Please note: The chest will only contain gear for Serpent King Draco if you've unlocked him.)
The new objectives and Crusaders are all available from today. Good luck, Crusaders!