A young elven wizard is on a pilgrimage to the Grandfather Tree, and she has hired the Champions to escort her.
The wizard has foreseen an acorn falling from the tree - an extraordinary and truly rare occurrence - and she hopes to collect the holy relic to take to Silverymoon.
Yet as the party ventures forth, the very forest itself resists them, while elves from the Feywild and the Underdark seek to claim the acorn for themselves...
The Running 3
introduces
Krydle
, the charismatic half-elf rogue of the Heroes of Baldur's Gate, and brings back Spurt and Catti-brie. Players have until Monday, May 4th at 12PM Pacific to complete their event unlocks and objectives.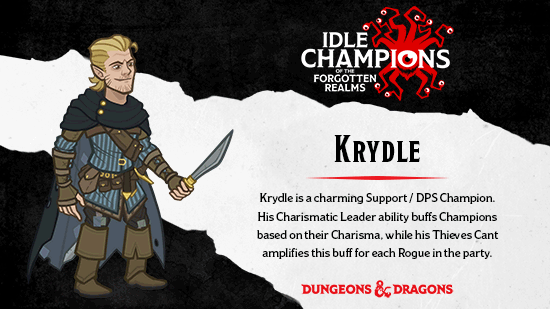 Year 3 Champion: Krydle
A Charismatic Leader, a dashing thief and poet, Krydle is the quintessential rogue with a heart of gold. A resident of Baldur's Gate, Krydle rejects the upper city political machinations of his estranged father Coran, but nevertheless has familiarity of the city's nobles and their schemes, as well those of the city's criminal network. Certainly a handy chap to know...
Krydle is a DPS and Support Champion. His legendary charm buffs other Champions based on their charisma, and his Thieves Cant ability amplifies this buff for each rogue in the party. When you want to add Krydle to your formation, you can swap him with Celeste (Slot 2).
For more information about Krydle, check out the
Idle Champion Spotlight: Krydle
dev blog!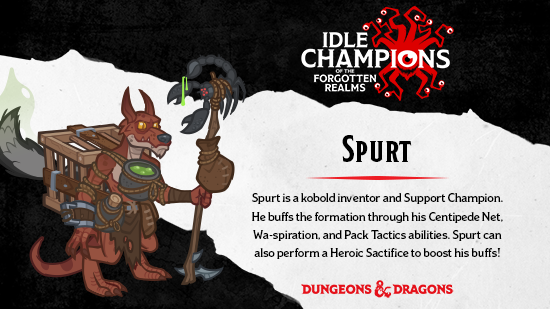 Year 2 Champion: Spurt
Spurt the Kobold Inventor is crafty and quick with his hands. He builds improvised weapons in the hope of gaining some new advantage in combat. Spurt never knew he would have such lasting appeal when he met a mighty group of adventurers in a cave, but here we are. Packed to the gills with his "awesome" inventions this clever kobold brings his 11-days of life experiences to the Champions, along with a really cool 'Centi-pult'!
Spurt is a Kobold Inventor and Support Champion. He buffs the formation through his Centipede Net, Wa-spiration, and Pack Tactics abilities. Spurt can also perform a Heroic Sacrifice to boost his buffs! When you want to add Spurt to your formation, you can swap him with Nayeli (Slot 3).
For more information about Spurt, check out the
Idle Champion Spotlight: Spurt
dev blog!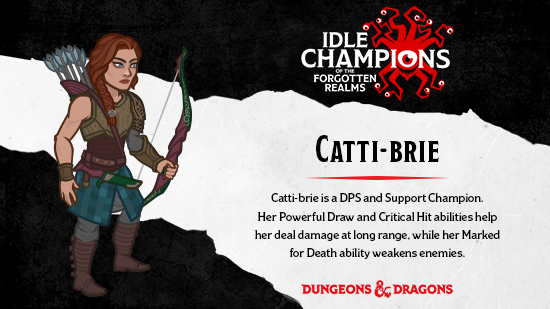 Year 1 Champion: Catti-brie
"When I first laid eyes on Catti-brie, she had just punched a rather menacing fellow who was threatening to break every bone in my body. She hit the lout with such surprising force that he flopped to the floor like a sackful of mullet. Over the years, I've come to call her a friend. Underneath Catti-brie's rough exterior lies a heart of gold. She cares deeply for her friends and will protect what she holds dear without fail. If she takes a shine to you, be sure to count your lucky pennies, because her enemies rarely fare well for long."
~Volothamp Geddarm
Catti-brie is a DPS and Support Champion. Her Powerful Draw and Critical Hit abilities help her deal damage at long range, while her Mark for Death weakens enemies. When you want to add Catti-brie to your formation, you can swap her with Minsc (Slot 7).

Year Three Variants
Split Up — Champions cannot be placed adjacent to each other.
Reach Area 75.


The Early Bird Gets The Acorn — Only Champions in slots 1-7 can be used.
Reach Area 125.


Krydle's Posse — Krydle starts out in slot 4 and can not be moved, removed, or swapped out. Only Champions with a Charisma (CHA) score of 12-16 can be used.
Reach Area 175.

Year Two Variants
Delusions of Grandeur — Spurt and his Centipult start in the formation, taking up two slots. The Centipult launches centipedes at random enemies, enraging them and increasing their speed and damage.
Reach Area 75.


Elves are Wild — All Elves (Elf, Eladrin, Drow) & Half-Elves in the formation have their attack speed increased. Drow enemies now have armor. Additional Eladrin spawn in each area, and they are immune to damage until after they attack.
Reach Area 125.


Alignment Askew — Champions are all affected by different debuffs based on the formation's alignment.
Reach Area 175.

Year One Variants
The Wolves in the Woods — Werewolves randomly spawn and attack the party, each with special abilities. Catti-brie's silver arrows deal double damage/hits to these creatures.
Reach Area 75.


Critter Companions — Two forest critters take up slots in the formation, increasing the damage of adjacent Champions by 400% moving around every 25 areas.
Reach Area 125.


Catti-alone — Catti-brie is the only Champion available for this mission. Her damage increases by 40% per area, stacking multiplicatively, her attack speed is greatly increased, and her Ultimate ability cooldown is reduced to 10 seconds.
Reach Area 175.
See the in-game FAQ for more information!