Spring is here as well as this year's Spring Gathering! This year's celebration brings a day of streaming, daily rewards, and an update to the Grand Tour B campaign.
If you're interested in learning more about what's coming with today's update, you've come to the right place...
Table of Contents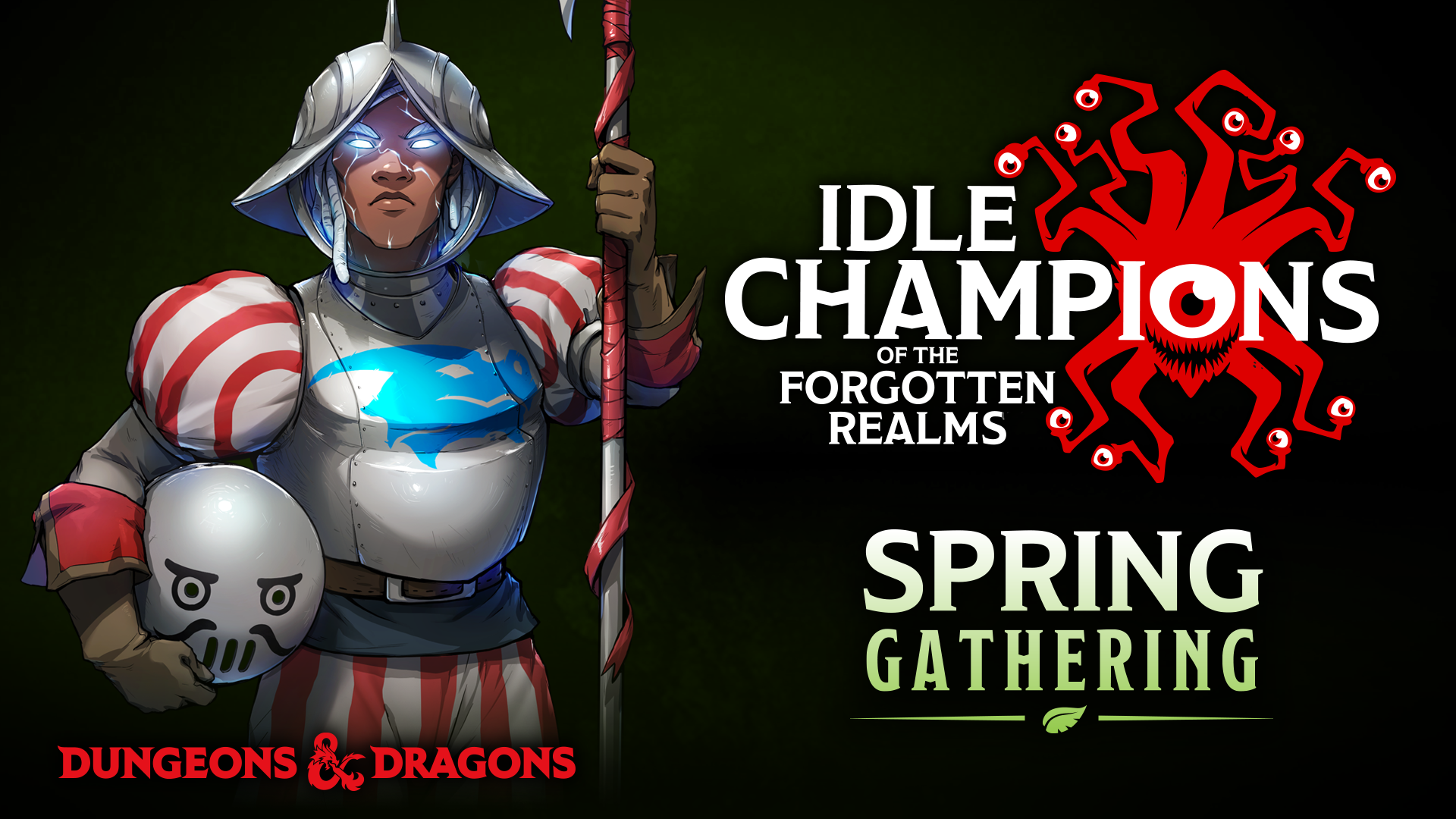 Spring Gathering
Players who claim a daily chest on at least four days will be able to earn exclusive rewards!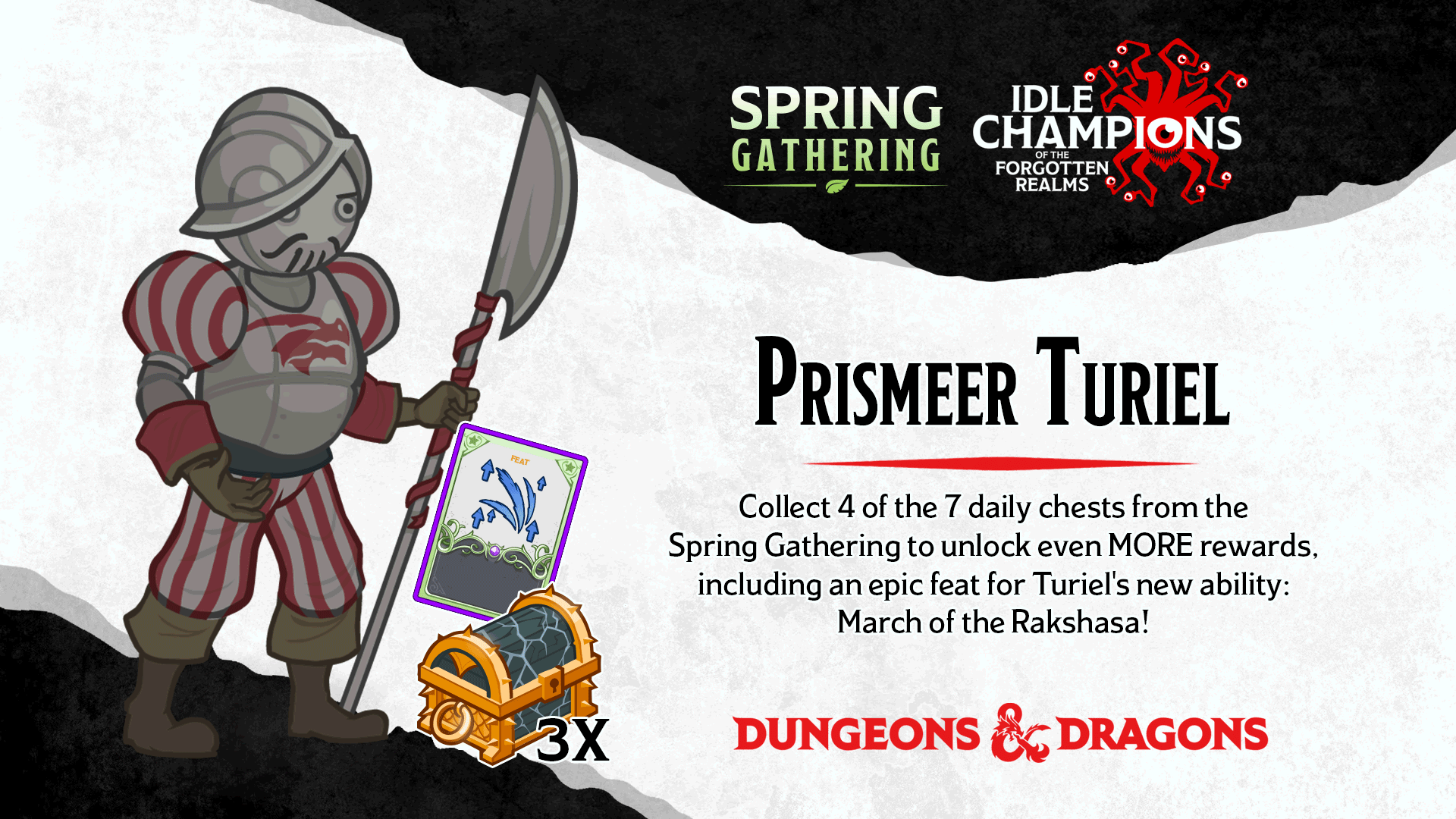 Daily Rewards
Each daily chest grants you five awesome items, hand-picked by the team here at Codename Entertainment to help you in your adventures.
These rewards are unlocked once you have claimed at least four days worth of rewards during the Spring Extravaganza.
Exclusive Prismeer Turiel Skin
A Rare Feat for Turiel - increases Global DPS by 50%
3 Gold Turiel Chests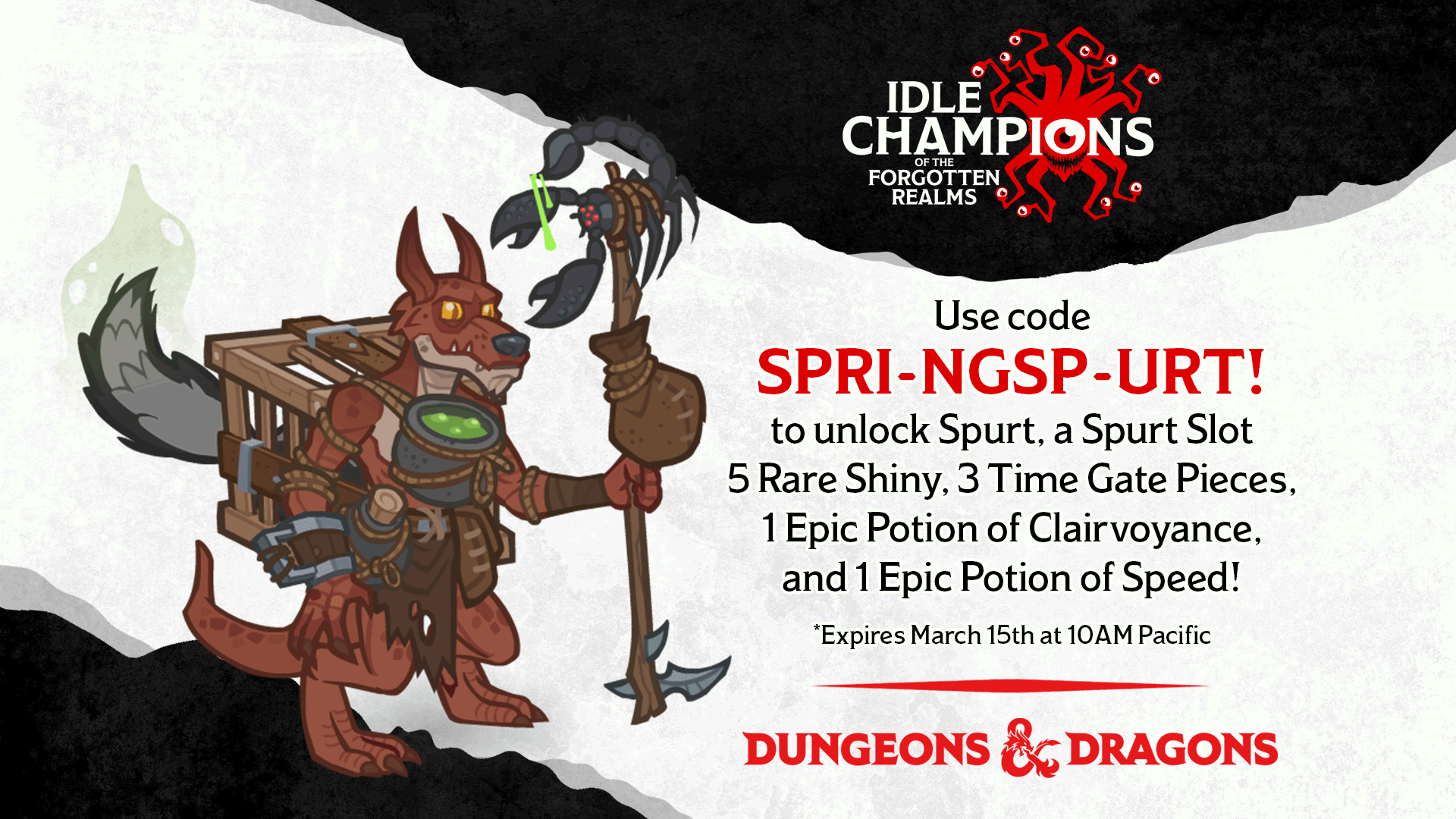 Day of Streaming
We have an exciting day of streaming scheduled to kick off our annual Spring Gathering! Tune in to our
Twitch Channel
for Mars' Guiding Hand, Seasoning with Shawn, the Sketching Hour, and a special one shot D&D game featuring some adorable dragonnels!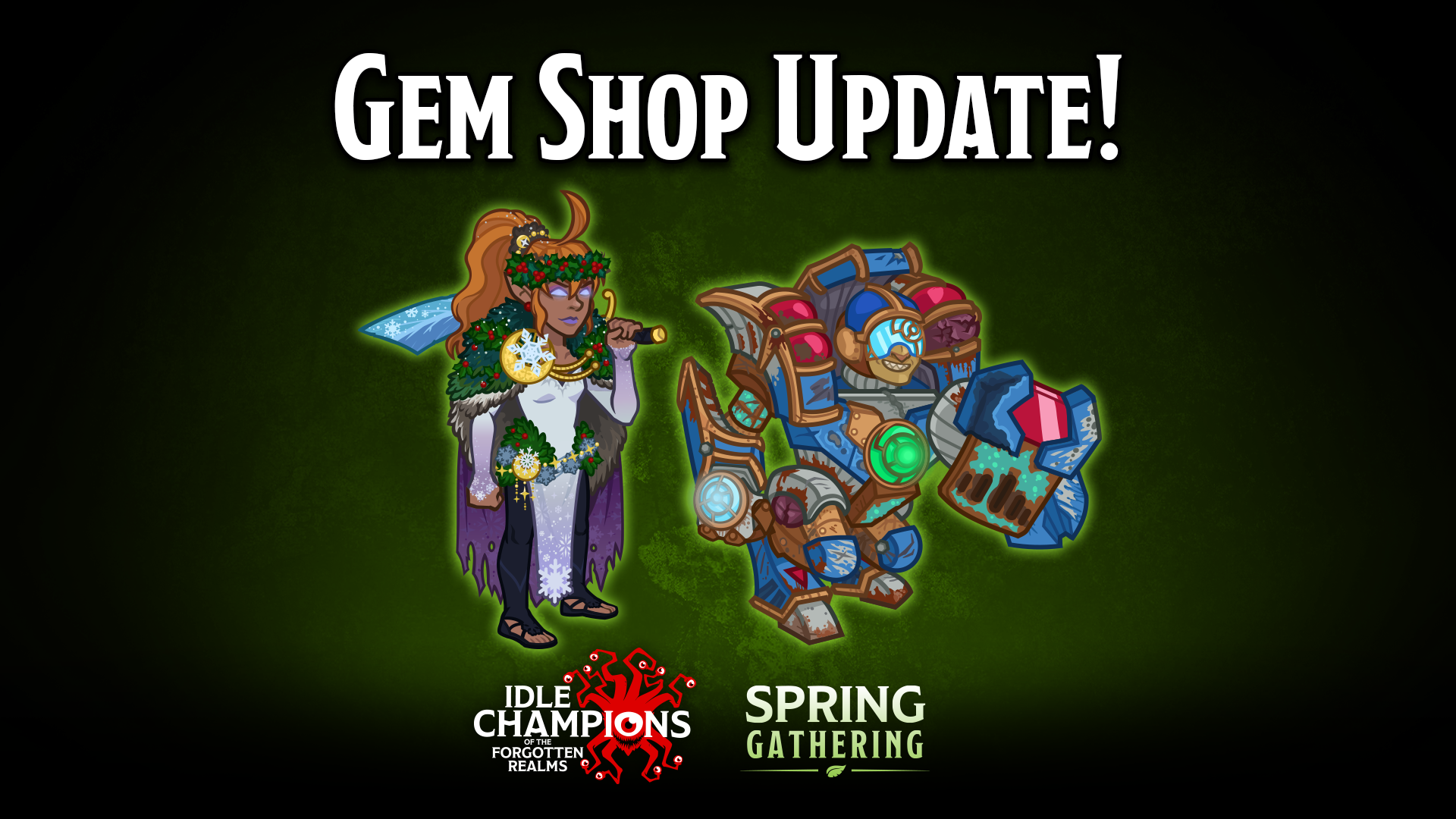 Gem Shop Update
We've added the following skins to the gem shop, which are visible and available once you've unlocked the corresponding Champion:
Solstice Jahiera
Spelljammer Lazaapz

Grand Tour of the Sword Coast Part 8b
We've had the Hand of Vecna stolen from us by one of Kas's lieutenants, the death knight Aristomache. We've made our way through the dread domain of Tovag, avoiding undead monsters and armies of Kas's loyalists, to reach the castle. Joining a tour group of new recruits, we find our way to the throne room to convince Kas to join us to defeat Vecna–but Aristomache has beaten us!

Variants
We've got two new variants for you with this update - the first of which is Kas the Bloody Handed: Fight your way across Tovag to recover the Sword of Kas with its owner! After that you'll take on Kas the Destroyer - Reclaim the Hand of Vecna with the help of Kas!
For more information about our latest adventure, check out
The Grand Tour, Part 8b
blog post!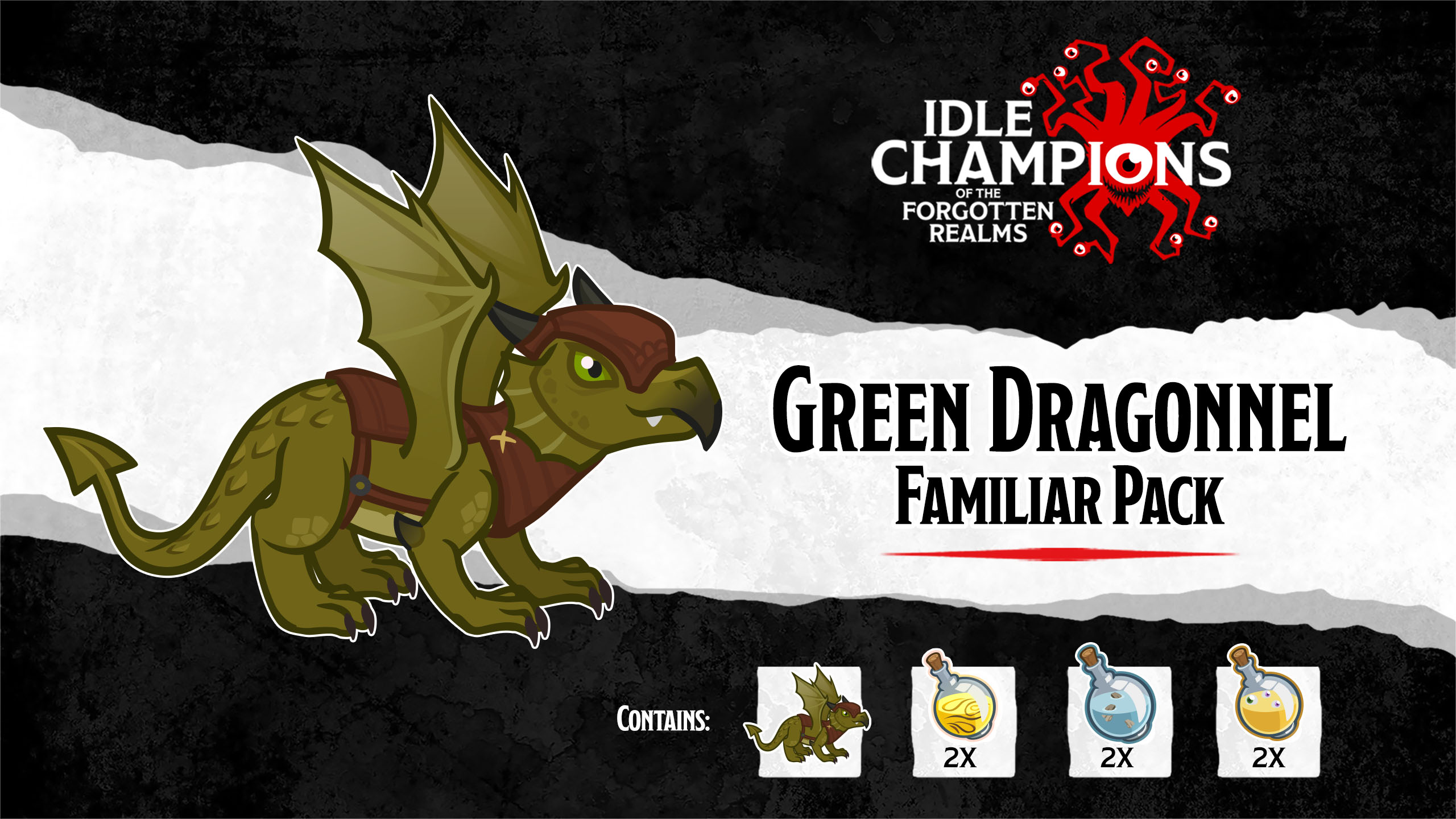 New DLC Packs
Four new DLC Packs are now available!
The Green Dragonnel Familiar Pack includes the Green Dragonnel Familiar, 2 Epic Postions of Speed, 2 Epic Potions of Giant Strength, 2 Epic Potions of Clairvoyance.
The Red Dragonnel Familiar Pack includes the Red Dragonnel Familiar, 4 Epic Potions of Speed, 4 Epic Potions of Giant Strength, 4 Epic Potions of Clairvoyance, 1 Potion of Polish.
The White Dragonnel Familiar Pack includes the White Dragonnel Familiar, 6 Epic Potions of Speed, 6 Epic Potions of Giants Strength, 6 Epic Potions of Clairvoyance, 6 Epic Potions of Fire Breath, 1 Epic Potion of the Gold Hunter, 2000 Modron Component Pieces, 1 Potion of Polish.
The Valenar Pup Familiar
Feedback Wanted!
These changes are scheduled to go live at approximately 12:00PM PDT on Wednesday, March 8th. We very much look forward to your feedback, so please let us know what you think in a Community Q&A or feedback post on the
Idle Champions Subreddit
, a post on the
Steam forums
, or on the
Official Idle Champions Discord
!
Enjoy :)