Greetings, Champions!
We hope your August has been filled with joy and adventures, both inside and outside Idle Champions. It's a very busy month for us here at Codename Entertainment, not just because we continue to work on live servicing our games while half our staff go on holiday, but also because we're gearing up for
PAX West
.
Wait -- did we mention that we'll be at PAX West again this year? Whoops. Let me start over.
We're going to be at PAX West again this year!
And not only are we hosting our very own booth (#7301 on Floor 6) but we will be featuring a whole bunch of fun stuff. Read on to learn more...
Put a Bird on it for Charity
Some of you may remember that
last year
we did a charity fundraiser for
Take This
and AFK Rooms at PAX, raising over $11,500 in support of Mental Health Awareness!
This year we have partnered with the incredible
Amy T. Falcone
, aka Walnut Dankgrass on
Acquisitions Incorporated: The "C" Team
, to bring Walnut's Familiar,
Vizier, the Steller's Jay
, to Idle Champions.
Would you like to know more? We have a video for you!
Through August 27th, 2019, all net proceeds from the Vizier the Steller's Jay Familiar Pack will be donated to Take This in support of AFK Rooms at PAX events. It's a fantastic cause and one we really believe in, so we hope you'll help!
Meet the Cool Kids
What fun is a PAX without your friends? This year we're hosting some amazingly-talented folks over at Booth 7301 for signings/meet & greets, and when we're not already introducing you to awesome people our artists will be drawing caricatures of PAX attendees as D&D classes. Ever wanted to have your likeness immortalized as a Warlock or Barbarian on a fragile sheet of paper? PAX West is your chance!
PAX West Booth 7301 Schedule
Note: subject to change, because, well, things happen and you adapt ;)
Yes, you read that right: it's all caricatures, all day long on Monday, September 2nd. Many PAX attendees wait until Monday to get their caricatures done, and that's awesome - but keep in mind that the queue for caricatures does tend to fill up quickly!
Free PAX Stuffâ"¢
At past events we've always had a selection of Champions for players to pick up through Champion Postcards. This PAX we're going to put a little bit of a spin on it and make things far more simple.
There will be one giveaway to rule them all
: Rockstar Jim Darkmagic!
Anyone who drops by Booth 7301 can pick up a Champion Postcard that unlocks Rockstar Jim Darkmagic, a costume based on Mike Krahulik's cosplay at
Acquisitions Incorporated Live - PAX West 2018
. And, if you don't already have Jim Darkmagic unlocked, the Rockstar Jim Darkmagic Postcard will unlock him for you as well.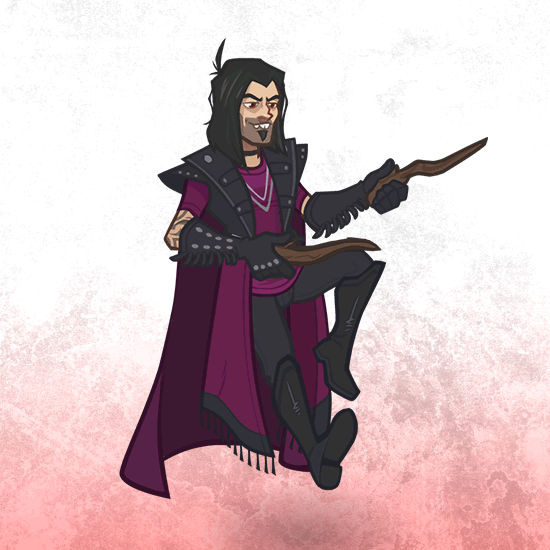 I can already hear the collective groan of players who will miss out on PAX West and their chance to get Rockstar Jim Darkmagic. Worry not, friends — we will be making Rockstar Jim Darkmagic available again in the future. So while PAX West 2019 will be your first chance to get this exclusive outfit, it will return, and in the meantime you'll be at least as cool as Jim!
Is that it?
No, that's not all! But the other stuff isn't quite ready to be shared. We have a rather ambitious idea for our booth setup this year and we're still working on it, unsure about whether or not this crazy idea will work. We hope to share that info soon, but everyone may have to wait until the doors open to PAX West and then head on over to
Booth 7301 on Floor 6
in order to find out...
In the meantime, we hope you'll consider contributing to Take This by grabbing your very own Vizier the Steller's Jay Familiar!