A Visitor From the Far Far Ranch
The Far Far Ranch is far far away, but there's a visitor that's brought a piece of it to the Commons!
Bea's visiting from the Far Far Ranch and has brought three Bubble Buddies to see if they'll thrive in Bushwhackia.
Bubble Buddies
Bubble Buddies
are cute bouncy critters that come in an array of looks and abilities! Let's see the three Bea's brought with her: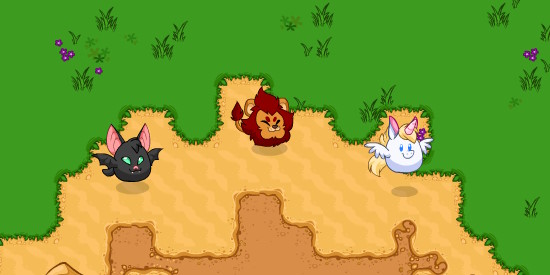 Buddies eat
Bushy Carrots
and output
Blorts
, which Bea will trade you for in her
Ye Bouncy Buddy Boutique
store. Watch the buddies get bigger and bigger as you feed them!
Buddies will also eat the more rare
Spicy Tofu
to output
Blorts
AND a resource unique to that buddy. Here are the buddies and their unique yields:
Bat Buddy - Gold
Lion Buddy - Gems
Unicorn Buddy - Mana/Power
During Bea's visit,
Bushy Carrots
and
Spicy Tofu
can be found in bushes all over Bushwhackia.
Help feed their bouncy bodies, earn
Blorts
, and redeem prizes! The saying goes,
'Big Buddies have bottomless bellies!
'
Instant Egg Incubation!
Bea's brought a machine that can instantly hatch a
basic pet egg!
You'll need to whack up a lot of fuel to get it working, via a challenging collection quest. Should you manage it quickly, you can even attempt it a couple more times at the cost of some Bush Bucks to repair the egg machine.
A Feeding Frenzy!
Bea and her buddies leave on
Wednesday October 11th
, so make the most of the opportunity while you can!
Discuss this mini-event on the forums!
Check out the Release Notes here!