The mists of Ravenloft are filled with loss, dread, and despair. But some make the choice to fight the darkness with a cheerful disposition and a child-like sense of wonder.
Nahara adventures into the mists on a mission to remember her past, trying to figure out where she has come from and who she was in previous lives. With a proper demeanor and joyful smile, she tries to balance her hopeful vigilance with her dark sense of vengeance. She joins her fellow
The Black Dice Society
Champions in the Idle Champions roster during Founder's Day 5.
I. Nahara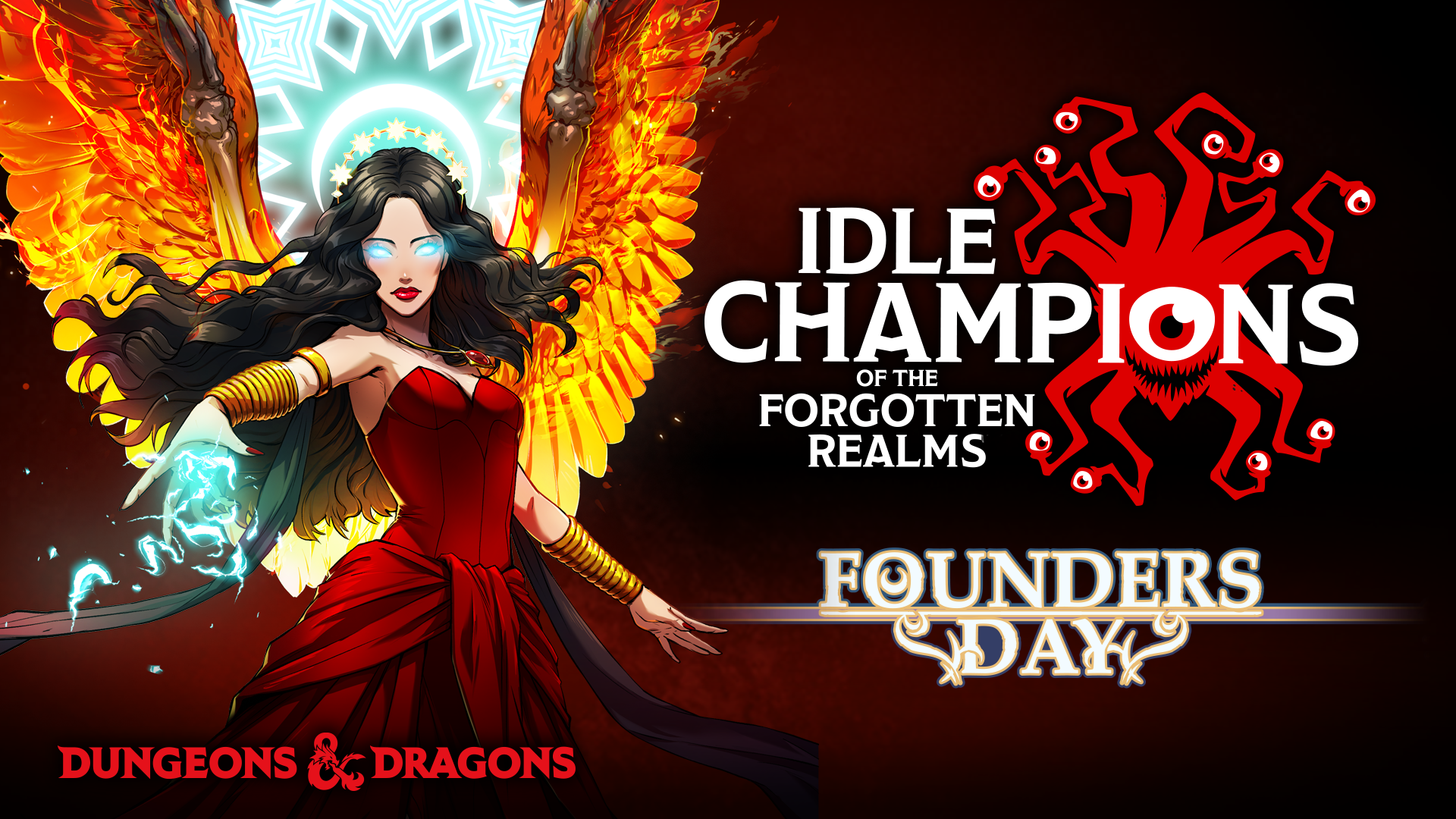 When she fell into the mists of Ravenloft, Nahara was unable to remember anything from her life, or previous lives. All she knows is she's caught in the conflict between her current Patron, Azalin Rex, and his foe Strahd von Zarovich, who has been desperately seeking her out.
Nahara is a DPS and Speed Champion, who permanently grows more powerful as she recovers her lost memories by completing areas and quickly dispatching enemies. When you want to add her to your formation you can swap her with Nayeli in slot 3.
II. Nahara's Stats
Race:Aasimar (Reborn)
Alignment: Chaotic Neutral
Class: Warlock/Bard
Gender: Female
Pronouns: She/Her
Age: 27
Affiliation: Black Dice Society
| | | |
| --- | --- | --- |
| STR: 9 | DEX: 16 | CON: 12 |
| INT: 10 | WIS: 13 | CHA: 16 |
Role:
DPS, Speed
Eligible for Patrons:
Vajra (via Feat), Strahd (via special rule), Zariel (via Feat)
Slot
: 3 (Nayeli)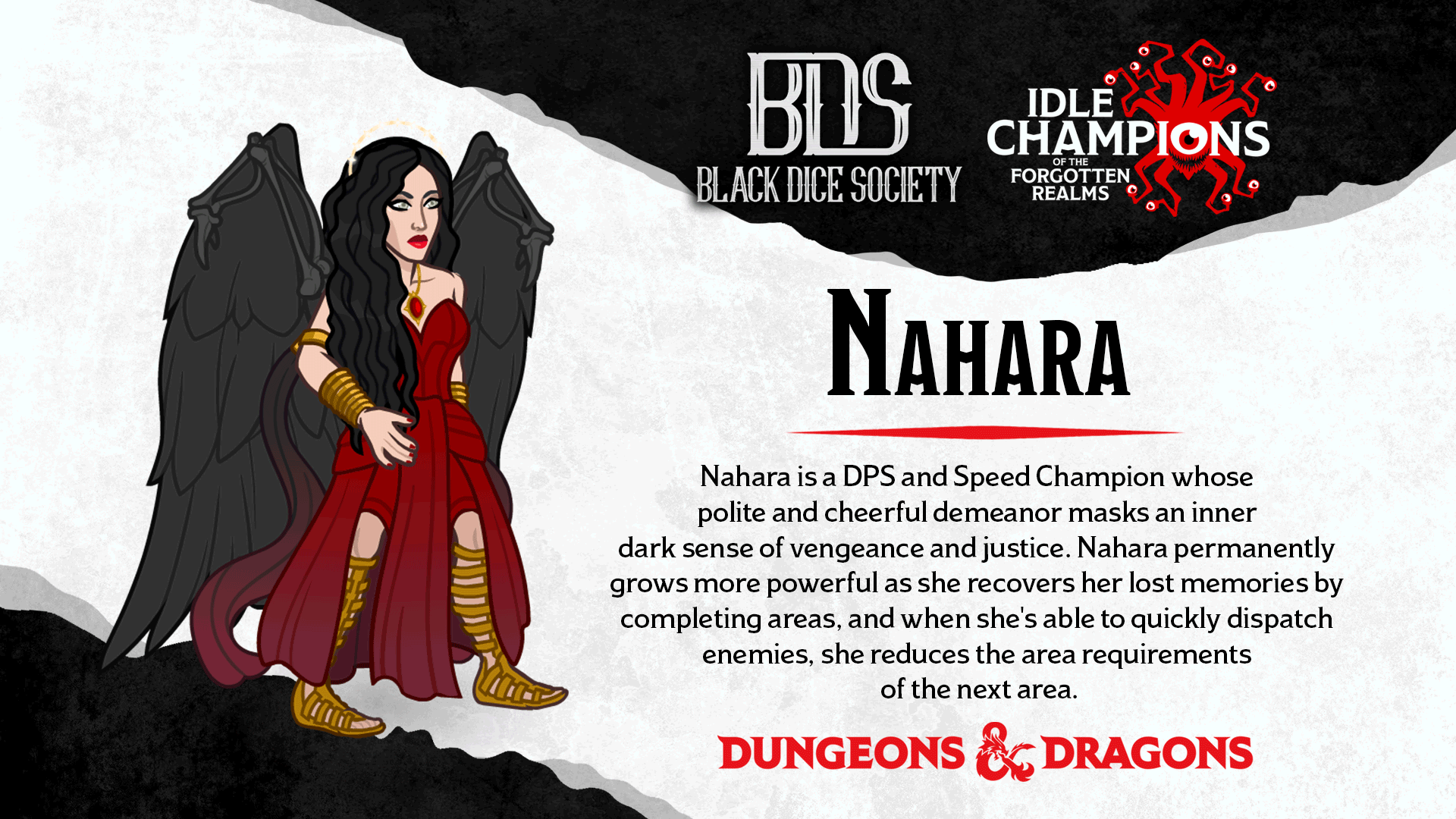 III. Nahara's Design
With an extensive resume of livestreams,
Noura Ibrahim
is well known to the TTRPG community for a variety of performances and characters. She's brought Nahara to life with her acting and roleplaying skills on
The Black Dice Society
, as well as with her extensive cosplay talents. It was wonderful to work with her to bring that dedication to creating her Champion into our game!
Nahara may have the beauty and grace of an angel, but she also has the power to back up her dark sense of vengeance and justice. She's quick to
Witch Bolt
oncoming enemies, and the outcome of her attacks will inspire her
To Amuse or Avenge
. She gains a
Levity
stack when she attacks and defeats at least one enemy, but she loses a
Levity
stack when she attacks and no enemies die. The more stacks she has, the faster the formation will progress by reducing area requirements, and the fewer she has, the more powerful her attacks become! She is keen to recover bits of her lost memories as she asks
Who Am I?
and the more she remembers the more powerful she becomes. Thankfully she is part of a
Strong Society
which boosts her damage for every Black Dice Society member who joins her in the formation. Since she is
Beloved by Strahd
she can easily travel the mists to the Count's side, and can start in all Strahd patron adventures no matter the restrictions.
All of Nahara's Specializations focus on increasing one of her many abilities. If she's anxious to learn more about her past,
A Grave Experience
will increase the amount she receives from
Who Am I?
Or she can use
A Skilled Lyre
to further reduce the area requirements to get through adventures faster. But when Strahd comes calling she can surround herself with her friends, using
A Barovian Bond
to allow all Black Dice Society members to join her in Strahd Patron variants, as well as increase the power she gains from their support. When the battle becomes fierce, Nahara will manifest an aspect of her patron's terrible power with her
Form of Dread
. This Ultimate attack greatly boosts her damage and has the chance to leave enemies stunned!
IV. Nahara's Abilities
Basic Attack
Witch Bolt - Nahara attacks a random enemy and every enemy that she has already hit with this attack.
Formation Abilities
Who Am I? - Nahara recovers a bit of her lost memory as she adventures. If Nahara is in the formation when you complete an area for the first time, she gets a +0.2% damage bonus, stacking additively. These bonuses persist through resets.
To Amuse or Avenge - When Nahara attacks and defeats at least one enemy, she gains a Levity stack, with a maximum of 30 stacks. When she attacks and doesn't defeat an enemy, she loses a Levity stack. Nahara gets a 10% damage boost for each Levity stack she has below 30, and at the start of each area, she reduces the area requirements by 2% for each Levity stack above 15.
Strong Society - Nahara gets a +100% damage bonus for each other Black Dice Society affiliation member in the formation, stacking multiplicatively.
Beloved by Strahd - Nahara is eligible to start in all Strahd patron adventures, even if variant restrictions would say otherwise.
Specializations
A Grave Experience - The Who Am I? counter increments three times for every area cleared.
A Barovian Bond - Strong Society gets a +100% increase, and Black Dice Society members can be used if Strahd is currently the Patron, even if they do not qualify for the other variant requirements.
A Skilled Lyre - The area reduction in To Amuse or Avenge is increased by 50%.
Ultimate Ability
Form of Dread - Nahara takes off into the air and channels the power of her patron Azalin Rex for 15 seconds. Her damage is increased by 1000% while in this form and any enemy she hits has a 50% chance of being stunned for 2 seconds.
V. Nahara's Epic Equipment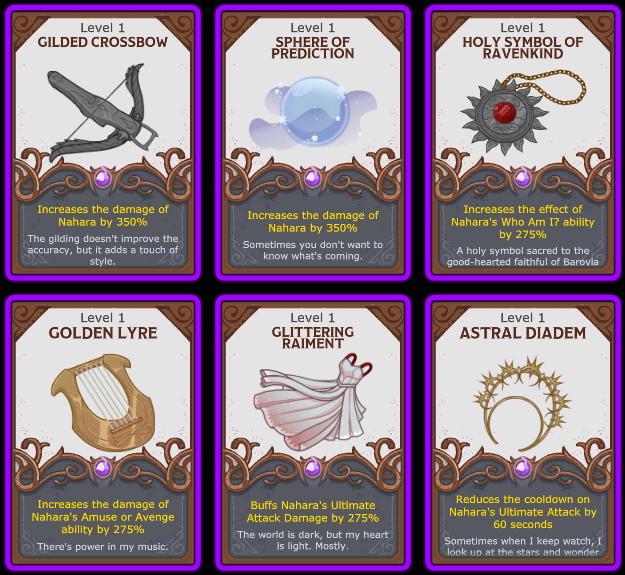 | | | |
| --- | --- | --- |
| Slot 4: Amuse or Avenge | Slot 5: Ultimate Attack Damage | Slot 6: Ultimate Attack Cooldown |
Conclusion
We are very excited for Nahara to join Idle Champions, and make it easier to use the Black Dice Society even more often in your Champion roster! If you're enjoying having this avenging angel in your formation, let us know on the
Idle Champions Subreddit
, on the
Steam forums
, or on the
Official Idle Champions Discord
!