He quietly tied a knot around the cage that held his pet skunk.
"Soon" he whispered as he shook the cage. "SOON WE'LL BE READY!"
He put the cage down and started strapping on his adventuring gear, the daydreams he held close to his heart dancing in his head as he whispered a song only he knew: "nah nah nah nah nah Spurt am the beeeeeest!" He swiped his dagger through the air as he sang. It was covered in drippy stuff. He threw it away into the pile of equipment he'd collected. Some of it was glowing, or on fire, but he learned long ago not to touch those. Yesterday he got a pretty nasty burn. He picked up his foot and licked it subconsciously. Then he nibbled on his toenails a bit. That part was on purpose. There's a lot of protein in toenails, you know.
He strapped on the green slime pot that killed his brother. Perhaps one day he could turn him back into a real kobold. He collected his stoppered gourds, wishing he had labeled them. No matter. He was an adventurer now. He would know which one to use when the time came.
He reached for Stingy, the scorpion he'd tied to the top of his stick. If it wasn't for his awesome cup bracers, Stingy would have stung him a lot more, but he was an inventor. And an inventor is smarter than a scorpion most of the time.
Finally, he tied the bagged wasp nest onto his stick, shaking it for good luck. The buzzing got louder so he threw the stick across the room till they quieted down. How rude!
He was alerted to sounds up ahead. Steps. Whispers. Arguing? It was finally time. Spurt was going to find his mommy and become a real adventurer. If only he knew which way was out.
Today, we've got a special treat for you. We are revealing our newest champion (
for the second time
). Spurt, the Kobold Inventor (Rogue) is coming to Idle Champions THIS WEEK! I want to take a few minutes to go over his kit, and explain how to use this quirky, silly, kobold.
Who is Spurt?
Spurt was created by
Chris Perkins
on the fly during episode 50 of Campaign 2 on
Critical Role
. He was an honorary member of the Mighty Nein for all of 20 minutes, as he hilariously found a way into all of our hearts before a Fire Giant's hammer finished him off.
You can see his epic origin story here:
Spurt's Stats
| Race: Kobold | Class: Inventor (Rogue) | Alignment: Lawful Evil |
| --- | --- | --- |
| STR: 7 | DEX: 15 | CON: 12 |
| INT: 8 | WIS: 7 | CHA: 8 |
When you want to add Spurt to your formation, you can swap him with Nayeli (Slot 3).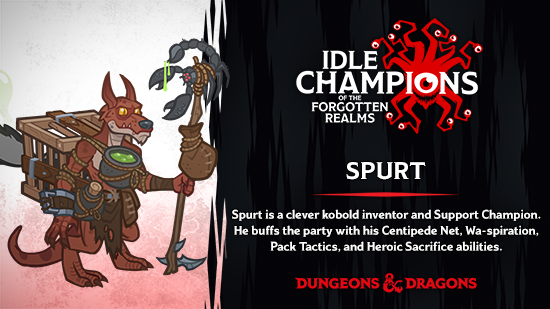 Spurt's Story
He's an 11-day old kobold who fancies himself an inventor, rogue, and hero depending how much rotten cave water he drank.
Basic Attack
Spurt tosses a wasp nest at a random enemy, dealing damage.
Formation Abilities
Before we get into his abilities, I want to talk about two states that Spurt can be in. First, when he's alive, he acts just like any normal Champion, attacking on a timer and granting formation buffs to other Champions. However, once he uses his
You Dead!
ultimate (more on that soon), he becomes Spurt's Spirit. While he's a Spirit, he no longer attacks, but his buffs are turned up to 11, granting even more support to his team given the Heroic Sacrifice he just made!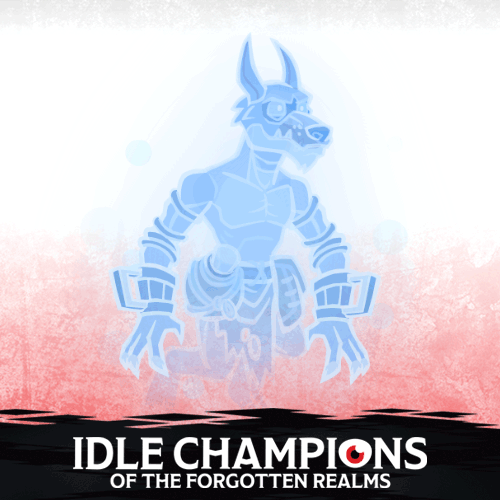 Heroic Sacrifice — This ability unlocks the You Dead! ultimate attack. Additionally, it details how Spurt remains in his Spirit form during the cooldown of the ultimate, buffing his other formation abilities in unique ways.


Centipede Net — Increases the damage of adjacent Champions.


Wa-Spiration — Whenever Spurt attacks an enemy, wasps swarm that enemy until they are killed. When 4 wasp-ed enemies are killed, Spurt invents a random effect for 60 seconds. Each effect can stack up to 5 times (with each stack expiring separately).



Stingy — Champions that attack with melee attacks deal additional damage.
Skunky — Enemies that approach the party (the same range as Strix's stinky ability) take extra damage.
Grubby — All Champions' base attack cooldowns are reduced.



Pack Tactics — Increases the damage of all Champions by for every Kobold in the formation, including Spurt. That's right. It's time to create the epic Kobold/Bard adventuring group with Deekin and Ishi!


Specializations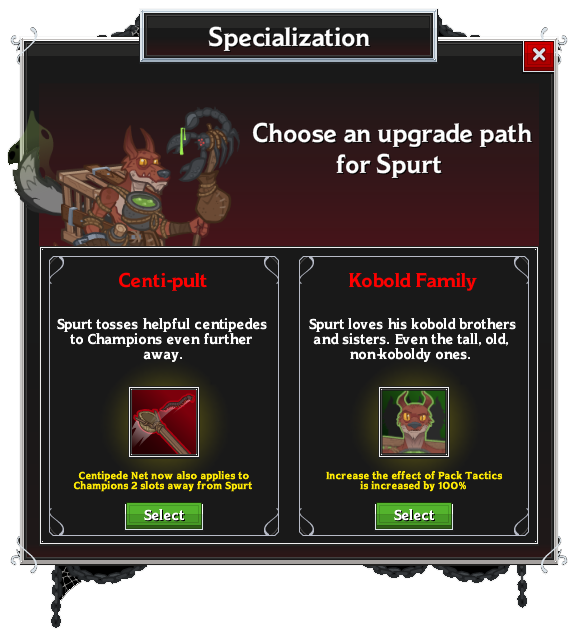 Centi-Pult — Choosing this specialization will allow Champions who are 2 slots away from spurt to recieve the buff from Centipede Net, not just those adjacent!


Kobold Family — Choosing this specialization will maximize the damage boost to all champions from Pack Tactics! Great if you're doing a run with Deekin or Ishi!
Ultimate Attack
You Dead! — Spurt jumps in front of the formation and tosses a wasp nest at a stalking giant. He is then immediately killed. He comes back as a Spirit (see above), increasing the effects of his abilities until he revives near the end of the ultimate cooldown. That's right. You want as LOOOOOOONG of a cooldown as possible to maximize Spurt's support potential. What does that mean? More hammers. So many more hammers.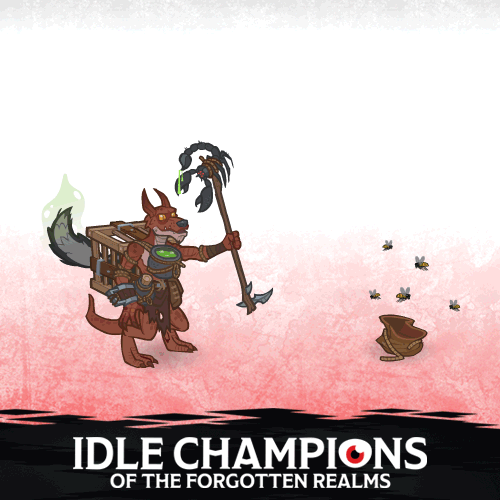 Equipment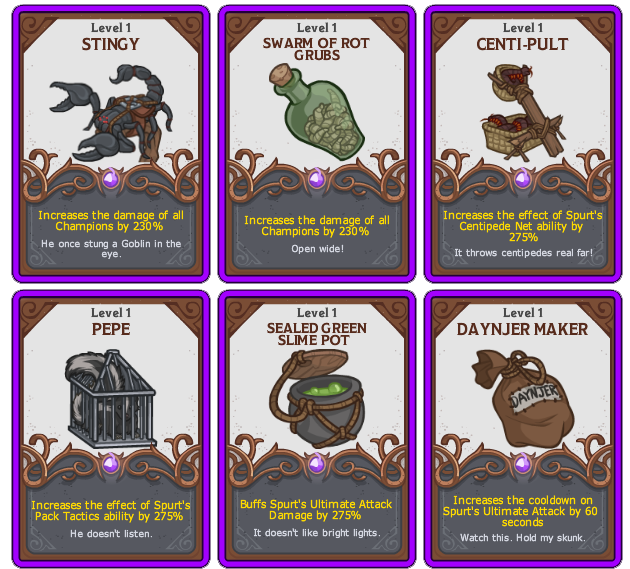 Spurt's Staff — Stingy (and the versions that came before it), help Spurt survive. Since Spurt isn't very good at surviving, the staff buffs all Champions. Maybe they can help.


Spurt's Rot Grubs — Do you need any more motivation than "There's a rot grub on your tail"?


Spurt's Centipede Basket — This equipment buffs his Centipede Net ability, buffing those adjacent to him!


Spurt's Skunk — Pepe may not listen, but it enjoys Kobolds. That's why it buffs his Pack Tactics ability!


Spurt's Green Slime — "Don't go digging in there."


Spurt's Wasp Nest in a Bag — Could this be Spurt's most popular invention? He thinks so. Given that you want to have Spurt as a Spirit as long as you can, this equipment item INCREASES the cooldown of his ultimate, meaning he spends more time in his uber-spirit form. Ahhh the memories.
Final Thoughts
We are super excited to release Spurt into the wild. He's one of our goofiest champions, and we want to pass along a big thanks to Chris Perkins and all of our partners at Wizards of the Coast for helping us bring this epic Kobold to life! In the words of Spurt: "I win!"
As always, feel free to send us feedback on via the
Idle Champions Subreddit
,
Steam forum
, or the
Idle Champions Discord
!