We visited the Victoria Cool Aid Society's Olympic Vista apartments on Friday April 10th 2015 for a tour. The Olympic Vista building is a support center providing a home for seniors (55+) that have been, or are at risk of becoming homeless. Like all of Cool Aid's Supportive Housing buildings, Olympic Vista has the security features and 24-hour staffing that ensure its residents have a safe, welcoming home with access to the help they need. It is so named because it has a view of the Olympic Mountains and a design that incorporates VANOC's 2010 Olympic Village modules.
We started the tour in the lobby and got a rundown about the reasons behind the building, mainly to give seniors that have been homeless a safe place to relax and call home with a guaranteed meal a day. The building has a welcoming lobby with cushy chairs for residents to use the phone or chat with each other. There's a computer nook where they can access the internet and potentially reach out to family they haven't talked to in years. Residents also have access to a laundry room where Cool Aid provides the soap so everyone can have clean clothes. The dining room was next, with a TV that's always on and a piano tucked in the corner where residents can eat their guaranteed meal, socialize or just relax in the sun with a view of the garden.
Speaking of the garden, we headed outside next. There were six substantial raised beds for the residents to grow things in. The staff are also encouraged to participate with their own bed, but everything that grows is shared amongst each other. A gazebo and grassy areas rounded out the garden that was pretty even with the grey weather we had that day.
Heading back inside, we passed the Quote of the Day board and activity posters on our way to the elevator. We headed to the basement to check out something that we wouldn't have thought about, but can be necessary: a "sauna." This room is where they can take residents' belongings to heat up and kill bedbugs and their eggs. The process only takes a few hours and is less invasive than spraying down a resident's room and then having to repeat the process in a few weeks to kill any babies from eggs that hatched.
The tour concluded with a group photo and more thanks from Cool Aid for our support. It was definitely eye-opening and informative and we were grateful the folks from Cool Aid could take the time to show us around the building.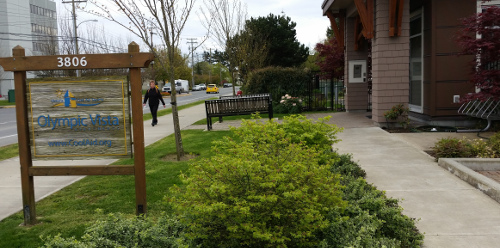 Entering Olympic Vista.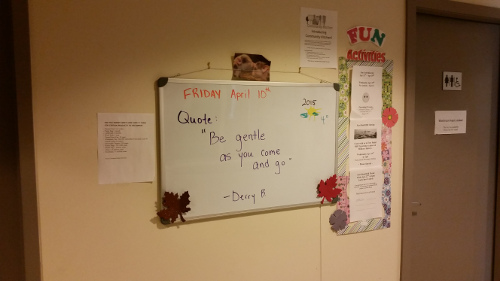 Quote of the Day and activities notice board.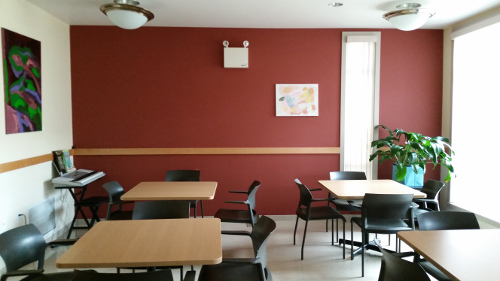 The dining room.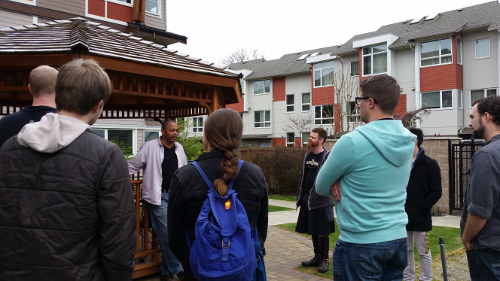 James Splat giving us the information about the garden plots and gazebo.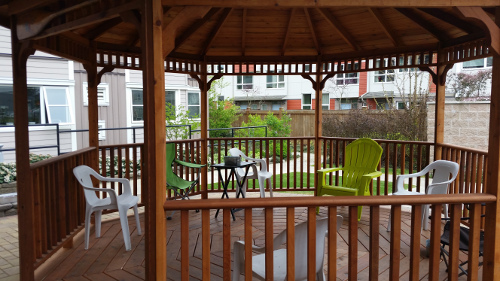 A recent addition to the garden: a gazebo.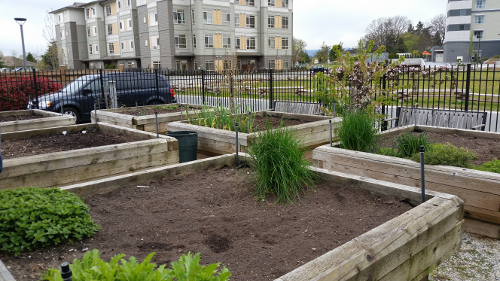 The community garden plots. Everyone shares and the staff are welcome to garden too.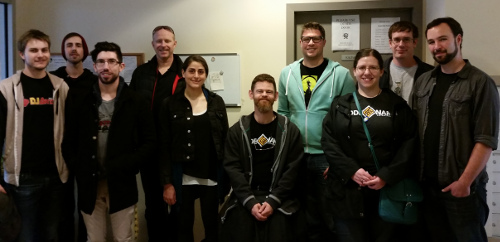 Codename group photo, from left to right: Mark, Jacob, Nick, Cory, Alexis, Eric, Peter, Erika, Justin and David