We are proud to partner with Take This, Parker Games, & Beadle & Grimms to offer these Psychomancer Beadle & Grimm skins, available by donating to the
Boxed-In: The Enclosure Experience!"
Content Creator, Gamer, Influencer and Disney XD star Parker Coppins a.k.a. ParkerGames, has set the goal to raise $1,000,000 and vital awareness in an effort to highlight COVID's impact on mental health.
"By raising awareness of mental health, depression and isolation – how it affects many in the gaming community, my goal will be to reinforce to those who are currently dealing with these issues, that they are not alone" said ParkerGames. "Covid has taken a toll on everyone's mental health. I felt it was necessary to not only raise much need funds for a great cause, but in my own way help reduce the stigma about seeking support.
From April 19, 2021 to April 29, 2021, Parker will be completely isolated (under professional supervision) inside a 12' x 9' plexi-box located in his studio in Harlingen, TX. Each day Parker will provide his fans and over 1M followers updates by live-streaming his experiences, playing video games and encouraging those who can to donate funds to help him reach his goal. Proceeds will benefit
Take This
a 501(c)(3) non-profit mental health organization providing comprehensive resources and support that is tailored for the unique needs of gamers and the game development community.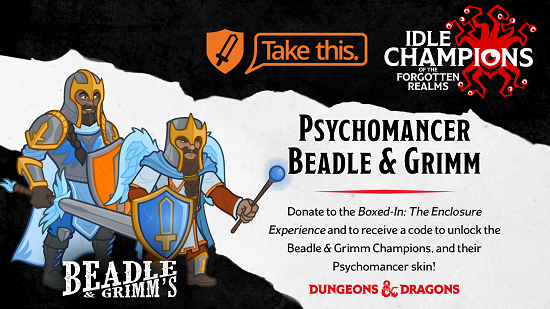 Players and supporters can donate $10+ receive a code to unlock the exclusive Beadle & Grimms Champion and Limited Edition Psychomancer skin (limit one code per unique qualifying donor).

Codes will be sent to donors via email after April 28th at the conclusion of Boxed-In: The Enclosure Experience.


Parker will also be playing in a D&D game segment featuring Matthew Lillard from Beadle & Grimms, and Dr B from Take This as the Dungeon Master. The game starts on Monday, April 19 at 4:30 PM PT / 6:30 PM CT and ends around 7:30 PM PT / 9:30 PM CT.


Please be sure to add support@parkerboxedin.com to your contacts, address book, and safe senders list to help prevent your message from ending up in spam.


Parker will be playing Idle Champions every morning from 6:30 AM PT / 8:30 AM CT to start his day throughout the 10-days.

The entire event will be multi-cast across Parker's YouTube and Twitch channels.