As our more veteran players all know, we've been planning to add a way to spend Idols to increase your power since the game first launched. Unfortunately that update is taking more time than we'd like, so we've decided to roll out a few of the more commonly requested features from it prior to the whole system being completed. Without further adieu, we present to you the
Crusaders Talent Tree
!
Talent Tree Menu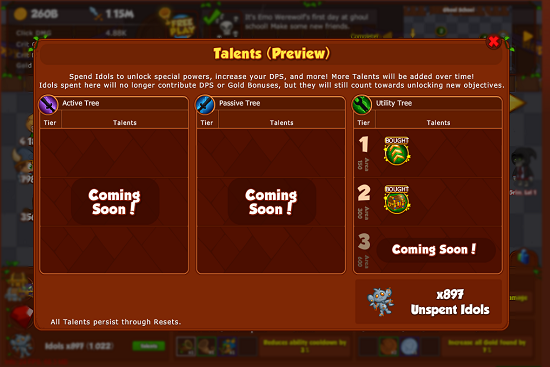 Accessed via a button where the Idol Shop button used to be on the inventory tab, the Talent Tree will eventually contain dozens and dozens of skills and abilities to unlock for increasing numbers of Idols. For now, however, it contains two very valuable and sought after features:
Buy All Button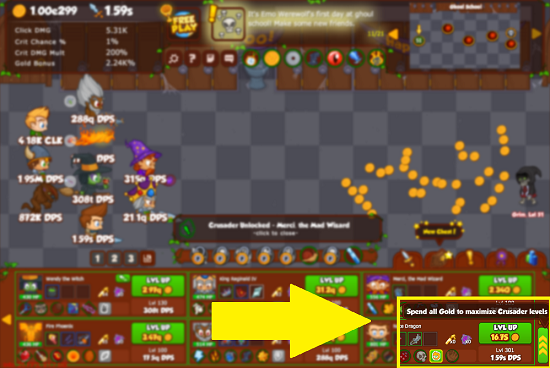 The
Buy All Talent
unlocks a new button on the Crusaders UI. With a single click it will immediate
spend as much gold as possible to maximize your total Crusader Levels
. This button is extremely useful just before you reset, as it will maximize your Idols gained on that run. To unlock the ability to purchase the Buy All talent you must have beaten Area 150 in any campaign. Purchasing this talent will cost you 25 Idols as well. Idols you spend in the Talent Tree will no longer grant their DPS or Gold Find bonuses.
Mass Chest Button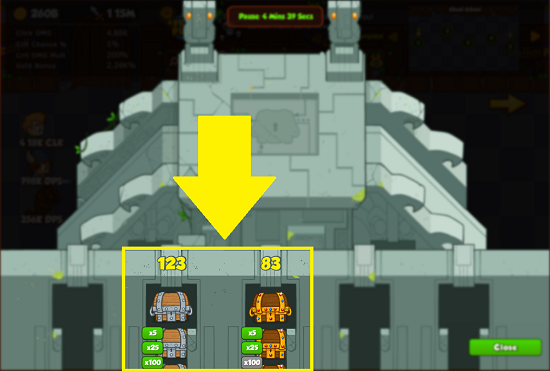 The
Mass Chest Talent
adds three new buttons to the Chest Opening screen. These new buttons
allow you to open 5, 25, or 100 chests all at once
, displaying the cumulative contents for your to peruse. This tier 2 Talent requires you to have beaten Area 300 in any campaign, so if you haven't done so yet you may want to start planning to do a deep run into Emo's New Moon or the World's Wake campaign on Free Play! You'll also need to spend 100 of your hard earned Idols to purchase this talent.
Mass Chest Screen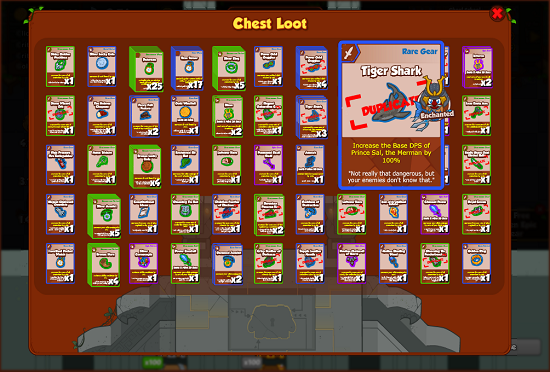 We'll be adding more and more Talents over time, so stay tuned to this blog and the in-game change log for more information about those.
In addition to these two talents we're also updating the functionality of Enchantment Points with today's update. We've received a lot of feedback regarding Holiday Crusaders not feeling as powerful as the classic Crusaders due to an EP differential. Based on this feedback, we've changed it so that
30% of EP is now shared between Crusaders in the same bench slot
. This means that Jack O'Lantern now benefits from 30% of Natalie Dragon's EP, and Wendy the Witch benefits from 30% of Prince Sal's EP. This also applies to Crusaders from the Carnival Event and will apply to any new Crusaders we add in the future. We're also planning to add a Talent to the Talent Tree in the future that will increase the percentage of shared EP. This should make Holiday Crusaders much more competitive with the classic Crusaders, especially if you've earned a lot of Enchantment Points!
We hope you enjoy these new features. We'll be releasing more information about new Talents and features in the future, based not only upon our own ideas, but your invaluable feedback! Thank you for your patience and support!