Now that all of the holiday festivities are behind us, it's time to look forward to the next fun event: it's time to book a vacation to escape the January blues.
Starting today and running through to January 17th at Noon PST, The Princess is heading abroad to host her annual pool party event. For those players who haven't unlocked them already, this is your chance to add both
Pilot Pam and Queen Siri to your roster.
Of course, as this is a 2017 update of the original event you can also collect two new Crusaders: Bernard the Bartender and Princess Val the Mermaid.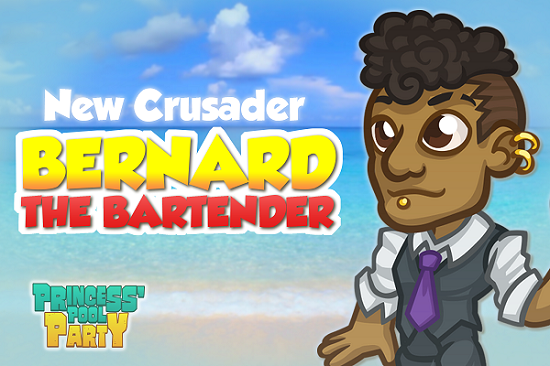 New Tier Two Crusader: Bernard the Bartender.
Bernard the Bartender shares the same slot as Detective Kaine. He includes some fun formation abilities such as
Tips!
. This ability has a base 20% chance that you'll receive 20% more gold from an enemy when it's killed. The chance can be increased with other upgrades and gear.
At level 400, Bernard unlocks
Girl's Night
where every female Crusader in the formation adds an additive 20% boost to the
Tips!
bonus gold.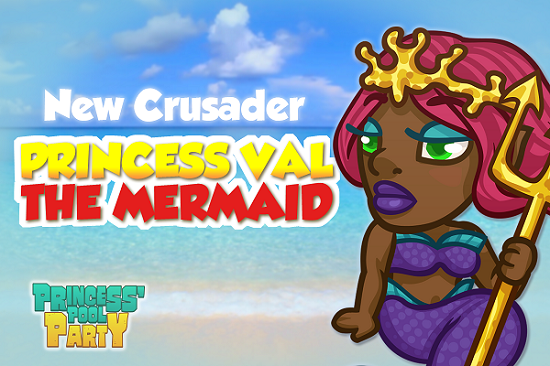 New Tier Two Crusader: Princess Val the Mermaid.
Princess Val the Mermaid also packed some fun new abilities. At level 25, she unlocks
Royal Blessing
. With it, all adjacent Crusaders are healed by 20% per tick, split between the number of affected Crusaders. This is boosted by other upgrades as well. At level 400 her
Animal Kingdom
ability increases the global DPS by +50% if there are more animal Crusaders than human Crusaders in the formation.
After you've completed the first two new Tier Two objectives for Bernard and Val, there are three more objectives to keep you busy.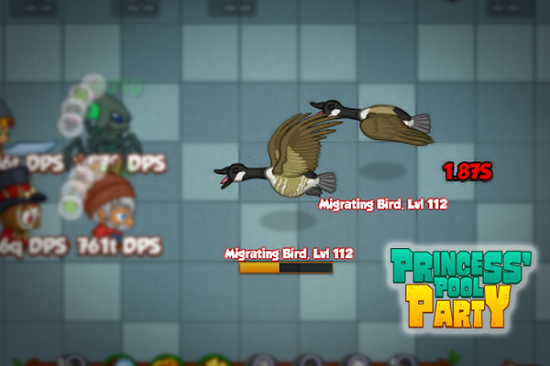 New Tier Two Objective: The Great Migration.
The Great Migration
sees the Crusaders beset by migrating birds determined to bring your holiday plans crashing to the ground. These fowl foul instantly kill any Crusader they hit in a puff of blood and feathers all the way to area 400.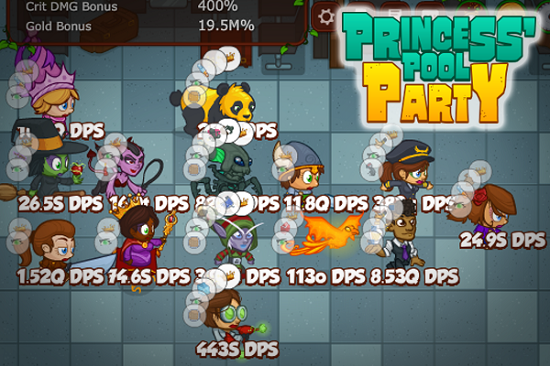 New Tier Two Objective: Girl's Getaway.
Girl's Getaway!
forces you to only select female Crusaders alongside Bernard because what kind of a holiday doesn't have alcohol, especially when there's a long way to go to area 450.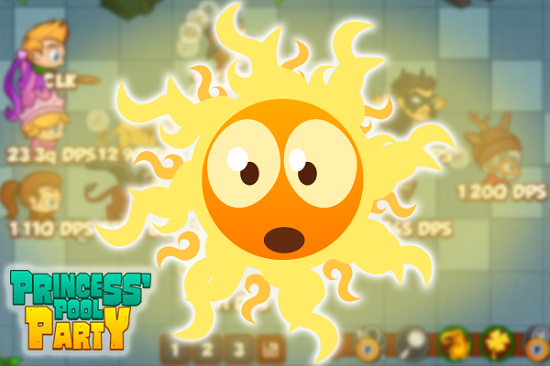 New Tier Two Objective: Don't Get Sunburnt.
The final new Tier Two objective is
Don't Get Sunburnt
. The hot objective sees the Crusaders DPS suffer in the sun's rays. The longer the Crusaders are in the formation earning XP, the less DPS they do, making reaching area 500 quite a challenge!
Equipment for both Tier 1 and 2 Crusaders can be found in Pool Party Silver and Jeweled Chests. However, gear for the Tier 2 Crusaders will only appear once you've unlocked the respective Crusader.
You'll have until January 17th at Noon PST to complete the event before it's time to fly home and spend another year only dreaming of sunny beaches and lazy pool days.