Everyone is super psyched about a certain new film coming out this weekend! What a coincidence that it's being released just as the Gardener's event is running.
The following Crusaders will get a buff this weekend starting from today until 12 pm PDT on Monday May 8th.
Emo Werewolf - Base DPS +400%
Detective Kaine - A-Hah! ability +200%
Broot - I am Broot, I am Broot, and I am Broot abilities +200%
Dark Gryphon - All DPS ability +200%
Robbie Raccoon - Stay Strong, and Best Buds abilities +200%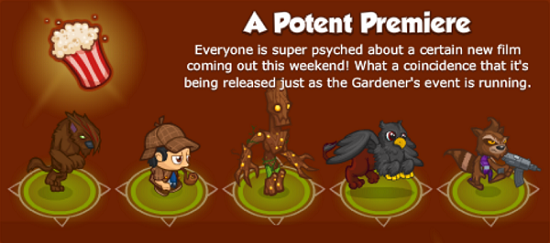 Also, check out the limited-time Premiere Jeweled Chests that contain equipment for the five Crusaders above!
(
Please note:
The chest will only contain gear for Broot and Robbie the Raccoon if you've unlocked them. If you are missing Robbie, you can purchase Robbie's Golden Epic, and it will be available on him once you unlock him through missions.)