It's a time of celebrations and festivities for Waterdeep. Founders' Day is a time of legendary displays of martial and arcane prowess from the notable Champions who call the City of Splendor home, where visitors and locals alike gather and share stories of Waterdeep's history.
Unfortunately, these festivities have also attracted the attention of one of the Lords of the Nine Hells, who has come to collect souls for the Blood War...
Founders' Day 2 introduces the Wild Elf Druid, Walnut Dankgrass, and brings back Deekin Scalesinger, the Kobold Bard. Players will have until Monday, July 15th, 2019 at 12:00pm PDT, to unlock them!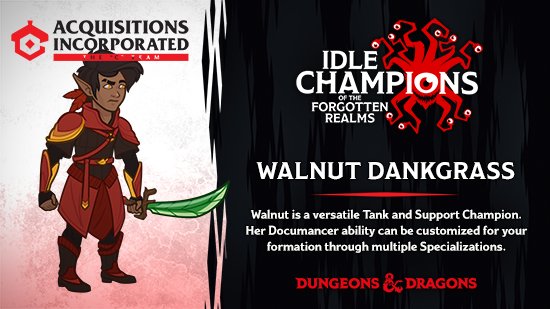 New Champion: Walnut Dankgrass
Walnut is a child of the Enclave Panax Anima, an all-female clan of woodland defenders within the Kryptgarden Forest. Not only a frighteningly enthusiastic member of Acquisitions Incorporated, she also strives to protect the natural world by any means necessary. Did we mention she also has the goddess Mielikki living inside her? That seems important.
Walnut is a versatile Tank and Support Champion. Her
Documancer
ability can be customized for your formation needs through multiple specializations. When you want to add Walnut to your formation, you can swap her with Delina (Slot 8).
For more information about our latest Champion, check out the
Idle Champion Spotlight: Walnut Dankgrass
dev blog!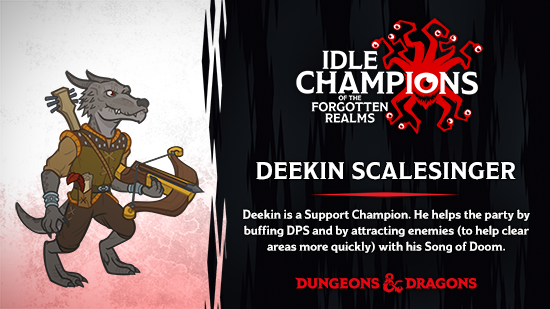 Returning Champion: Deekin Scalesinger
A former member of the Dripping Fang clan, Deekin was once a Skald for a White Dragon named Tymofarrar. Once he was released from Tymofarrar's service, he set out to become the most amazing storyteller in all of FaerÈ—n. He yearns to sing and tell stories of heroic deeds, but his songs often devolve into "tales" of the doom that is coming to him or his companions.
Deekin is a Support Champion. He helps the party by buffing DPS and by attracting enemies (to help clear areas more quickly) with his
Song of Doom
. When you want to add Deekin to your formation, you can swap him with Bruenor (Slot 1).

Year Two Variants
Rain of Fire — Fireballs occasionally rain from the sky, damaging a random Champion. These Fireballs become more frequent the further you progress.


Close Quarters Combat — Only Champions with melee Base Attacks may be used.


Aww, Hells Nuts — Enemies become much more powerful over the course of the adventure. Walnut starts the adventure in your formation and cannot be moved, removed, or swapped out. Demonic Squirrels occasionally spawn. When killed, these squirrels drop Hell-Nuts, which increase the effectiveness of Walnut's Documancer ability and last until the end of the adventure, stacking additively.

Year One Variants
Spectator Sport — Three local farmers have joined in on the Founders' Day tussle, and won't take the hint that they should probably take a seat. It might be because they are pretty drunk. They take up a slot in your formation and change positions every 25 areas.


Doom is Coming to Waterdeep — Deekin must sing a song so everyone in Waterdeep knows that doom is coming. I know. We tried talking to him. However, he doesn't know which spot will give him the best acoustics. Deekin is always in your formation and will change positions every 10 areas. Deekin cannot be moved because, well, Deekin is singing a song.


The Blood War — Whenever you kill a demon, devils get stronger and demons get weaker, and vice-versa.
See the in-game FAQ for more information!