Ahoy Breakers!
The Challenge Fairy enjoys participating in Talk Like a Pirate day and so she's gathered an assortment of pirate prizes for you to help her unlock. Grab your hammers and prepare to scour the high seas in the Egg Break-ARRR burst event!
For the duration of the event, special challenge eggs will temporarily replace all normal challenge eggs, and the eggs will appear at a higher than usual rate. Players can earn 12 event prizes of various Pirate themed items from cashing in Event Tokens with the Challenge Fairy Monkey.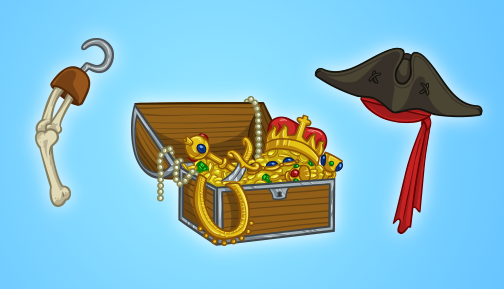 For the toughest of tough challenges, there are 3 awesome prizes!
The 3 Corner Hat adds 10% More Multipliers!
The Pirate Arm Hammer adds More Stars!
The Treasure Chest richly enhances any trophy room!
Talk about it on the forums!
The event will run until Wednesday September 23rd at Noon PDT!