Greetings Breakers!
Thwack! The ball is hit! It's going long! It's over the fence! Grand slam! Mister Monkey is a huge sports fan. Get ready to celebrate the baseball playoff season with an all-new challenge event. The Challenge Fairy is back with a Baseball Champions event!
For the duration of the event, special challenge eggs will temporarily replace all normal challenge eggs, and the eggs will appear at a higher than usual rate. Players can earn 12 event prizes of various Baseball themed items from cashing in Event Tokens with the Challenge Fairy Monkey.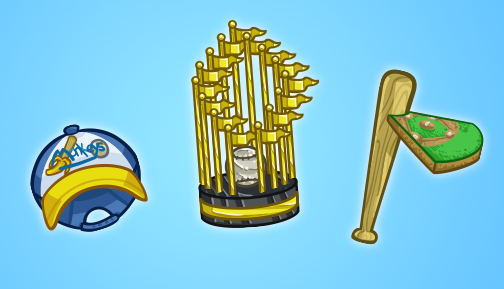 For the toughest of tough challenges, there are 3 awesome prizes!
The Bat Hammer adds more Area Tokens! The Team Cap Hat adds 10% Less Nothings! The Championship Trophy adds winning flare to any trophy room!
Talk about it on the forums!
The event will run until Friday, October 9th at Noon PDT!