A new Campaign, exciting new Blessings, a lot of Trials, many streamed celebrations, Daily Rewards, and even more! It's time for our Fourth Anniversary Celebration!
If you're interested in learning more about what's coming with this week's update, you've come to the right place...
Fourth Anniversary Celebration
It's been a fantastic year for Idle Champions, and we're excited to celebrate with our Community this game we all love! In our fourth year, we've rolled out quite a few features and systems, including our first co-operative multiplayer campaign: Trials of Mount Tiamat. We also released two Evergreen Champions, started a new campaign, launched on Epic Games Store, and ran a 6-week interactive livestream experience. All that certainly deserves a celebration, right?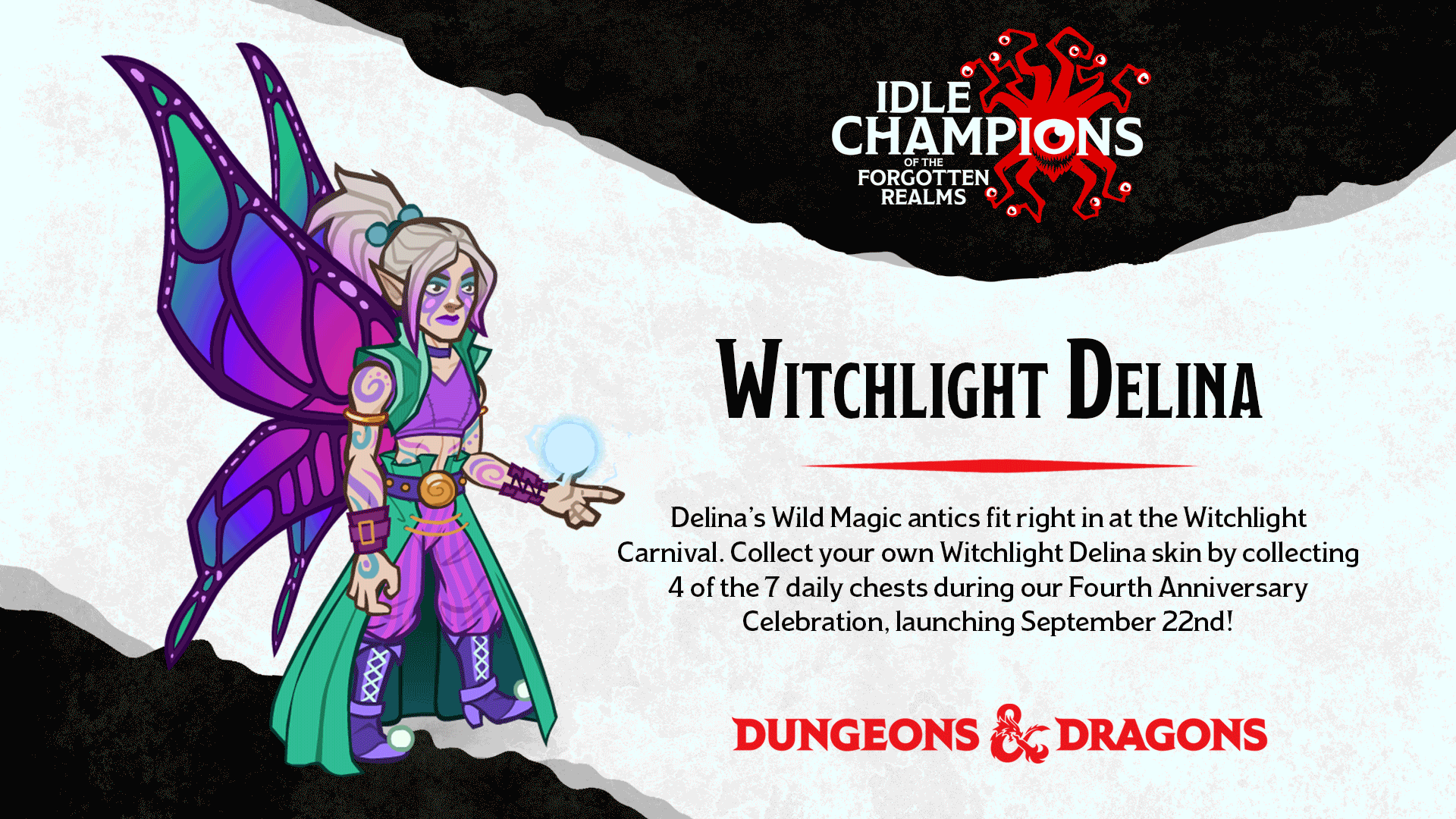 Daily Rewards
Every day during the Fourth Anniversary Celebration you can log in and open a new Birthday chest, but each chest is only available for 24 hours! Each chest contains 5 awesome items, hand-picked by the team here at Codename Entertainment to help you in your adventures. If you get goodies in those chests for content you have not yet unlocked, then your account will retain those items and save them for you to enjoy when you have unlocked those systems in the game!
Once you have claimed at least four daily Birthday chests, you unlock an exclusive Witchlight Delina skin, an epic Delina feat, and 5 gold chests!

The Wild Beyond the Witchlight, Part 1
This week's content update brings the debut of a new campaign, The Wild Beyond the Witchlight! Check out the full
The Wild Beyond the Witchlight
blog post coming later today for details about the new adventures and variants filled with the wonder and danger of the Feywild!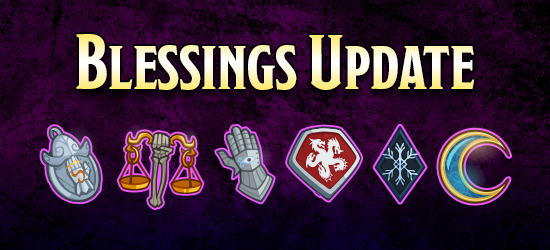 Blessings Update
With a new campaign comes new Blessings, and we've also added more tiers of Blessings to other campaigns! You can find out all the details of each of the new local and global Blessings in the game, but here's an overview of the new tiers that are available:
Grand Tour of the Sword Coast - Tier 5
Tomb of Annihilation - Tier 5
Waterdeep: Dragon Heist - Tier 4 & 5
Descent into Avernus - Tier 4 & 5
Icewind Dale: Rime of the Frostmaiden - Tier 2 & 3
The Wild Beyond the Witchlight - Tier 1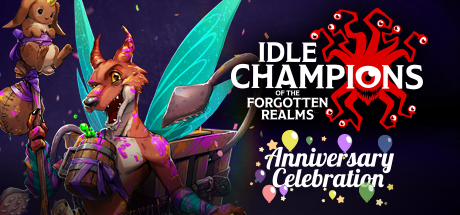 Days Of Streaming
Our
Twitch Channel
has two days of anniversary celebration streams to enjoy! From 9am-4pm Pacific on Wednesday September 22nd and Thursday September 23rd you can watch special Q&A streams, interview shows, an exciting musical performance, tons of giveaways and contests, and so much more!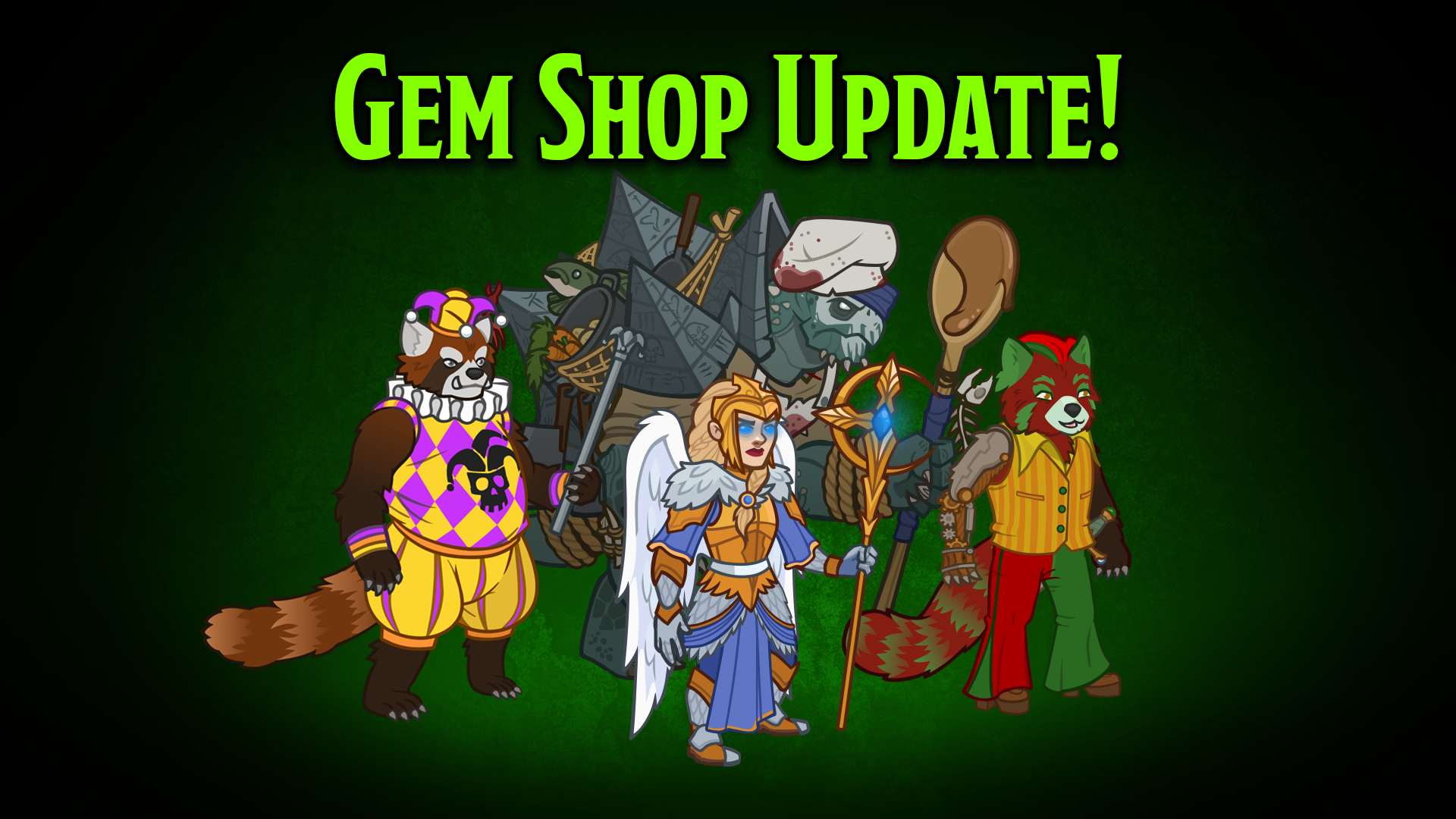 New Gem Shop Skins
We've added the following skins to the gem shop, which are visible and available once you've unlocked the corresponding Champion:
Celestial Celeste
Pirate Chef Krull
Red Panda Briv
Red Panda Freely
New DLC Packs
New DLC Packs are now available, featuring bundles of epic skins, awesome equipment, and adorable familiars to help you on your adventures in the new year! Full details can be found in the in-game shop, but take a look at what's in store: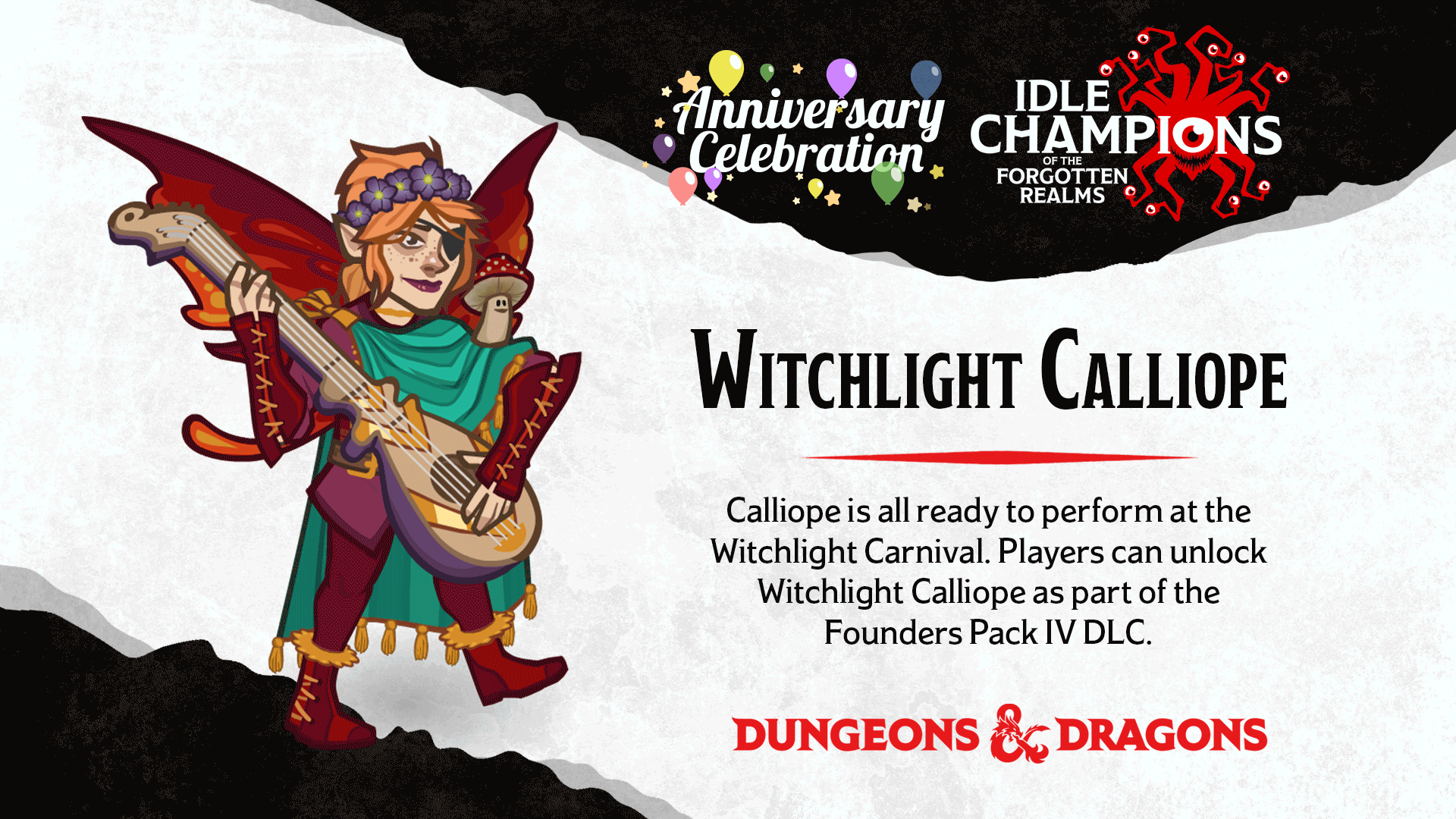 Founder's Pack IV
- Calliope is all ready to perform at the Witchlight Carnival in her fantastic new outfit! Along with this exclusive new Witchlight Calliope skin, this pack includes an exclusive Campestri Familiar and a bevy of gold chests, gems, and potions!
New Sketching Hour Familiars
-
The Sketching Hour
is a livestream featuring the creation of brand new creatures from three random rolls, and thanks to the votes of our community, two of these fantastic creations have become Familiars in the game! Check out Hoot the Overgrown Owlbear Fox Familiar and Clover the Flower Dragon Parrot Familiar, both packs including a stock of potions!
Witchlight Warden Skin & Feat Pack
- With iridescent dragonfly wings and an ornate rapier, Witchlight Warden is more beautiful and fearsome then ever! Along with this exclusive new Witchlight Warden skin, this pack includes the Champion Warden, an Epic Feat for Warden, 7 Gold Warden chests, and 1 guaranteed Shiny Equipment Card!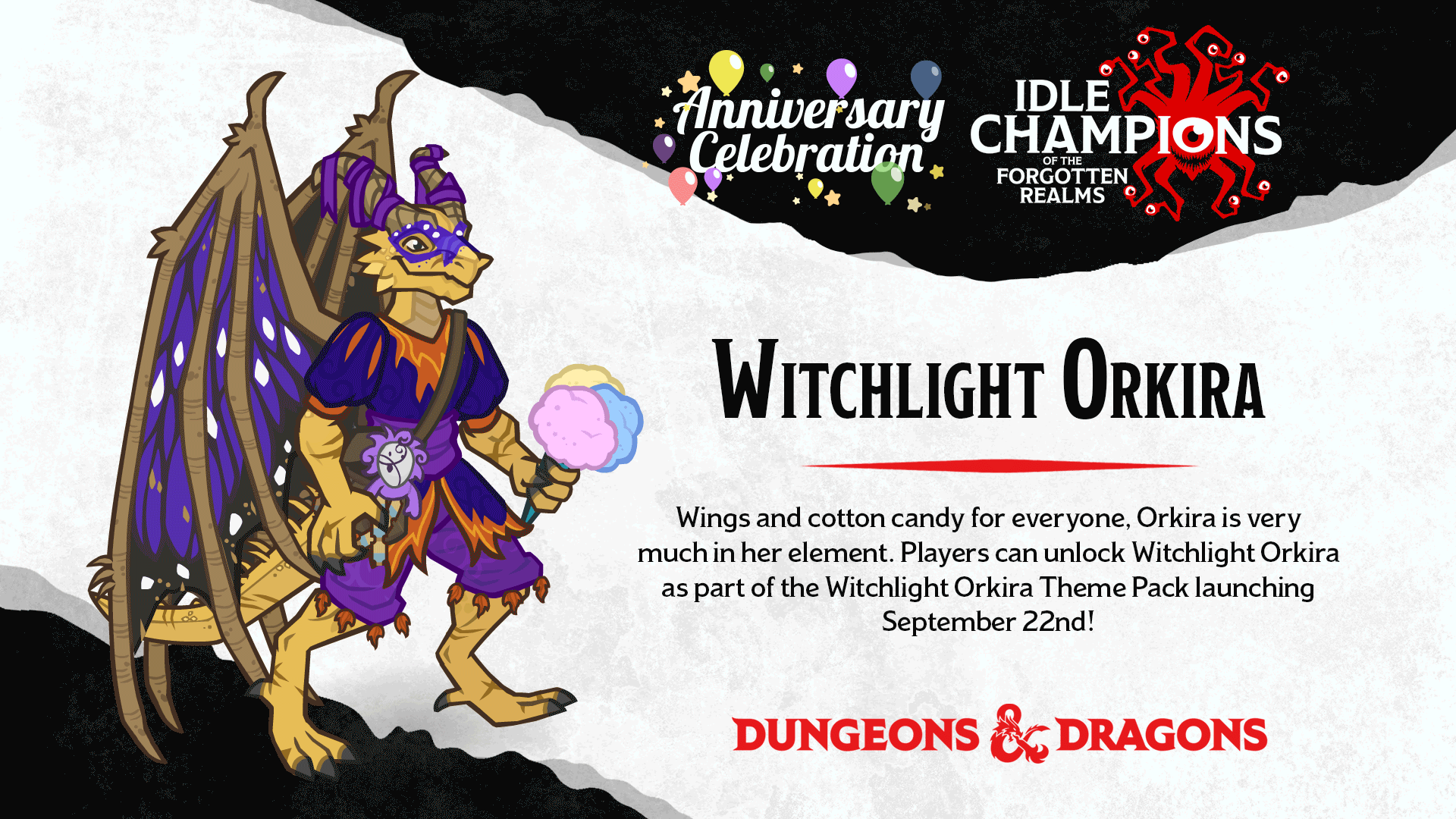 Witchlight Orkira & The Phoenix Theme Pack
- Wings and cotton candy for everyone! Along with this exclusive new Witchlight Orkira skin, this pack includes the Champion Orkira, her fierce Phoenix Familiar, an Epic Feat for Orkira, 1 Epic Potion of the Gold Hunter, and 16 Gold Orkira Chests with 2 Guaranteed Shiny Equipment Cards!
Feedback Wanted!
These changes are scheduled to go live later today. We very much look forward to your feedback, so please let us know what you think in a Community Q&A or feedback post on the
Idle Champions Subreddit
, a post on the
Steam forums
, or on the
Official Idle Champions Discord
!