Today we're talking about our newest Champion: K'thriss Drow'b, the Drow Warlock of the Great Old One, and the latest addition to Idle Champions joining us from Acquisitions Incorporated: The "C" Team!
K'thriss will be available in our next Year Two Event, Midwinter, which launches on Wednesday, January 16th. I hope this blog will give you all you need to know about our latest Support champion.
Don't forget that Midwinter is also a chance to collect and gear up Regis, the Halfling Rogue from R.A. Salvatore's Legend of Drizzt novels!
How you can unlock K'thriss:
K'thriss is unlocked by playing Midwinter, a limited-time event launching on January 16th and running until January 28th at noon Pacific. Once you unlock K'thriss, he swaps with Bruenor and Deekin (Slot 1).
Who is K'thriss:
Curious, affable, and morbid, the Drow heretic K'thriss Drow'b seeks the insane god-truth behind the veil of reality. As the "C" Team's hoardsperson, he keeps an eye out for occult relics that could aid him in his unearthly quest.
K'thriss is the second member of
The "C" Team
to join Idle Champions. His pal
Donaar Blit'zen
was the first back in October with Liars' Night 2. And yes, we will be looking to bring Walnut Dankgrass and Rosie Beestinger (who has an interesting connection to Strix) to the game in future updates. Stay tuned!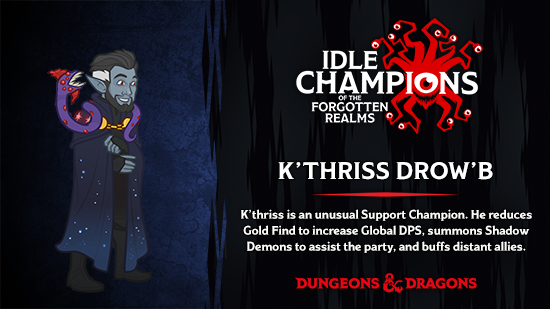 K'thriss' Design:
K'thriss was created by
Kris Straub
for the main-stage Aquisitions Inc games at PAX. Eventually he broke off from the main crew and joined his forever family: The "C" Team.
We chatted with Kris about what makes K'thriss tick and how best we could integrate him with the Champions. In the end, we landed on a quirky champion who supports the team by usurping a percentage of gold (he is a hoardsperson, after all) to buff party DPS, and helps those furthest away from him.
Base Attack - Dissonant Whispers:
K'thriss telepathically whispers a discordant melody that damages and slows a random enemy.
Formation Ability: Hoardsperson:
K'thriss' first formation ability unlocks his Acquisitions Inc role as Hoardsperson. As the Hoardsperson, K'thriss reduces gold find by 10% (causing cool pink coins to fall from all monsters that go directly to him. In exchange for taking 10% of the gold, K'thriss increases the damage of all Champions. In addition to that, every time K'thriss collect 75 of the cool coins, he summons a shadow demon. The demon attaches itself to the champion that does the lowest damage, and increases their damage to match the champion with the highest damage.
Formation Ability: Unseen Encouragement:
K'thriss increases the damage of the Champion furthest from him by 200%. If there's a tie, all Champions furthest from K'thriss are buffed!
K'thriss' Specializations:
K'thriss' specializations are all about deciding whether the party needs him to focus on bringing his shadow demon along more often, or focus on buffing the Champion(s) furthest from him.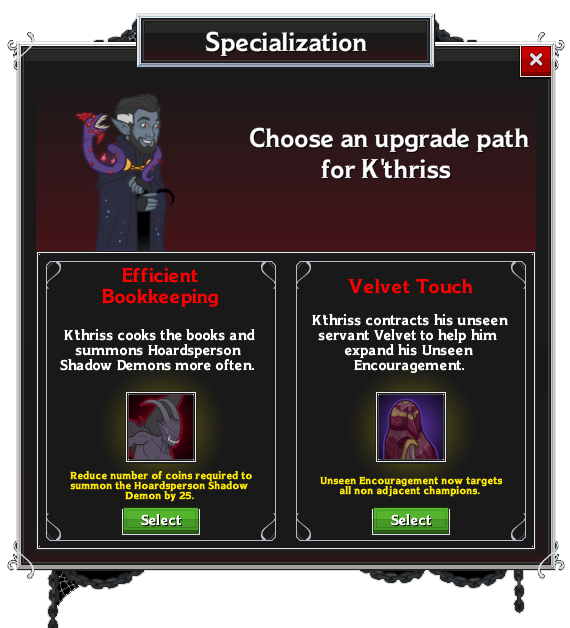 K'thriss' Ultimate Attack: Tentacular Spectacular
K'thriss' ultimate was a bit challenging, but we knew we wanted to bring our version of Tentacular Spectacular into the game. The big issue was making sure that he didn't look like a flasher when he executes his plan! With Tentacular Spectacular, K'thriss opens his cloak, revealing the inky black void underneath (is he even a person!?!). Then, tentacles sprout from the void, lashing out at enemies. What that means in our game is a hilarious cloak opening animation complete with jazz hands, followed by a SWARM of tentacles throughout the battlefield. It's really a sight to behold.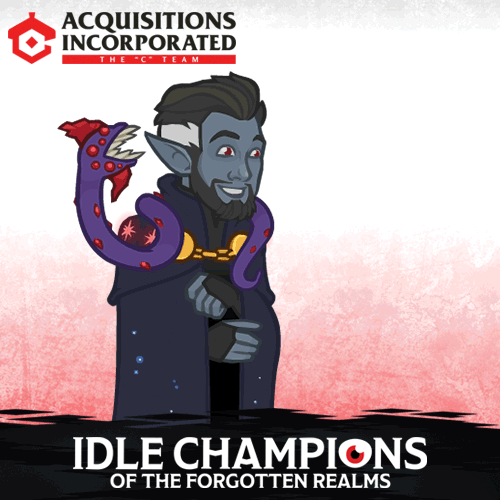 Kthriss' Equipment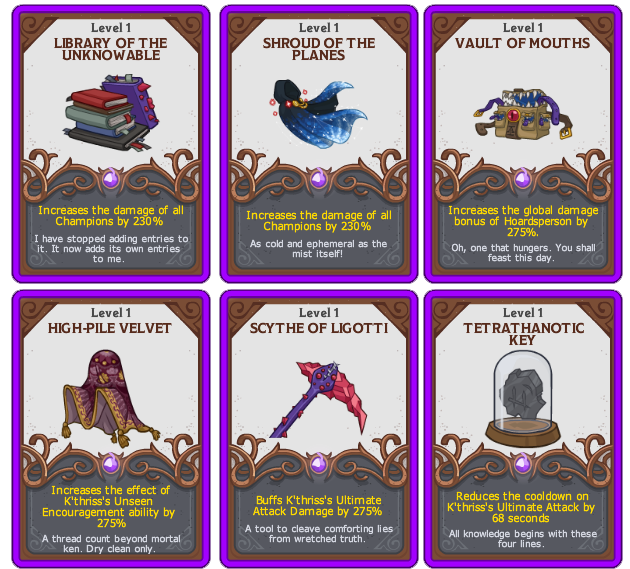 Slot 1: Book of Shadows
K'thriss' thirst for knowledge increases the damage of all Champions.
Slot 2: Robe
Kthriss' cloak increases the damage of all Champions.
Slot 3: Hoardsperson Bag
His Acquisitions Incorporated mandated bag increases the effect of his Hoardsperson ability.
Slot 4: Velvet
K'thriss' Unseen Servant Velvet increases the effect of his Unseen Encouragement ability.
Slot 5: Ligotti
His sentient tentacle/pet increases the damage of his ultimate attack Tentacular Spectacular.
Slot 6: Tetrathanotic Key
The symbol of Ur reduces the cooldown of his ultimate attack Tentacular Spectacular.
Are there any other K'thriss details I should know?
K'thriss is Chaotic Neutral and a member of the Acquisitions Incorporated "C" Team. His stats are as follows:
Str: 8 Dex: 16 Con: 10 Int: 13 Wis: 10 Cha: 18
TL/DR: Final K'thriss Thoughts
K'thriss is a support champion focussed on increasing the overall DPS of your champions through his Shadow Demon via
Hoardsperson
and through his
Unseen Encouragement
abilities. He'll help slow enemies as they head to your formation, and he'll try to clear the board with his
Tentacular Spectacular
ultimate ability.
We'll be watching the discussion online and on discord to see how well he's received, so let us know what you think on
Facebook
,
Twitter
, or on the
official Discord
! If you are enjoying K'thriss, consider checking out the
"C" team
broadcasts!
~The Idle Champions Team