Hail Crusaders!
You may have heard whispers about "uncapped objectives" swirling around this year and wondered what they were. Well, wonder no more! It's time to descend into
The Dungeons!
Welcome to The Dungeons
What are the Dungeons you might ask? Well, it's a set of 10 new objectives for you to enjoy, with a major bonus: no maximum DPS cap! That's right, you can now see how far your formation building will take you without running into an invisible wall! The Dungeons are available to try once you've completed the
From the Ashes
Tier 3 Objective in the
Mischief at Mugwarts
campaign.
These objectives come with all-new formations that range from 12 to 15(!) spots to place your Crusaders, challenging you ascend to new heights while expanding your creativity. And getting deeper into these objectives is good, as it will net you more rewards in the form of
Dungeon Coins
, an all-new currency arriving with this update. Dungeon Coins can be spent on various items in the new Dungeon Coin shop,
The Dungeon Depot
, helping you gain even more additional power to push your formations even further.
10 New Formations
We wanted to give you a brief introduction to the 10 new formations, so without further ado, here they are!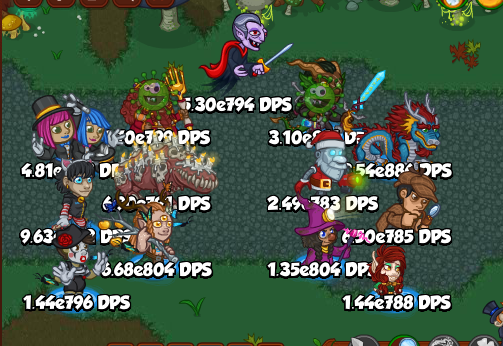 Playing it Old School
This formation will look familiar to most players, as it's a take on Ready Player Two with the bottom spot of the middle column removed, leaving it with 13 spots for you to build your formation with. But we have faith you can make it work!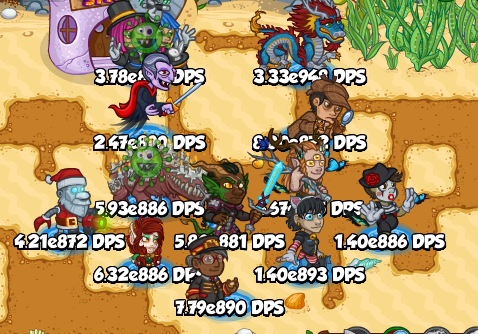 Free for All
This formation features two columns of 4 Crusaders each for you to experiment with, as you build a formation that works with the 12 spots you have available.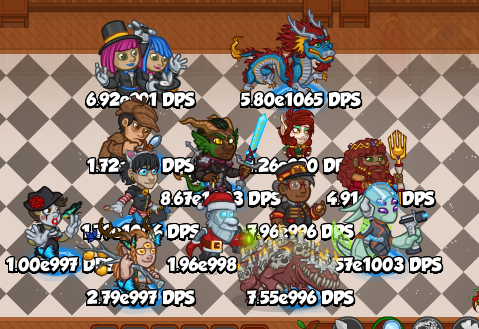 Fun and Games
Two columns of 4 again, but with different adjacent spots for the center two spots and the extra front spot gives you some more variety in this formation of 13 Crusaders.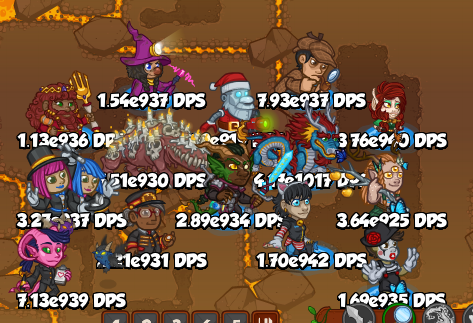 Under Fire
Another riff on the Ready Player Two formation, but this time with the center 2 spots having more adjacent spots than in the original.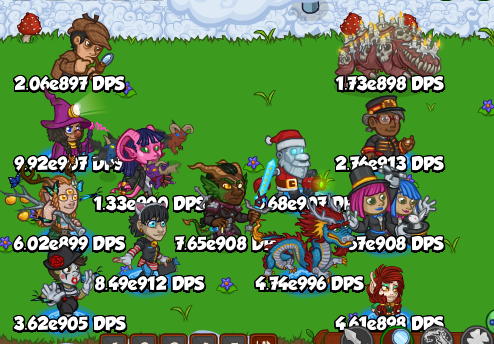 Sunday Stroll
Another 13 spot formation for you to try out, starting big on the outside and going in to the lone center spot. How far can this formation take you?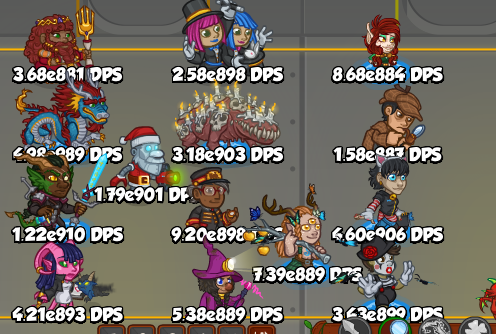 Dark Dwellers
14 spots for you to play with in this N-shaped formation, featuring 3 columns of 4 Crusaders each and a couple Mindy friendly spots, but those two solo spot columns might prove tricky to craft around.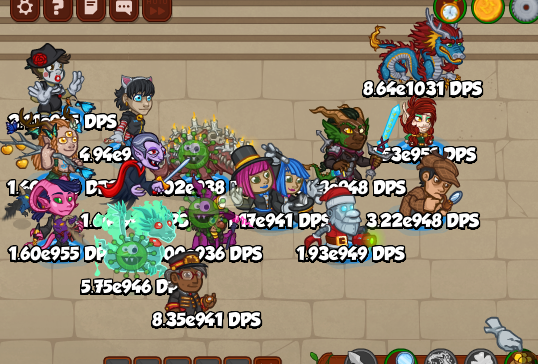 Making Waves
The first 15 spot formation of the new formations. Ride the wave as you make this formation work.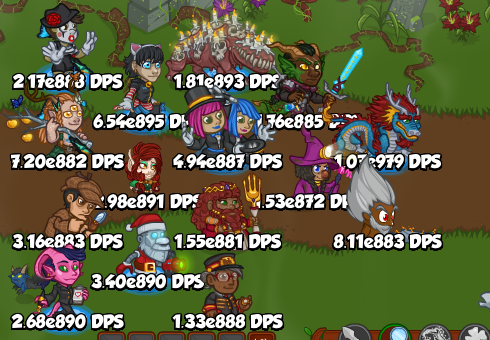 Jungle Journey
Another 15 spot formation, with columns of 4 and more of your Crusaders clustered together. We're excited to see how you can take advantage of this shape to push as far as you can.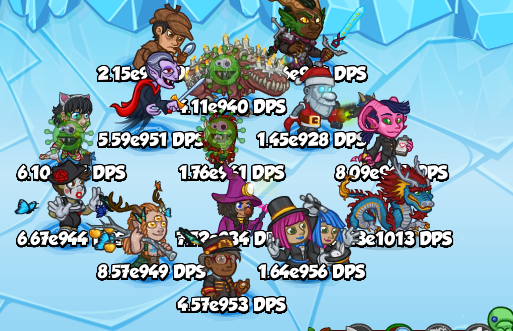 Achieve Flight
With 14 spots and a column of 4, this evil eye formation might not be so evil after all, especially with its Mindy friendly spots.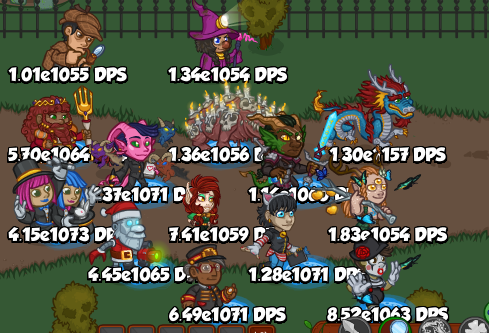 Dungeon Crawl
The final new formation is also 14 spots for you to fill, with yet another column of 4, flanked by columns of two and bounded by columns of 3 Crusaders.
We hope you enjoy busting out your formation crafting with these new formations!
New Rotating Buff System
But we can hear you ask, why would I do any objective other than the ones with the excellent 15 spot formations?
Good question player! Well, the Dungeons also feature a rotating buff system. So of the 10 objectives, 3 will be assigned a buff to give you a bonus for doing that objective. The buffs will rotate to 3 different objectives every time you reset the world off of an objective in The Dungeons. So you can benefit from doing an objective with a smaller formation if you do it while it has the buff that you currently want.
The three buffs that will rotate are:
Bonus Idols - Gain anywhere from 0.01% of your current total Idols at the time you reset the world, up to 3% depending on how deep you get before resetting the world on an objective when it has this buff. Ka-ching!


Bonus Dungeon Coins - Gain 10% more Dungeon Coins from this reset when you choose an objective that has this buff. Dungeonlicious!
Bonus Dungeon Points! - Gain 10% more Dungeon points from this reset when you choose an objective that has this buff. Cryptastic!
Dungeon points, you ask? Let's continue on to the next section.
New Season: The Crypt
The Dungeons update will also introduce our new 'Seasons' mechanic to the game and our first season:
The Crypt
! Complete the whole season and in addition to the in-game achievement for beating it, you'll unlock our adorable new Crypt-themed taskmaster,
Li'l Reaper
.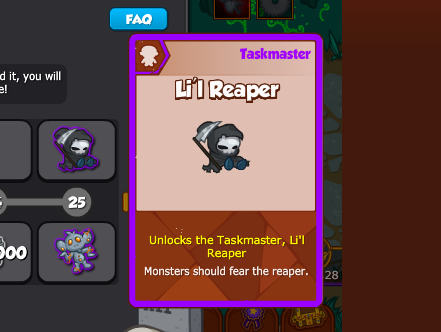 So what's the short and long of it?
If you have access to the Dungeons objectives, you can participate in the season.



You have 12 weeks to earn enough Dungeon Points to clear all 25 levels and earn all the prizes, including Li'l Reaper.



For our first season, The Crypt, Dungeon points are only earned from completing objectives in the Dungeons.



The deeper you go on an objective, the more points you get.



You can do 15 objectives for Dungeon points a week for free, letting you choose when you can invest your time in earning those points.



If you need additional runs to earn your Dungeon points, you can spend Dungeon Coins in the Dungeon Depot to access additional runs for the week.



Want even more goodies than you can earn for free? You can support Crusaders by purchasing the Mysterious Benefactor's pass at any time. You'll immediately be able to claim any premium rewards you've already unlocked and you'll be able to claim the others as you meet the season goals.
We're looking forward to your feedback on this new addition to Crusaders! Get your delving on!
F.A.Q. for Dungeons and The Crypt Season
Q: What are the Dungeon objectives?

A: They are a series of new objectives for you to test your mettle against. The maximum number cap has been removed, so you can go as far as your heart desires and see what your true DPS is in these all-new formations.



Q: How do I access the Dungeons objectives?

A: Once you've completed the Tier 3 Objective From the Ashes in the Mischief at Mugwarts campaign, objectives for The Dungeons will become available from the campaign selection screen.



Q: Why no bonus boss Idol drops?

A: Because the bonus boss Idols drops are based on the areas reached and the maximum number cap has been removed for these objectives.



Q: Will I get progress towards my Free Play Bonus by doing these objectives?

A: No, these objectives do not count towards that bonus, as these are special types of objectives and that bonus is for rotating through the free plays on the permanent themed campaigns.



Q: What do I get from doing the Dungeons objectives?

A: You get the all-new Dungeon Coins to purchase items from the new Dungeon shop; and Dungeon points for the current season. The debut season is The Crypt.



Q: Can I only do these objectives once?

A: No, you can do each objective multiple times. The only limit is your weekly allowance of runs.



Q: How do I see my season progress?

A: You can click on the all-new Dungeons button on the Rosette tab at the bottom of the screen, the one with your Achievements, Stats and Challenges information.



Q: Why is the season geared towards veterans? How can I make progress?

A: The season is meant to be additional end game content, but we still want mid level players to have access to the dungeon objectives. You can still earn points, especially if you take advantage of the buff that gives more Dungeon Points from a reset. You do also have the twelve weeks to try and get up into the higher echelon of power, and you can purchase extra runs for Dungeon Coins in the later weeks if you've managed to raise your power levels by then.



Q: What happens if I can't complete the first season?

A: The top prize for the season will become available for Dungeon Coins in the Dungeon Coin store a few weeks after the season completes.



Q: Do I have to claim the rewards right when I unlock them?

A: No, you can wait to claim them until you're ready to use them. However, if the season has ended, any unclaimed rewards will automatically be claimed at the end. Rewards will be awarded if you are in the game when the season ends, or the next time you log in if your game is closed when the season ends.



Q: If I purchased the Mysterious Benefactor's pass during the previous season, do I get the rewards in the current season?

A: No, but you keep all of the permanent rewards you've earned from the old season.



Q: How do I buy the Mysterious Benefactor's pass?

A:

Launch Crusaders of the Lost Idols.
Navigate to the current season's dialog.
Click on the purchase button.
Benefit!




Q: What if I buy the Mysterious Benefactor's pass late in the season?

A: You will receive all of the rewards up to your current level, retroactively, and you can claim them at any time after you've purchased the pass.



Q: What happens when the season ends?

A: All the rewards you haven't claimed yet will be auto-claimed.

If you are currently on a dungeon objective that would get you points for the season, those points will be applied to the new season once you reset that objective.