We hope everyone is having a wonderful holiday! Enjoy these special buffs for Jarlaxle, Asharra, and Dhadius this weekend! Maybe you can use them to power through the new Grand Tour adventures and recruit Drizzt!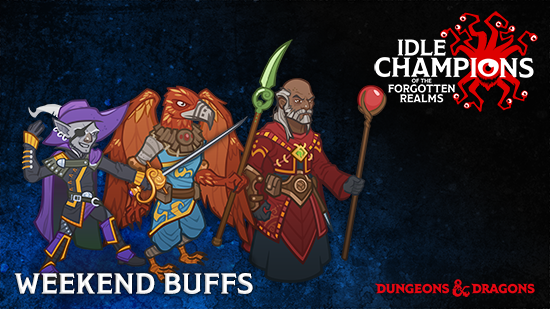 The following Champions will get a buff this weekend starting from today until Noon PST on Monday, December 25th.
Jarlaxle – Increases the damage of Jarlaxle by 400%


Asharra – Increases the effect of Asharra's Bond: Humans, Bond: Elves and Dwarves, and Bond: Tiefling, Firbolg, and Dragonborn abilities by 200%


Dhadius – Increases the effect of Dhadius' Skill Empowerment ability by 200%

Check out these limited-time Gold Snowy Chests that contain equipment for just the champions above!
(Note: gear only appears for
unlocked
Champions. If you do not have Dhadius unlocked, his gear will not appear in the chests)