"What is the Festival of Fools", you ask?
Well, it's a celebration of feasting and foolishness observed by communities all up and down the Sword Coast. People play pranks, overeat, and overdrink as they celebrate reaching the end of winter.
But some folks take their pranks too far, and the wife of one prankster just told the Champions that her husband plans to prank a Frost Giant...
Festival of Fools 2
runs until Monday, April 1st, 2019 at 12:00pm PDT. Our latest Year Two Event introduces Rosie Beestinger, the Halfling Matriarch of the Beestinger family and Way of Shadow Monk, and brings back her adopted daughter, Strix Beestinger, the Tiefling 'Trash Witch' Sorcerer!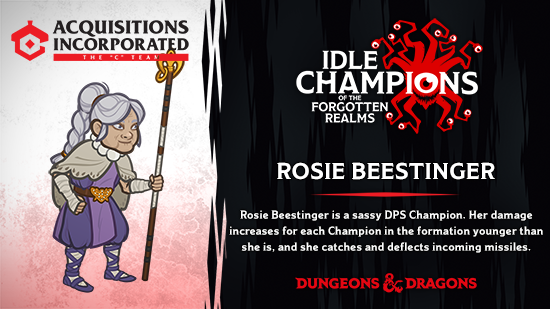 New Champion: Rosie Beestinger
Weighing in at just under 30 pounds and with a grandmotherly demeanor befitting her advanced age, Rosie Beestinger is easily mistaken for someone on the wrong side of the "aggressor/victim" relationship. But this is a mix-up that few people make more than once.
Rosie Beestinger is a sassy DPS Champion. Her damage increases for each Champion in the formation younger than she is, and she catches and deflects incoming missiles.
When you want to add Rosie Beestinger to your formation, you can swap her with Tyril (Slot 10). For more information about our latest Champion, check out the
Idle Champion Spotlight: Rosie Beestinger
dev blog!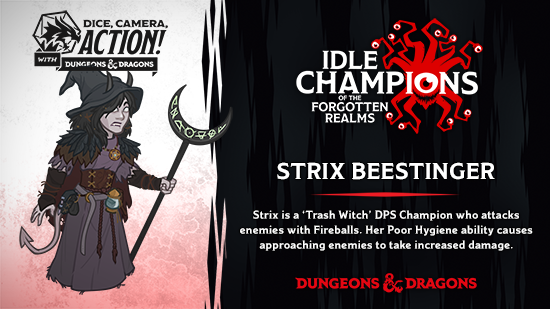 Returning Champion: Strix Beestinger
The Sorcerer known as Strix is from Sigil, the City of Doors at the center of the multiverse. Very little is known of Strix's heritage, even to herself, but it was recently discovered that she was a powerful member of the Skizzicks family, who long ago made a pact with Asmodeus, ruler of the Nine Hells, to become Tieflings.
Strix Beestinger is a 'Trash Witch' DPS Champion who attacks enemies with Fireballs. Her Poor Hygiene ability causes approaching enemies to take increased damage. When you want to add Strix to your party, you can swap her with Jamilah (Slot 11).

Year Two Variants
A Lighter Touch — Only Champions with a Strength (STR) score of 14 or lower may be used. Additionally, Champions with an Intelligence (INT) score of 14 or higher deal 400% increased damage.


Flay the Fools — During boss areas, Mind Flayers appear and attack the formation. While alive, Mind Flayers make all other enemies immune to damage.


Beestingers Unleashed — This adventure features unique dialogue created with the help of Strix & Rosie themselves! Strix and Rosie Beestinger begin the adventure in your formation with Strix asking Rosie what it means to be a Beestinger. No other Champions are able to be used, however, both Strix and Rosie Beestinger have increased damage, increased attack speed, and reduced Ultimate ability cooldowns. Additionally, Rosie Beestinger's Matriarch also doubles her health. Completing this adventure will unlock a bee outfit for both Rosie & Strix!

Year One Variants
Foolish Variance — Champions randomly do between 0.1% and 199.9% of their actual damage with each hit.


Persistent Foolishness — The Drunken Fool appears randomly in non-boss areas. Only one can be spawned at a time, but he has special abilities each time he appears.


Like Father Like Son — The farmer's son takes up a slot in the formation. He moves to a new slot every 25 areas. Every 15 seconds (in non-boss areas) the farmer's son foolishly summons a Frost Giant to attack the formation unless Strix is adjacent to him.
See the in-game FAQ for more information!