We are excited to announce our collaboration with Todd Stashwick for the Boom Boom the Tavernkeep Charity Familiar! Releasing on October 16th at 9 am Pacific, all net proceeds for the first week of Boom Boom sales will be donated to Extra Life!
Boom Boom the Tavernkeep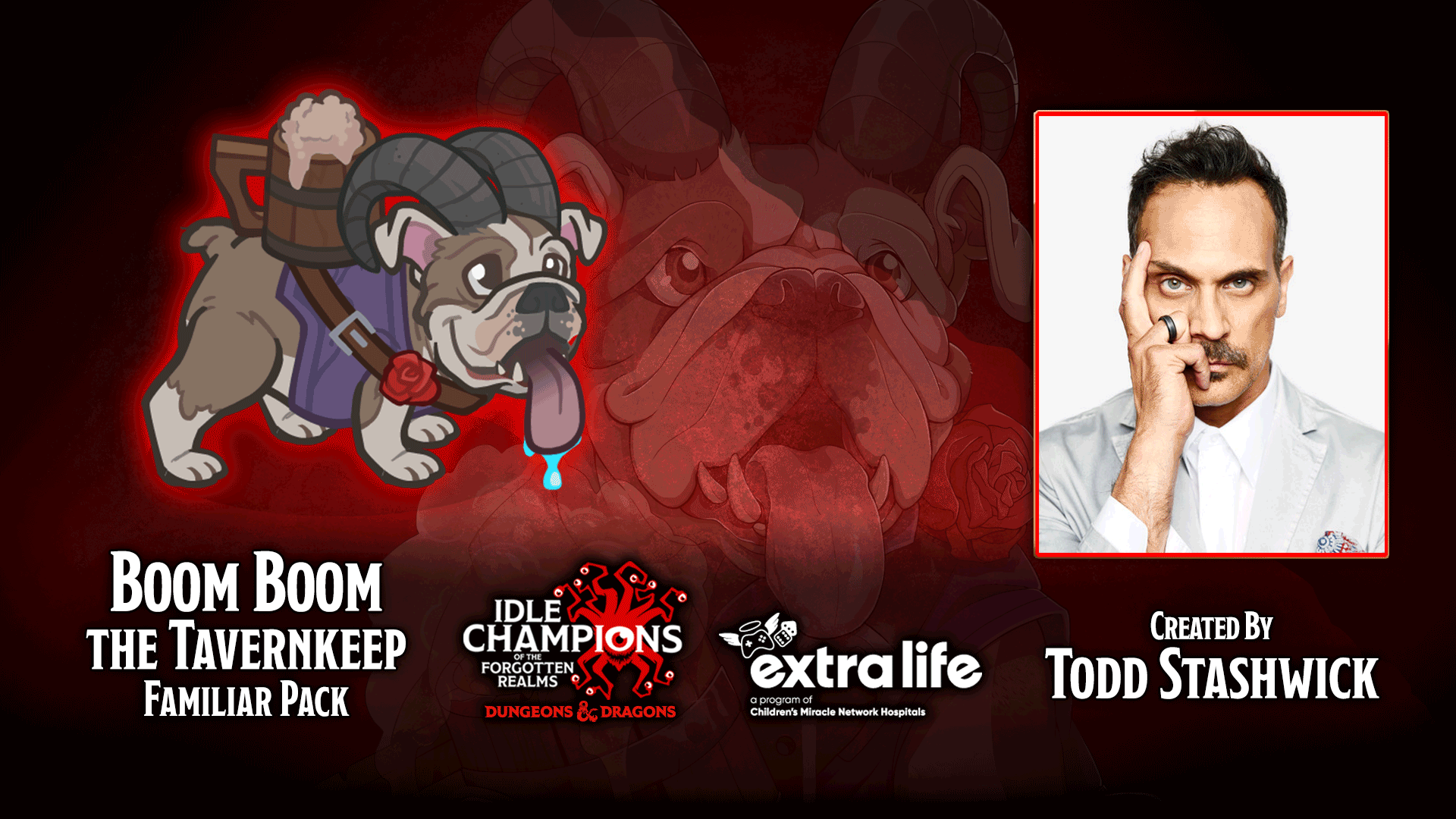 As soon as Todd Stashwick was approached about making a charity familiar for Idle Champions he knew who he wanted to make. In real life, Boom Boom had a name before the Stashwicks even adopted him. Knowing one day they would get a new dog, they started referring to their future pet as Boom Boom. Now, Boom Boom comes to Idle Champions as a barkeep who doesn't have time for problems in his tavern! For those unfamiliar with Todd Stashwick, he is known for his numerous acting roles and star power, as well as several D&D charity games. Fans of the Black Dice Society will recognize him as Rudolph van Richten towards the end of the series.
Together our goal is to raise money for
Extra Life
, which is a fundraising program of Children's Miracle Network Hospitals®. Help them continue their efforts this year by purchasing Boom Boom and by visiting their site right now!
Boom Boom the Tavernkeep Familiar will be available in-game starting on
Monday, October 16th, 2023 at 9 am Pacific
! Afterward, all net proceeds from the first week of Boom Boom sales will be donated to Extra Life.
But That's Not All!
We're also doing our annual 24-hour livestream! Starting Friday, October 20th at 9 am Pacific we will be streaming for 24 hours straight. Come hang out in chat for some awesome shows and fun ways to donate that can affect what's happening on stream! Check out our
Extra Life
page for more information!
Idle Champions of the Forgotten Realms is available on PC and Mac on Steam, Epic, the web, Xbox One, Playstation 4, Nintendo Switch, iOS and on all Android devices!