Faerûn's
Savage Frontier
has no shortage of dangers, but that hasn't stopped the citizens of Triboar from carving out a living in this picturesque stretch of fertile northern farmland.
This year, however, the people of Triboar are in need of aid. As the
Highharvestide Festival
approaches, bandits have begun causing trouble for farmers attempting to bring in their harvests, and it's up to the Champions to put an end to it!
Highharvestide 2 is our first Year Two Event, which runs until Monday, October 15th at 12:00pm Pacific. Highharvestide 2 also introduces Farideh, the Tiefling Warlock protagonist from the Brimstone Angels novels, and also brings back Stoki, the Rock Gnome Monk!

Our Approach to Highharvestide 2
When we began our approach to Year Two of Highharvestide, the first decision we made was to polish to our work from Year One. We started by playing through the event, pausing to discuss what we would do differently if we had designed the event today with an additional year of tools, monsters, and knowledge.
We approached the event with the following questions:
Can the backgrounds be updated, or should we use different ones?
We updated the lighting on a few of the backgrounds to better match the text.
Are there better monsters we could be using?
We added the new Red Wizard Evokers from the Tomb of Annihilation campaign, and we also mixed up the groups of bandits and added wizards that actually attack with fire that matches the text.
Should any boss monsters flee or have additional tech added?
The Resurrected Hero of the Vale is now hits-based and cleaves the first 2 rows. It seems it is getting cranky about constantly being resurrected.
Are all the quest icons and portraits polished?
They all were.
Are there any location or event-specific distractions we could add?
For Highharvestide 2 we didn't, but we look forward to adding pumpkins to Liars' Night!
Should we update any text?
We fixed a few typos, and we will be updating the dialogue to include more Event Champions in future updates.
You'll be able to play through the updated event during Highharvestide, but also when you go through a Time Gate for Farideh or Stoki in the future!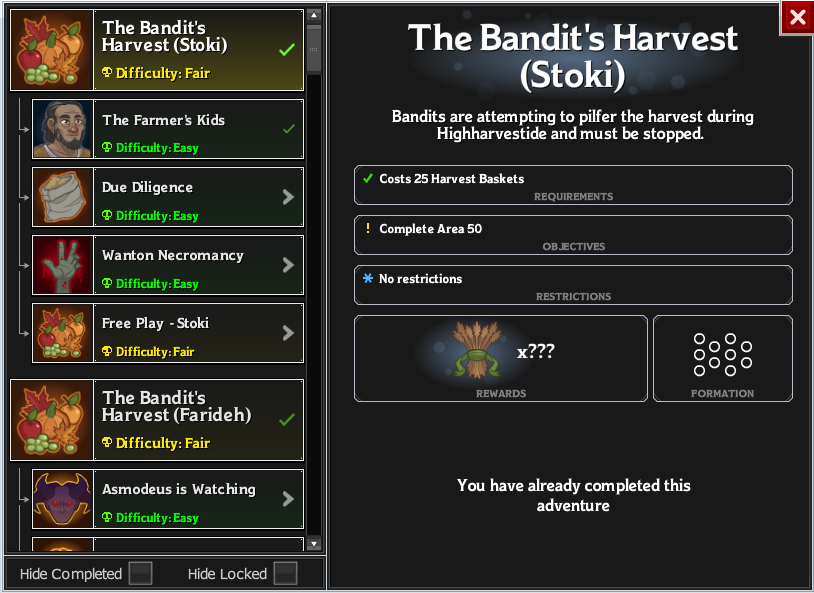 As you can see above, both Champions have their own track of Adventures and Variants. They both use the same event currency – in this case, Harvest Baskets for Highharvestide. You will earn chests for the corresponding champion by playing through their variants. For example, Stoki Free Plays will grant Stoki Silver and Gold Chests, and Farideh Free Plays will grant Farideh Silver and Gold Chests.
If you didn't complete all of Stoki's variants or achievements last year, you'll be able to pick up right where you left off. If you did complete them, you can still play through her free plays. As an added bonus, all Year One Adventures and Variants have had their cost reduced by 75% for Year Two! We also updated the Free Play costs for both Year One and Year Two events. They will each start at 500 Harvest Baskets. Every time you complete a Free Play within one of the two tracks, the cost of that Free Play will increase by 500, to a maximum of the normal Event Free Play cost of 2500 Event Tokens!
Side note:
We appreciate all the feedback we had during the Year 2 Event Q&A last week — thank you :)
As a final update, the new Year Two track of
The Bandit Harvest
adventure and variants will have a
new formation
to help keep things fresh! This formation will also remain for future Farideh Time Gate runs.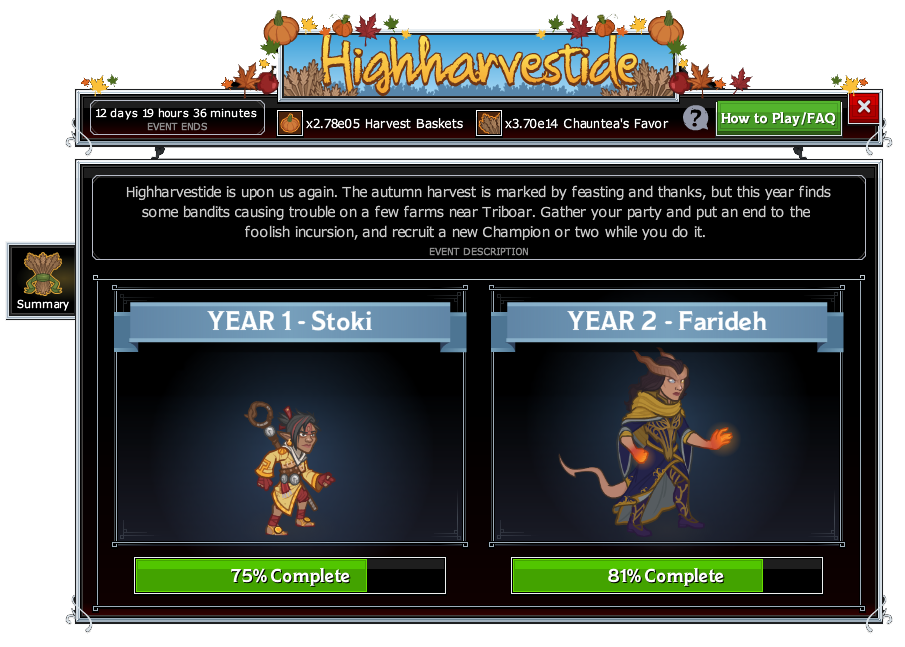 When you log in and click on the Highharvestide notification, you'll see the two Champions listed. You can select either of them to see their Champion details, as well as see how far you've progressed in their track of The Bandit's Harvest.
We hope you all enjoy the updates we've made to
The Bandit's Harvest
!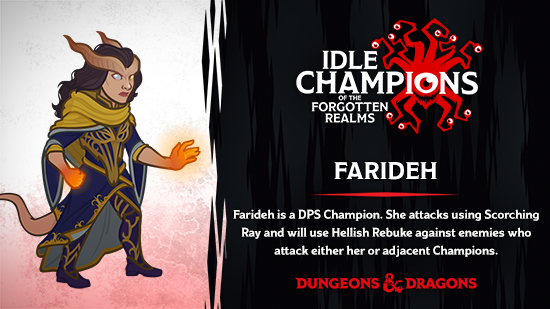 New Champion: Farideh
Abandoned as an infant and adopted by an outcast dragonborn warrior, Farideh grew to adulthood acutely aware of the drawbacks of being a tiefling. Despite doing everything she could to reassure her neighbors, including keeping her wild twin sister, Havilar, out of trouble, the villagers focused on Farideh as the one who would embrace the dark side of herself. They weren't wrong.

When Havilar tried to summon an imp to practice her blade on, she drew the attention of Lorcan, a cambion looking to make warlock pacts with the descendants of one of the first Infernal warlocks, the Brimstone Angel. But Havilar was always meant for the glaive--and Farideh would do anything to keep her sister safe. While Lorcan, Asmodeus, and the Nine Hells do their utmost to corrupt her, Farideh isn't interested in power so much as defending the world from demons, the undead, and any other villains trying to bring trouble or drag her friends and family into danger. Even being made the Chosen of Asmodeus--something Asmodeus isn't going to explain to Farideh or anybody else--just means she has more magic to turn against the powers of evil.
Farideh is a DPS Champion with a tank-synergy twist. She attacks using Scorching Ray and will use Hellish Rebuke against enemies who attack either her or adjacent Champions. When you want to add Farideh to your party, you can swap her with Minsc or Catti-brie (Slot 7).
For more information about our latest Champion, check out the
Idle Champion Spotlight: Farideh
dev blog!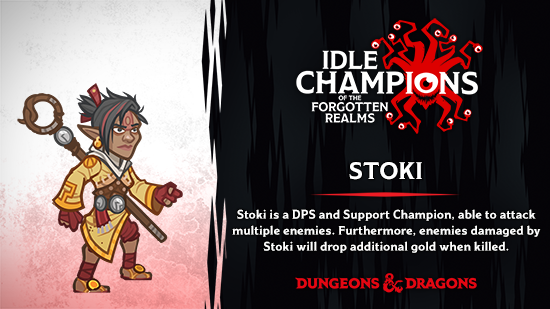 Returning Champion: Stoki
Born Stami Gackle, she fled her home after a terrible accident at a young age and joined a monastery of the Even Hand to study ki. An adept monk and extremely capable adventurer, her thoughtful approach to problems has earned her a reputation as an uncommonly stoic Rock Gnome.
Stoki is a DPS and Support Champion, able to attack multiple enemies. Furthermore, enemies damaged by Stoki will drop additional gold when killed. When you want to add Stoki to your party, you can swap her with Jarlaxle or Ishi Snaggletooth (Slot 4).

Year Two Variants
Asmodeus is Watching — Cultists of Asmodeus randomly spawn alongside the normal monster waves. They drop no gold when killed.


It's Quite A Puzzle — Only champions with Intelligence/INT score of 12 or higher are allowed in the formation.


Time to Step Up — Asmodeus is testing Farideh. You start with Farideh in your formation, however, she is the only Champion that can deal damage. All other Champions' damage is reduced to 0, but they continue to grant buffs.

Year One Variants
The Farmer's Kids — The Farmer's Daughter and Son block two slots in the formation.


Due Diligence — Quest requirements are doubled.


Wanton Necromancy — Undead enemies randomly spawn alongside the normal monsters. These additional enemies drop no gold.
See the in-game FAQ for more information!