To put on the best Thanksgiving dinner ever, Kaine's brilliant scientist mother decided to apply her vast scientific knowledge to her culinary skills but didn't stop to think if she should!
Now the Kaine mansion is awash with various foodstuffs intent on making the Crusaders choke on them. Or more to the point, choke the Crusaders to death.
The limited time Thanksgiving event features four exclusive objectives, a new formation and two new Crusaders to unlock.
RoboTurkey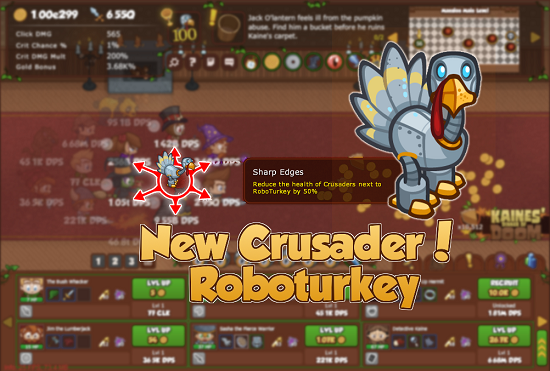 Carrying on with tradition, there are two new Crusaders that can join your crusade, once your adventurers survive the objectives. The first of the two, RoboTurkey, won't make it easy though as he debuffs the Crusaders around him in the new pie formation, decreasing their max health by 50%.
Momma Kaine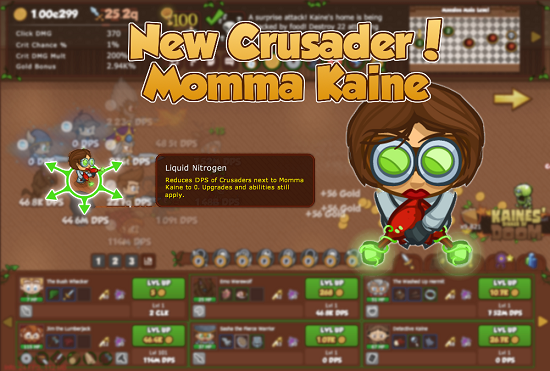 Momma Kaine is the second of the two new Crusaders. However, separating her from her culinary experimentation and getting her clear of the mansion is going to be tough. As the Crusaders abduct her mid-experiment, she inadvertently freezes adjacent Crusaders every 10 seconds. The affected heroes will have their DPS reduced to 0 for 15 seconds, but thankfully their formation abilities are unharmed.
RoboTurkey shares a formation seat with Princess. His unique ability enables him to increase a random Crusader's DPS by 10% for 30 seconds by zapping them, while absorbing 25% of the DPS for himself.
Momma Kaine, who shares a formation seat with Khouri, is a nurturing sort as well as being a brilliant scientist. She has a number of unique abilities. First, she heals the Crusaders furthest away from her by 20% per second. She also has a ranged power where she can slow the furthest monster from the Crusaders by 25%, perfect for taking down bosses. Finally, she synergizes with RoboTurkey by increasing the DPS of zapped Crusaders by a further 50%.
New for this Event
:
Once you've grabbed both RoboTurkey and Momma Kaine, you'll be able to start the Thanksgiving Free Play for 2,500 Pumpkin Pies.
Gravy Train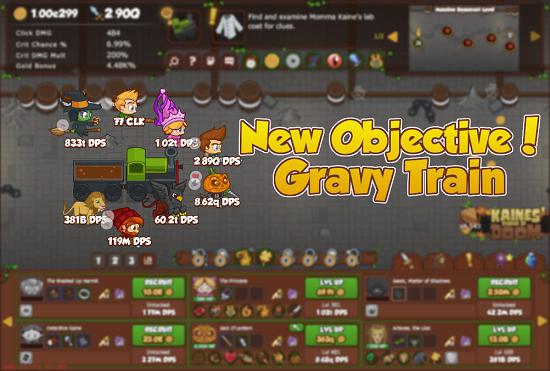 The remaining two objectives will require having had at least 250 and 500 Idols respectively as well as the event currency of Pumpkin Pie to start. In Gravy Train, a giant train of gravy will block slots in your formation. And the Plaid Friday Deals are too good to be true! Crusaders cost less...but they do much less DPS over the entire 200 areas.
Can you stop the killer food before it's too late? Or will the enhanced tryptophan slow you down?
You have until Monday December 7th at Noon PST to control the madness!