"Most football players are temperamental. That's 90% temper and 10% mental" – Doug Plank
It's that time of year for picking up the ol' pigskin, smashing into a group of men geared up in armour to spike the said pigskin into the end zone in celebration.
As the single biggest sports fan of the group, Jim the Lumberjack is beside himself with excitement for the major sports event in the Crusader calendar: The Carnage Cup.
Rounding up the fellow Crusaders he decides to throw a tailgate party ahead of the big game. Unfortunately for Jim, it all goes wrong very quickly and soon the Crusaders have to destroy swathes of monsters before he and team can enjoy the sporting festivities.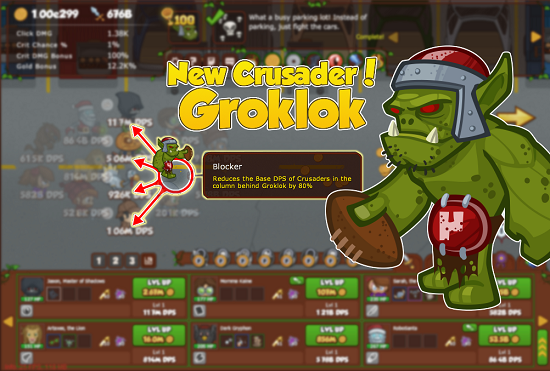 New Crusader! Groklok
Packing together in the new football formation, the Crusaders have a chance to add two new characters to their ranks. Groklok the Orc is a beast of a linebacker who's abilities include increasing the DPS of Crusaders in front of him by 150% among other abilities.
Drizzle the Dark Elf is the nimble, tricky running-back. Drizzle enjoys a unique partnership with Groklok. Just like the best players, they can combine in various ways to maximize their tactics.
Playing Drizzle in front of Groklok will buff his formation ability by 100%. If Drizzle and Groklok play alongside each other, the combined skills buff Groklok's DPS by 400%. When Groklok is blocking and tackling in any column in front of Drizzle, Groklok's line gets a health buff and takes less damage.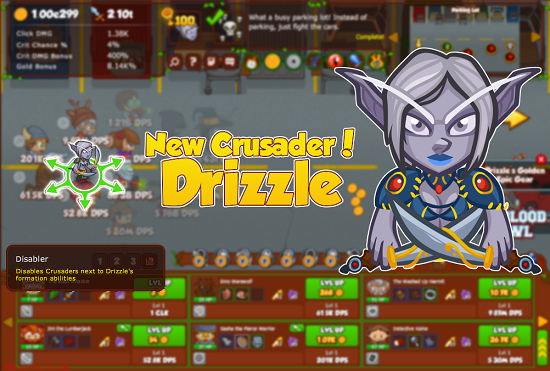 New Crusader! Drizzle
Both new Crusaders require some training to play with their new team. The Crusaders will need to complete the first two objectives for the new campaign to add both players to their rosters.
In the first objective, Groklok's ponderous pre-training skills will debuff the DPS of all the Crusaders behind him as he fails to block the attacks of the incoming monsters. In the second objective, Drizzle's lack of teamwork will disable the formation abilities of all adjacent Crusaders.
This event we're honouring two more YouTube celebrities who have been producing awesome Crusaders videos. Again, just like MrBayEasy, you'll find them as boss monsters within the game. Keep an eye out for them as you play.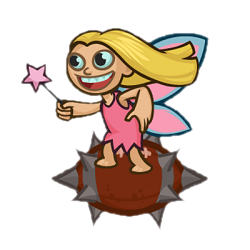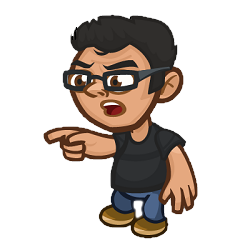 Bensch
hails from Germany and has produced more than sixty Let's Play videos so far.
Brothgar
is one of our more recent YouTube friends who is also a massive Clicker/Idle gamer. Check out both their channels and subscribe.
So, what are you waiting for? Establish your running game, dominate the line of scrimmage, pound it out on the ground, and stick to your game plan.
Crusaders Left Shark