It's time for our next Idle Champion Spotlight! Today, we're previewing our newest Champion: Thibbledorf Pwent. Yes, you read that right. The hygiene-lacking dwarven battlerager from Mithral Hall is "launching" (get it?) tomorrow! Read on to learn all about the dwarven wrecking ball who strongly supports a dwarven formation with some additional Companions of the Hall support!
I. "Thibbledorf" Who?
Despite a reputation as a loud, gruff, and stinky dwarf who hates bathing, Thibbledorf Pwent is a loyal and beloved member of Clan Battlehammer. Known as 'Pwent' to his friends, he leads the Gutbusters of Mithral Hall, a dwarven battlerager squad focused on direct combat with little regard for their own safety. He wears armor completely covered in spikes to help rend the flesh of his enemies, and in the midst of battle Pwent often falls into a bloodrage, doing anything to protect his allies. While not an official member of the Companions of the Hall, Pwent will always aid his King when possible — even beyond death...
Thibbledorf Pwent is a Dwarven Battlerager Barbarian and Support Champion. His attacks cause enemies to bleed, he can boost ally damage for adjacent Champions, and he greatly buffs dwarves and Companions of the Hall members in the formation. When you want to add Pwent to your party, you may swap him with Calliope (Slot 5).
II. Pwent's Stats
| | |
| --- | --- |
| Class: Barbarian (Battlerager) | Alignment: Chaotic Good |
| Race: Dwarf | Gender: Male |
| Age: 176 | Affiliation: None |
| | | |
| --- | --- | --- |
| STR: 18 | DEX: 14 | CON: 17 |
| INT: 9 | WIS: 12 | CHA: 8 |
Eligible for Patrons:
Vajra & Mirt
III. Pwent's Design
Pwent was an interesting nut to crack. He's always been a side character in the
Legend of Drizzt
novels. Not a "member" of the Companions, but eventually becoming a valued friend and ally. As his story wound to a close, he showed true bravery, love, and faithfulness to his king, Bruenor.
We started discussing Pwent around the time of Wulfgar's design, in 2018. There were so many different ways we could have introduced him. We discussed using him as Wulfgar's ultimate, having his ghostly form race out of the horn. However, being a fan of him in the books, I really wanted the spiky battlerager in the game as a Champion.
When it came time to design him, we had two routes: Battlerager Pwent, or Vampire Pwent. While Vampire Pwent sounds awesome (Vampire Champion when?), I have a soft spot in my heart for the old boy and I didn't want to represent him in the form that he truly hated. Instead, I chose to go back to his roots: the gruff battlerager who dons a set of armor filled to the brim with spikes, who runs ahead and slices and dices his enemies.
By focusing on his pre-undead form, we could highlight his allies more. As Pwent's design grew, I realized that this stalwart dwarf from Mithral Hall was a great lynchpin for a dwarven fighting force. He is the leader of the Gutbuster Brigade after all. Oh, you haven't heard about the Gutbusters? They are a group of dwarven battleragers Pwent founded. They focused less on strategic plans and more on just running into battle. With the Gutbusters, the cannon fodder is filled with spikes and coming right at you!
Pwent's final design is something I'm really proud of. Not only does he make Barrowin relevant again, he also helps elevate Binwin and Bruenor in an especially big way.
IV. Pwent's Abilities
Basic Attack
Spiked Hug — Pwent headbutts a random enemy using his spiked armor to inflict a DOT bleed effect. That bleed effect is key to his big formation ability: Count 'Em Off.

The enemies will have a red blood drop effect while the bleed is active. When it is no longer damaging them, the blood drop turns black, so you know that they were affected, but it's no longer doing damage.
Formation Abilities
Count 'Em Off — Whenever an enemy that is or was affected by Pwent's bleed effect is killed (including if it is killed outright by Pwent), he gains one stack on this ability. Pwent increases the damage of all Champions by 20% for each stack of Count 'Em Off, stacking multiplicatively. The stacks cap at 25, and every 12 seconds, the stack total is reduced by 25%.
Battlerager — When Pwent attacks, if he attacks an enemy that has already been affected by his bleed effect (active or inactive), there is a 33% chance that he'll attack again immediately.
Can You SMELL That? — Champions that are adjacent to Pwent have their base attack cool downs increased by 8 seconds, divided by the number of Champions affected. This effect has a hard cap of 20 seconds per affected Champion in cases where other Champion's abilities can increase the effect.
Gutbuster Recruits — Champions affected by Can You SMELL That? have their base damage increased by 75% for each second their cooldown is increased by, stacking multiplicatively and counting partial seconds. This effect is doubled on dwarves.
Bruenor, Me King! — While not a member of the Companions of the Hall, Pwent fully supports them in their quests. Pwent increases the Bounty of the Hall pool (gold find) by 100% and increases the effect of Count 'Em Off by 100% if you have at least 1 Companion of the Hall (Bruenor, Drizzt, Catti-brie, Wulfgar, or Regis) adjacent to Pwent.
Specializations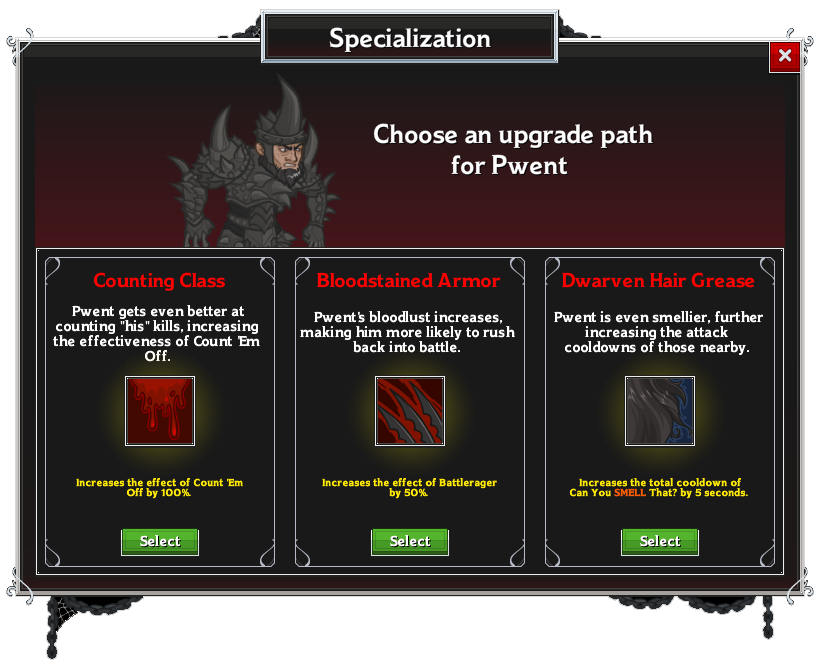 Counting Class — Increases the effect of Count 'Em Off by 100%.
Bloodstained Armor — Increases the chance to attack again with Battlerager by 50%.
Dwarven Hair Grease — It's all-natural! Increases the total cooldown of Can You SMELL That? by 5 seconds.
Ultimate Ability
Round 'em up! — Pwent dashes quickly around the area rounding up all available enemies and then stuns, damages, and inflicts a bleed effect on them. He attacks up to 10 enemies in this way, applying his bleed to all of them, and (if not static) forcing them into a position in the middle of the screen (between the formation and the wall), stunning them for 5 seconds.
V. Pwent's Equipment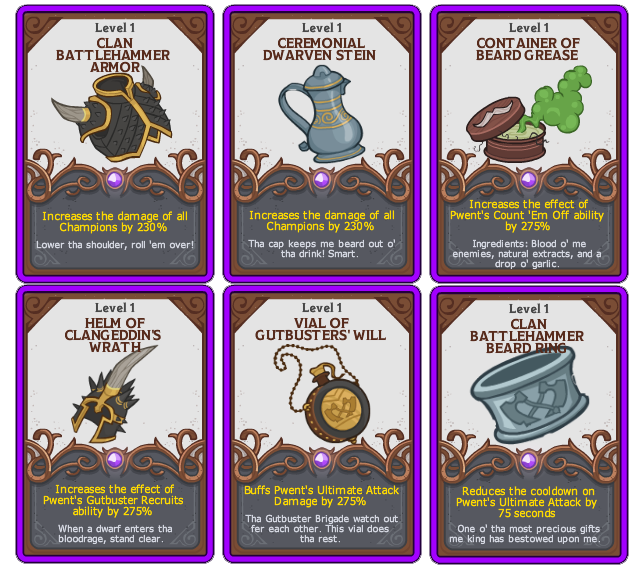 VI. Conclusion
Pwent will hopefully unlock a whole new dwarven formation, with Binwin, Bruenor, Barrowin, and himself. He also slides into any Companions of the Hall formation. Try him out and let us know what you think of this spiky dwarf!
Feel free to send us feedback on via the
Idle Champions Subreddit
,
Steam forum
, or the
Idle Champions Discord
!