It's time for the latest Idle Champion Spotlight, and this time around we're talking about a Tanking, Support,
and
Healing Champion who can create heavy armor with Netherese Steel stored in his very bones!
And did we mention that this Half-Orc Champion has his very own flumph ally?
Read on and learn all about
Briv Steelmarrow
...
I. Savage Paladin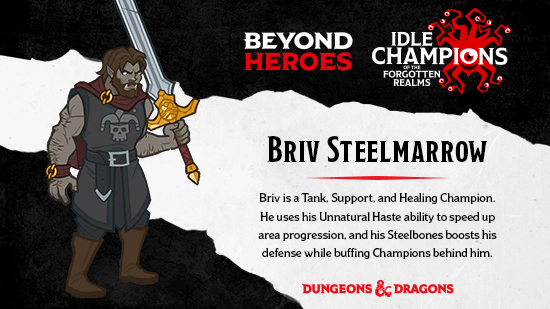 Relentlessly brave but markedly uncouth, Briv Steelmarrow is a stalwart champion of the weak, innocent, downtrodden, and oppressed. Centuries ago, a cabal of Netherese mages experimented on Briv's clan, gifting him with a magical metal inside his bones that he can pull through his skin and shape for attack or defense. Once a slaver, Briv sought atonement by joining the Order of the Lost Cause, an elite group of knights that travel across Faerûn, taking on quests that only fools would pursue.
Briv is a Tank, Support, and Healing Champion. He uses his Unnatural Haste ability to speed up area progression, and his Steelbones boosts his defense while buffing Champions behind him. When you want to add Briv to your formation, you can swap him with Calliope (Slot 5).
II. Briv's Stats
| | |
| --- | --- |
| Race: Half-Orc | Alignment: Chaotic Good |
| Class: Paladin (Oath of Heroism) | Gender: Male |
| Age: 42 | Affiliation: none |
| | | |
| --- | --- | --- |
| STR: 16 | DEX: 14 | CON: 16 |
| INT: 10 | WIS: 8 | CHA: 18 |
Eligible for Patrons:
Mirt, Vajra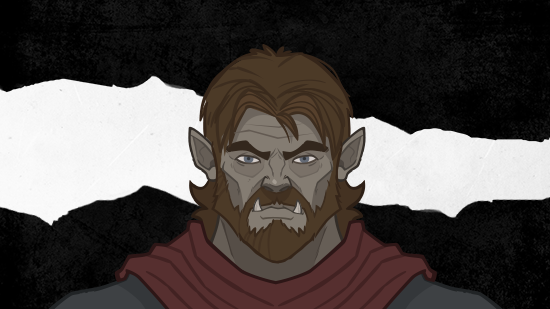 III. Briv's Design
It's always a joy to work with a passionate creator to bring their character to life as a Champion in our game, and working with D&D Beyond's
Adam Bradford
was no exception. Adam was quick to provide numerous examples of Briv character art, including the official art by
Max Dunbar
, which really went a long ways towards helping to paint the visual picture of Briv Steelmarrow.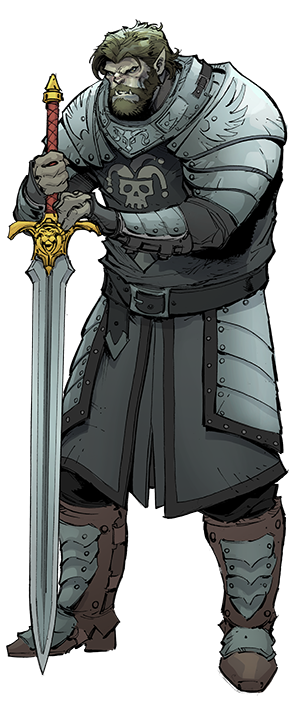 Art by Max Dunbar
Briv's abilities were an interesting challenge. With Netherese Steel in his bones, Briv has the ability to shoot it out of his pores to create heavy armor at will — or even violently expel it as a kind of shrapnel weapon, pulling it back into his body afterwards. These abilities became
Steelbones
, the core of Briv's design where he gains stacks of
Steelbones
when he is attacked,
Netherese Steel
, where Briv increases the damage of Champions behind him based how many stacks of
Steelbones
he has, and
Netherese Explosion
, where he uses the steel in his body to create an explosion out from him.
With
Unnatural Haste
we gave Briv a unique new ability that allows you to actually skip areas(!), consuming stacks of
Sprint
in the process. There is a minimum number of stacks needed for this ability to be able to proc (50), and each time it triggers it will consume a percentage of your stacks. How do you get
Sprint
stacks, you ask? When you reset, all stacks of
Steelbones
you have are converted into
Sprint
stacks, which persist through resets until they're consumed by Unnatural Haste. This will offer players quite the boost through those early levels after you complete a long Free Play. Don't worry about missing out on gems or loot — you will still earn anything you may have missed from areas you skip!
A pet flumph named Phlo accompanies Briv wherever he goes, and he has a unique ability,
Healing Phlo
, where Phlo stores healing power whenever Briv is struck by an attack. After 10 hits or 10 seconds, whichever comes first, Phlo heals all Champions in the party for 50% of the damage that Briv received during that time!
Flumphs really are the best.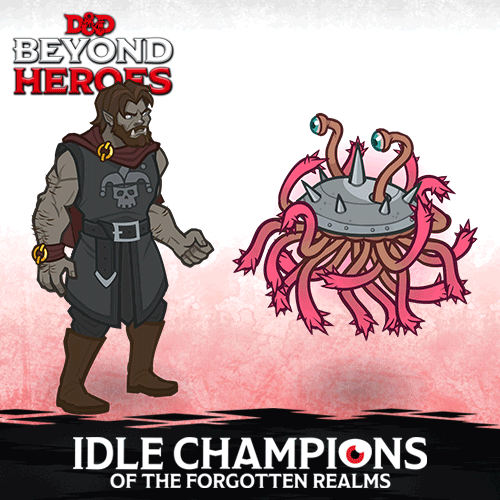 IV. Briv's Abilities
Basic Attack
Mocking Cleave — Briv leaps out and attacks a random enemy with his greatsword, cleaving all nearby enemies as well. On each enemy hit, there is a 20% chance that they will stop attacking another Champion and attack Briv if possible..
Formation Abilities
Steelbones — Whenever Briv comes under attack, metal shoots out of his pores, covering him in heavy armor. This effect persists as long as Briv remains under attack, and for an additional five seconds afterwards. While armored, Briv takes 10% less damage and gains a stack of Steelbones whenever he is hit by an enemy attack.
Netherese Steel — Briv increases the damage of all Champions behind him by 0.01% for each stack of Steelbones he has gained.
Unnatural Haste — Briv has a 25% chance of sprinting forward quickly on steel-springs after completing a new area, skipping the next area entirely. This action consumes 4% of his Sprint stacks, and requires at least 50 stacks to occur. When you reset the adventure, all stacks of Steelbones that Briv has gained convert into stacks of Sprint, which persist between resets until they are used by this ability.
Note: if the chance of springing forward surpasses 100%, it is divided by 2 and becomes a 50%+ chance to spring forward 2 areas. Likewise for surpassing 200%, 300%, etc.

100% / 2 -> 50% chance to skip 2 areas
200% / 4 -> 50% chance to skip 3 areas
300% / 6 -> 50% chance to skip 4 areas
If you skip a boss area in this way, the gems, chests, red jewels, etc. from it are collected automatically.
Healing Phlo — Briv's pet flumph Phlo appears next to Briv and telepathically stores healing power whenever Briv is hit. After 10 hits or 10 seconds, whichever comes first, Phlo heals all Champions in the party for 50% of the damage Briv took during that time. The 10 second timer only starts when Briv takes a hit and does not fire if the healing is triggered by taking 10 hits. It would start again at 10 seconds on the next hit after healing triggers.
Oath of Heroism — Briv increases the max health of all other Champions by 25% of his max health.
Specializations
Metalborn — Unnatural Haste uses 20% less Sprint stacks whenever it activates.
Tempered Steel — Increase the effect of Netherese Steel by 100%.
Go With The Phlo — Increase the heal of Healing Phlo by 50%.
Ultimate Ability
Netherese Explosion — Briv forces all of his remaining Netherese Metal out of his body, shooting it in all directions in an arc in front of him, damaging enemies that it passes through. He then draws it back into himself, dealing double damage to enemies it hits on its way back to him.
V. Briv's Equipment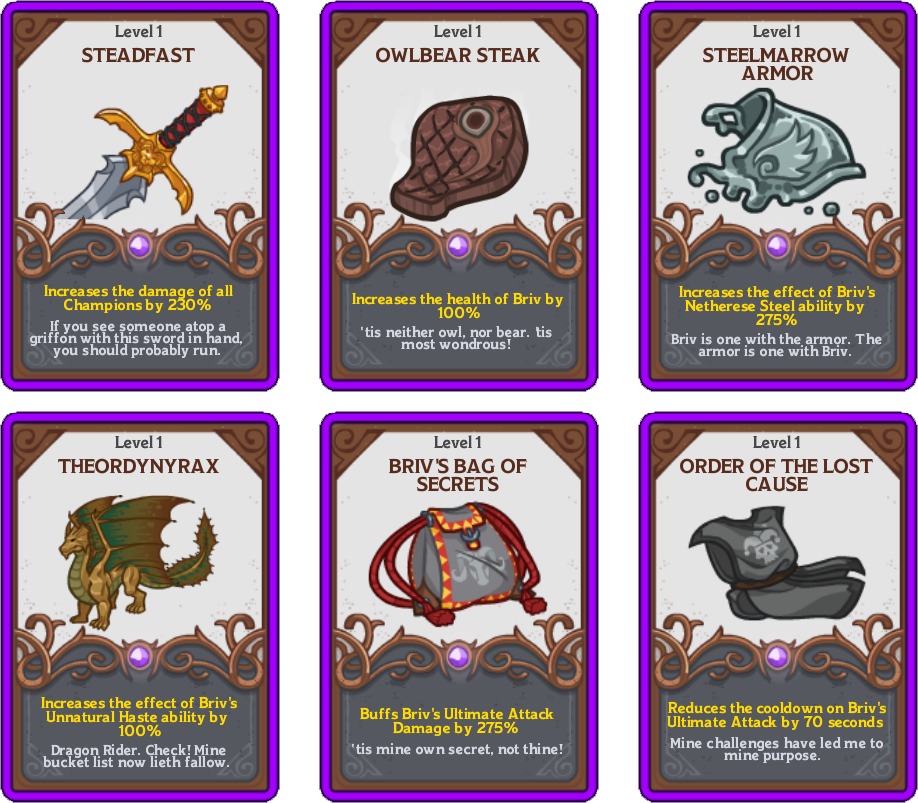 | | | |
| --- | --- | --- |
| Slot 1: Global DPS | Slot 2: Max Health | Slot 3: Netherese Steel |
| Slot 4: Unnatural Haste | Slot 5: Ultimate Damage | Slot 6: Ultimate Cooldown |
VI. Conclusion
Briv Steelmarrow is an absolute beast of a Champion, a savage paladin who can offer tanking, healing, and support, all in one package. We are excited to see how well he fits in to the Idle Champions meta. If you have feedback, let us know in a Community Q&A or Champion feedback post on the
Idle Champions Subreddit
, on the
Steam forums
, or on the
Official Idle Champions Discord
!