Greetings Breakers!
Pancakes! Smoked salmon! Waffles! Mimosas! So many things to love about the magical meal that is half breakfast, half lunch and all brunch! Celebrate with the Challenge Fairy and her drool-worthy prizes in the all-new Brunch Burst Event!
For the duration of the event, special challenge eggs will temporarily replace all normal challenge eggs, and the eggs will appear at a higher than usual rate. Players can earn 12 event prizes of various Brunch themed items from cashing in Event Tokens with the Challenge Fairy Monkey.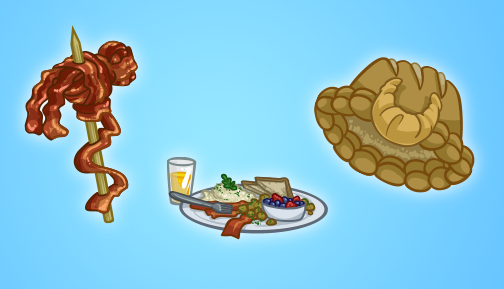 For the toughest of tough challenges, there are 3 awesome prizes!
The yummy looking Croissant Hat adds 10% Less Nothings!
The Plate of Brunch Food looks scrumptiously edible in any trophy room!
The sizzling Bacon Hammer adds More Stars!
The event will run until Tuesday September 1st at Noon PDT.