Founders' Day is noted on city calendars as the first day of Flamerule and commemorates the Free City of Waterdeep's founding. The Field of Triumph is the site of illusory shows of the history of the city as well as martial exhibitions by the guard and other noted warriors of the city. The Champions have joined in the celebration, but the Archduke Zariel of Avernus has set a plan in motion to harvest souls for the Blood War during the festivities!
Will our Champions be able to stop her in time?
Founders' Day 5
introduces
Nahara
, the aasimar warlock/bard from The Black Dice Society, and brings back
Sergeant Knox
, the human fighter from Neverwinter, and
Freely
, the lucky halfling from
Heroes of the Planes
! Players have until Monday, July 11th at 12PM PDT to complete their event unlocks and objectives.
I. New Champion: Nahara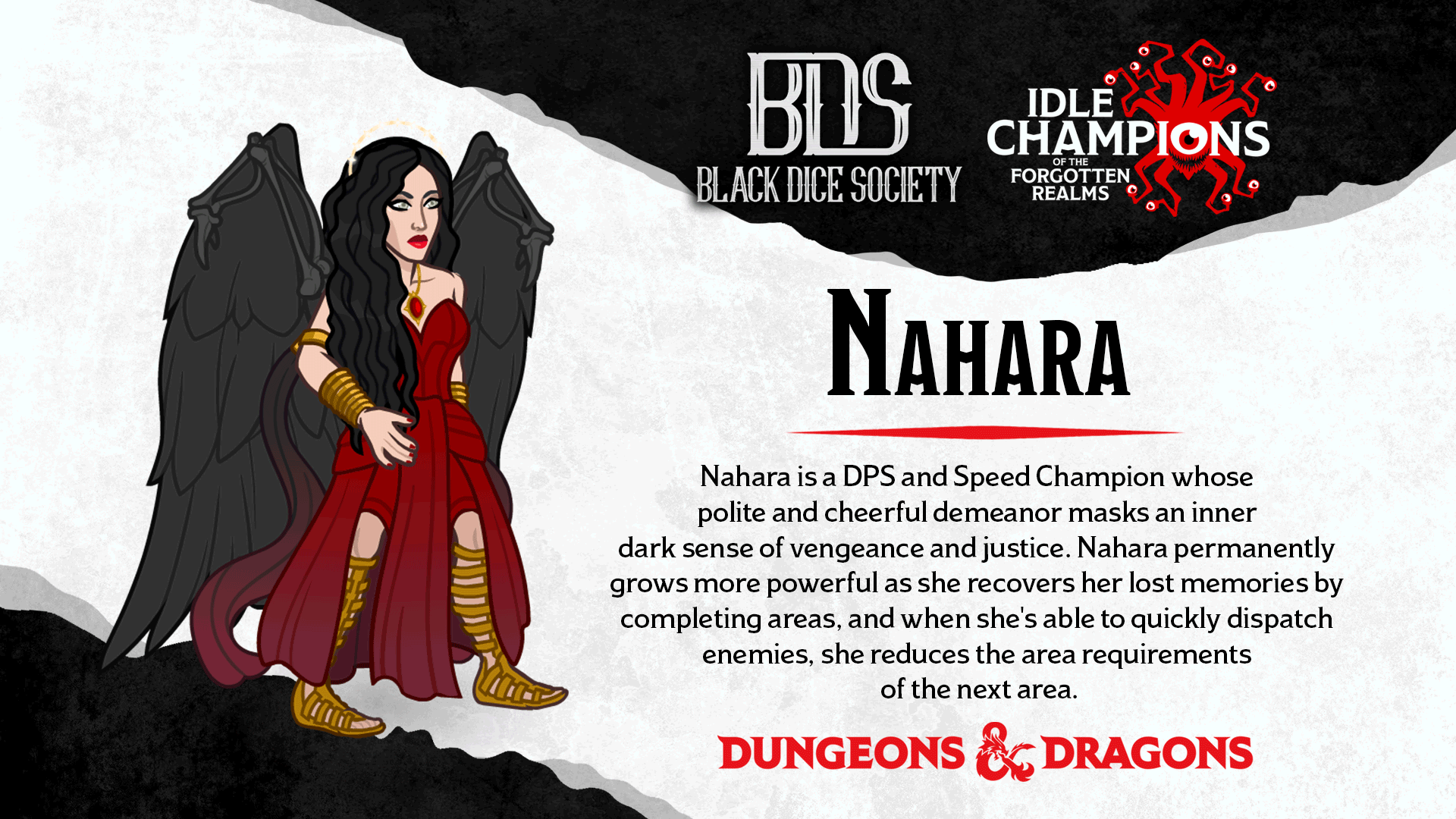 When she fell into the mists of Ravenloft, Nahara was unable to remember anything from her life, or previous lives. All she knows is she's caught in the conflict between her current Patron, Azalin Rex, and his foe Strahd von Zarovich, who has been desperately seeking her out.
Nahara is a DPS and Speed Champion who permanently grows more powerful as she recovers her lost memories by completing areas and quickly dispatching enemies. When you want to add her to your formation you can swap her with Nayeli in slot 3. She joins her friends from the Black Dice Society during this Founders' Day, and you can find more details about her in her
Champion Spotlight
.

Year Five Variants
Durable Devils - Save Waterdeep from the chaos of a Founders' Day gone awry while Nahara practices her targeting on some armored imps that have shown up!
Reach Area 75.


Double Trouble - The Founders' Day chaos continues, but this time Nahara will help you speed through increased area requirements.
Reach Area 125.


Barovian Bliss - Strahd has joined in the Founders' Day chaos, attacking Nahara and her Black Dice Society friends through the thick fog!
Reach Area 175.
See the in-game FAQ for more information!