Today's Idle Champion Spotlight is a bit special for us. We are always honored to be able to include legacy characters in Idle Champions, most recently with Artemis Entreri, and before that with the Companions of the Hall. Today we are very excited to introduce you all to Prince Brightflame, better known as
Melf
, an elven Fighter/Wizard created and played by
Luke Gygax
, son of one of the co-creators of Dungeons & Dragons,
Gary Gygax
.
Yes,
THAT
Melf! Creator of such spells as
Melf's Acid Arrow
and
Melf's Minute Meteors
.
We had our work cut out for us - but at the same time, we were blessed with the opportunity to work with Luke to bring his lifelong D&D character to life! Would you like to know more? Read on...
I. Prince Brightflame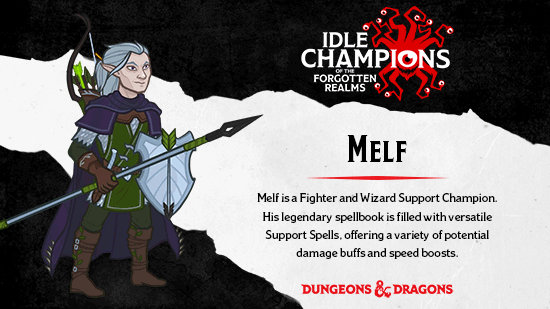 Born into the royal family of Celene, he assumed the simple name of Melf eschewing a life of comfort as a noble to study the arcane arts and train as a swordsman. He delved in the dungeons of Castle Greyhawk, the Lost Caverns of Tsojcanth and many other harrowing places honing his skills, knowledge and amassing powerful magic items. Melf sees himself as a weapon of weal hurtling toward the heart of the darkest evils in the realm. He is opinionated and has a touch of conceit that he is blissfully ignorant of possessing.
Melf is a Fighter and Wizard Support Champion. His legendary spellbook is filled with versatile Support Spells, offering a variety of potential damage buffs and speed boosts. When you want to add Melf to your formation, you can swap him with Arkhan (Slot 12).
II. Melf's Stats
| | |
| --- | --- |
| Race: Elf | Alignment: Neutral Good |
| Class: Fighter/Wizard | Gender: Male |
| Age: 210 | Affiliation: none |
| | | |
| --- | --- | --- |
| STR: 17 | DEX: 15 | CON: 14 |
| INT: 19 | WIS: 11 | CHA: 10 |
Role:
Support
Eligible for Patrons:
Mirt the Moneylender, Vajra Safahr, Strahd von Zarovich

III. Designing Melf
Having the opportunity to bring Melf into Idle Champions was a real treat for us at Codename Entertainment. Not just because we were bringing a legendary character from Dungeons & Dragon's past into the spotlight, but because we try to work directly with the creators of each character whenever possible. This time around, we got to work closely with Luke Gygax!
Luke was excited to hop on board and help us out, and he would regale us with tales of Melf, telling stories about playing Dungeons & Dragons as a child with his father as his Dungeon Master. To the rest of the world, Gary Gygax is the icon who helped to create the greatest role-playing game of all time. But to Luke? He was playing D&D with his Dad, who just happened to be 'the' Gary Gygax.
Over the course of our conversations and email exchanges Luke shared stories with us about how each of Melf's items came to be in his possession, often in incredible detail despite the events having occurred during games in his childhood. Melf has been a character for a long time, and Luke
still
has all of his character sheets, some of them written completely out on lined paper decades ago. Wow!
So what does all that leave us with? Well, we honed in on some of Melf's legendary artifacts and spells, choosing to craft for him an extremely versatile set of formation abilities that can be tailored to a variety of formations and situations.
Melf's Adaptive Support Spell
and
Melf's Augmented Support Spell
help you to refine your DPS buffs in a way that best works for you. At the same time,
Melf's Speedy Supplement
offers a mix of options for increasing the speed at which you complete adventures and variants.
Melf's legendary weapon,
Zagyg's Needle
, starts off being his Basic Attack, but once you combine it with his Ultimate Ability,
Melf's Minute Meteors
, things really start to get interesting, adding massive damage and AoE to Melf's attacks.
At this point you might be asking yourself, "Where is Melf's Acid Arrow?" -- but if you look closely, you'll find it ;)
IV. Melf's Abilities
Basic Attack
Zagyg's Needle — Melf leaps out and attacks the nearest enemy with his magic spear. If Melf has any Minute Meteors active, he fires one at a random enemy as well.
Formation Abilities
Melf's Adaptive Support Spell — Melf creates a new spell to assist the formation. He customizes it based on the Champions in the formation and where Melf is placed within it. It increases the damage of Champions adjacent to Melf by 100% and that value is augmented based on some other parameters, each of which applies multiplicatively.

If there is another Elf (aside from Melf) in the formation, increase the effect by 50%.
Increase the range by 2 if Melf is not in the front-most or rear-most columns in the formation (affects all champions within 3 slots).
Increase the effect by 10% for each unique race in the formation.

This ability is buffed by upgrades and equipment (buffs apply to the final calculated value, not the individual increases).
Melf's Augmented Support Spell — Melf augments his Adaptive Support Spell for each Champion it affects.

Increase the effect by 50% on the non-dominant gender in the formation (applies to non-binary champions all the time).
Increase the effect by 50% for each slot away from Melf a Champion is (multiplicatively)
Melf's Speedy Supplement — Melf provides one of the following effects at random. A new effect is chosen at random every 50 areas (though it could pick the same one multiple times in a row).

Increase chance to spawn an additional enemy with each wave by 25%.
Increase enemy spawn speed by 25%.
Increase chance of double quest drops by 25%.

This ability is buffed by equipment; note if the chance of double quest drops gets above 100% it will then always cause double quest drops with a chance to cause triple quest drops, etc. Likewise with spawning additional enemies with each wave.
Melf's Righteous Determination — Melf knows exactly what evil is. Whenever an enemy spawns it has a 50% chance of being deemed "evil" by Melf. Enemies that are deemed evil take 100% more damage from all Ultimate attacks.
Specializations
Bonus Adaption — Increases the effect of Melf's Adaptive Support Spell by 100%.
Extra Supplements — Increase the effect of Melf's Speedy Supplement by 100%.
Absolute Righteousness — Increase the effect of Melf's Righteous Determination by 100%.
Ultimate Ability
Melf's Minute Meteors — Melf summons six Minute Meteors that float around him. They are fired when he attacks normally and deal BUD-based damage to all enemies in a small area.
V. Melf's Legendary Equipment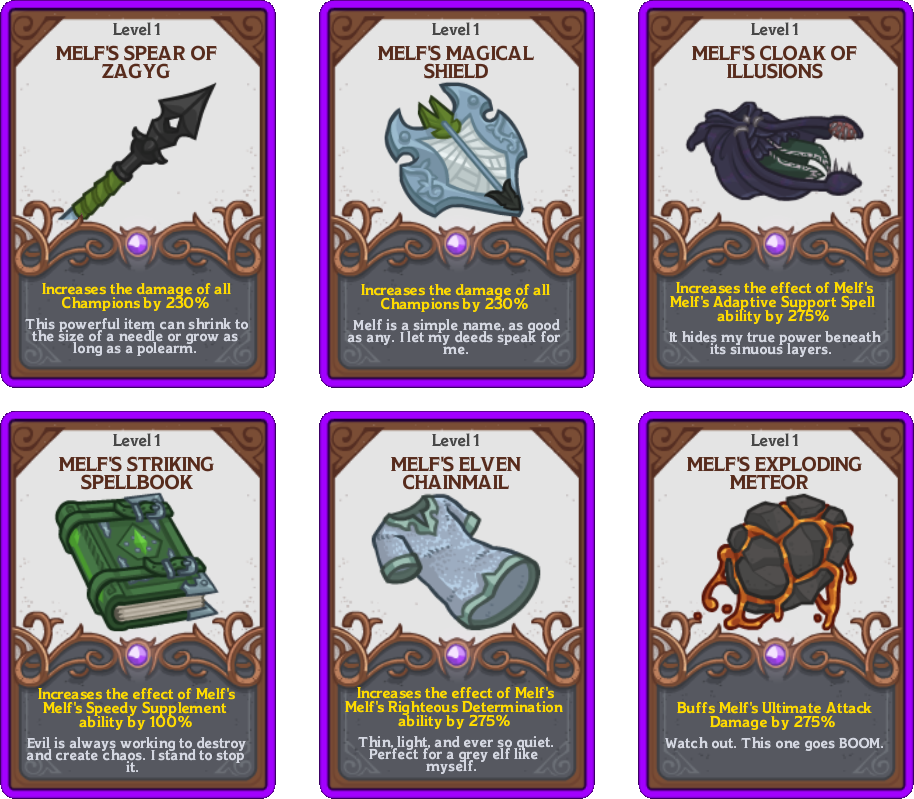 | | | |
| --- | --- | --- |
| Slot 1: Global DPS | Slot 2: Global DPS | Slot 3: Adaptive Support Spell |
| Slot 4: Speedy Supplement | Slot 5: Righteous Determination | Slot 6: Ultimate Damage |
VI. Conclusion
What do you think about Melf? Will he fit into any of your formations? Let us know your thoughts, that we may flay them! If you have feedback, let us know in a Community Q&A or Champion feedback post on the
Idle Champions Subreddit
, on the
Steam forums
, or on the
Official Idle Champions Discord
!