Today we're releasing a very exciting feature for those of you looking to earn more idols on your deeper runs. By completing the new Tier 2 11th Objectives in each campaign, you can unlock bonus idols drops in those campaigns' Free Play.
Bonus Idols drops cause bosses to sometimes drop bonus idols the first time they are killed in each run. Bonus Idols are claimed when you reset. Completing additional Tier 2 11th Objectives will increase the number of bonus idols dropped, in addition to unlocking the feature in that campaign's Free Play.

This update includes the first four campaigns' 11th Objectives. The remaining four will be released in an upcoming update. Enjoy!
But wait there's more! The following Crusaders will get a buff this weekend starting from today until 12 pm PDT on Monday 2nd October.
Jim the Lumberjack - Sharpen Party ability +200%
Karl the Kicker - Showoff ability +200%
Momma Kaine - Conductivity ability +200%
Sarah the Collector - Base DPS +400%
Eiralon, the Blood Mage - Support Support ability +200%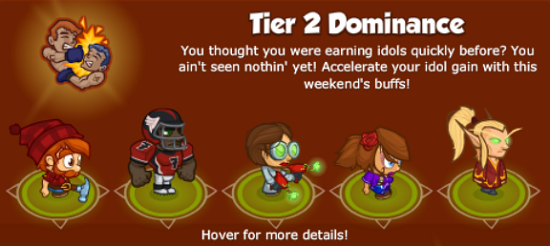 Also, check out the limited-time Dominating Jeweled Chests that contain equipment for the five Crusaders above!
(
Please note:
The chest will only contain gear for Karl, Momma Kaine and Eiralon if you've unlocked them. You can buy the Golden Epic for Eiralon and it will show up once you unlock him.)