Last month we were honored to be the sponsor of OrcaJam 2016. The annual game jam is organized by the Victoria chapter of the Independent Game Developer Association (IGDA.org) and hosted at Victoria Innovation, Advanced Technology and Entrepreneurship Council's (VIATEC) very cool Fort Tectoria location in downtown Victoria.
OrcaJam is Victoria's annual 48-hour game jam that brings together local designers, developers, programmers, artists and musicians to make games for fun.
Two of our team here at Codename threw their hat into the ring and created a team for this year's event. Mark and Cory headed down to the venue and partnered with another local artist, Michelle, to create a game from scratch.
We spoke to Mark and Cory about their experience.
What was the theme for the game?
The theme for the game jam was 'The Witching Hour' which was not only a reference to the fact it was the Halloween weekend but a nod to the fact that game jams are about working through the wee hours and burning the midnight oil.
We decided to take that theme and create a game where the main character was a warlock and where the core game revolved around a witch theme.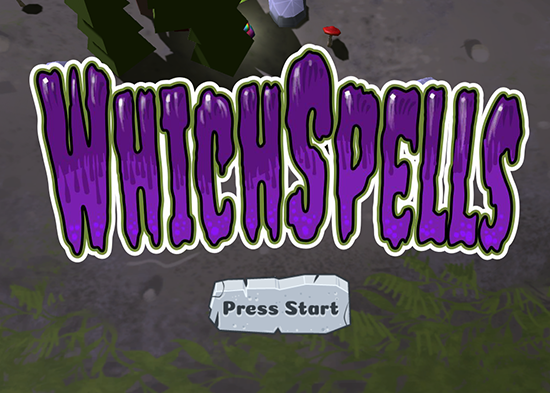 Cory and Mark's Game: WhichSpells
What kind of game did you make (e.g. strategy, arcade, puzzle)?
We decided to make 'couch co-op' multiplayer game. It's a top-down, brawler where four players battle it out in an arena.
What is the key feature of the game?
Spell exploration and combinations. The ingredients for casting spells to attack other players are physical items you have to pick up. It's a race to see who can collect the most devastating ingredients first to win. Then the skill is to learn which are the best combinations.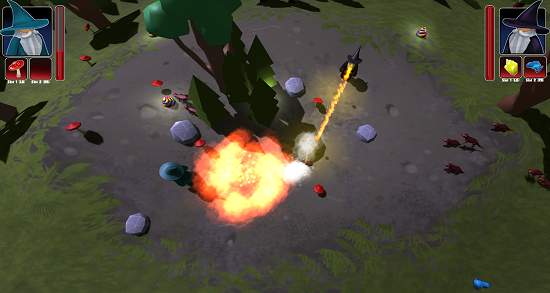 Players must collect ingredients to make spells.
The five ingredients we had time to implement were Unicorn Poo, Frogs Legs, Sulphur, Eye of Newt, and Toad Stools. When you haven't got a spell equipped, you can dash for a speed boost.
The combinations would create the following effects:
Sulphur & Frog = Fireball
Toad Stool and Unicorn Poo = Nuke
Toad Stool and Sulphur = Grow Big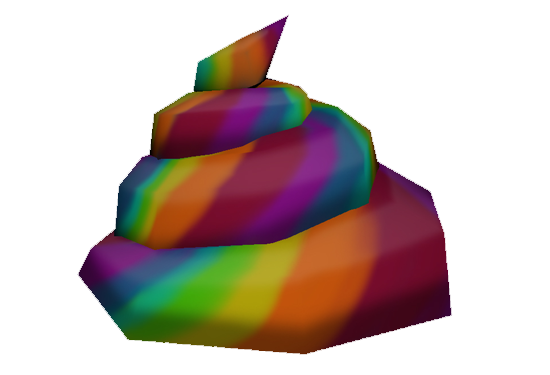 Unicorn Poop.
How did you decide on the genre?
We identified it as a type of game that fills a niche but is growing in popularity. It also gave us a chance to work on a project that was a proof of concept for a new game type outside of what we do at Codename Entertainment.
We all had different goals for the 48-hours. Mark wanted to learn more about working with the Unity engine. Cory wanted to experiment with UI and 3D modeling plus explore hand-painted low-poly 3D modeling.
Michelle was familiar with 3D modeling using Z Brush and Maya and showed Cory how to do it.
The game type also made it possible to get a small, well-defined scope within the 48-hours. We gave ourselves the best chance to end up with a game which was playable and that showed the beginnings of a project that could be something more complete with more time.
What was the biggest frustration point during the 48-hours?
Saturday night we felt a bit discouraged that we couldn't get enough variety of spells as would have liked. A lot of stuff went in last minute. There were a few art assets that weren't imported (new terrain, cobblestones missing etc.).
We also had a technical issue with 3DS Max and hooking up textures to the models. We figured out eventually but took too much time.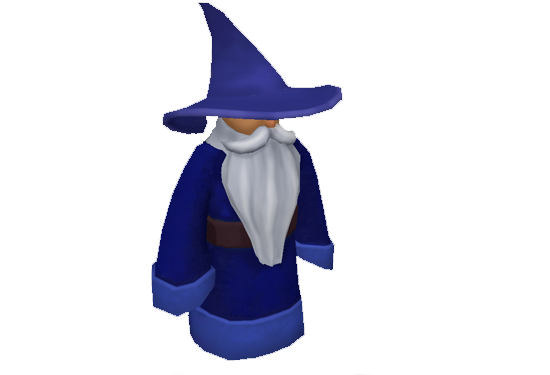 The Warlock.
What was the biggest win during the 48-hours?
People were queuing up to play the game, and it was satisfying to see. We believe our game was most unified regarding art style, gameplay, and music. We were proud of the fact we achieved a level of polish that was satisfying.
There was one younger member of the public at the end of the event that was very enthusiastic about the game. He spent a lot of time mixing items to create spells.
Another achievement we were proud of was that the discovery of the game mechanics was intuitive rather requiring detailed instructions.
As we were designing the game, we drew a lot of interest from some floating sound engineers who wanted to help. We gave an overview to two audio guys who were very enthusiastic. Even up until the last 20 minutes of game jam we were putting in more sound effects created by one of the guys who joined our team. There wasn't enough time to adjust mixing or levels, but it still completed the experience.
What would do to improve the game with more time?
We would implement more spells and combos for a more full experience. We'd like to tweak the arena to a perfect size and the areas we wanted. With those changes it would be closer to the original vision, we had for the game for the end of the jam.
Also, ideally some art needs to be reworked such as the ground texture and the artwork for the spell ingredients.
We'd probably also spend more time on clarifying the controls to make it even more intuitive just to help first-time players.
OrcaJam 2016 Recap