This year for April Fools, the monkeys have switched out the Challenge Eggs! There will be 3 special challenges to win an April Fools themed Hammer, Hat and Trophy Room item!
You will have 48 hours to try and win these prizes by completing the tricky challenges!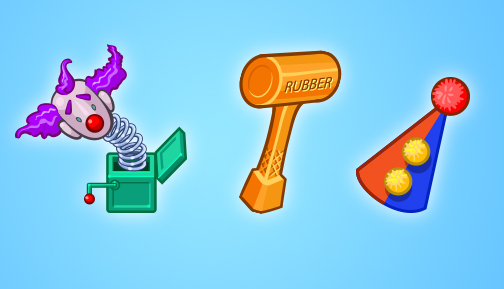 The Rubber Hammer adds more Multipliers!
The Clown Cone Hat adds 10% more Event Tokens!
The Jack-in-the-Box will look awesome in a trophy room!
Hat Packs!
To help you win these challenges, we're also offering 2 Hat Packs for sale!
The
Rainbow Fro
has a small chance your win is doubled and 10% more Stars!
The
Colourful Jester Hat
has a chance your last Star Break was free and adds 10% more Multipliers!
The April Fools challenge ends Wednesday April 1st at Noon PDT!